REVIEW: Zoya Stunning Collection Summer 2013 (as previewed here)
(Press samples provided for review.)
Oh my, it is such a hot day today in sunny California! It's the perfect time to get your nail polish wardrobe ready for the summer. Today I have Zoya's Stunning collection to show you. Get your eyes ready for some beautiful, bright cremes! You may want to put your sunglasses on. ;)
First up is Darcy, a vibrant, sunshine yellow creme. I know that some people stray away from yellow polishes, but get out of that comfort zone and slap on something bright this summer! This is three coats.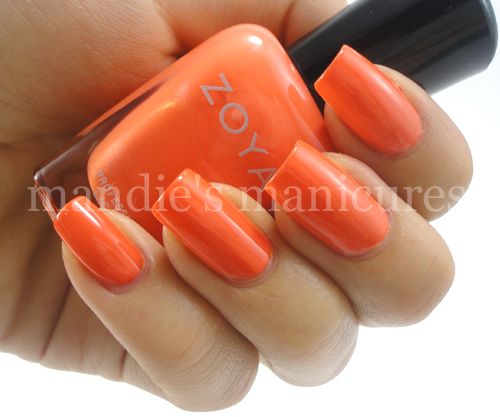 Thandie is a coral creme. It is much more pink in person than pictured. Sometimes when you're having a bad day, putting on colorful nail polish can instantly brighten up your mood (or is that just me?). This is such a cute color that can make you look very happy. :) I used two coats here.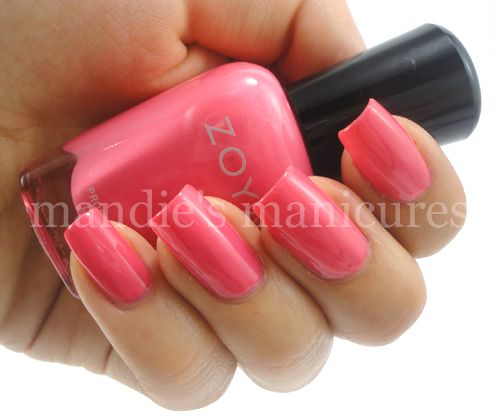 Micky is a sweet, bubblegum pink creme. Super cute for a pedicure when you go out to the beach this summer! Two coats for full coverage.
Yana is a beautiful magenta creme. If you have smaller nails, this polish could easily be a one-coater! 
These last two colors are my favorite from this set. Rocky is a lovely shade of sky blue. It's adorable and a must-have for me! I used two coats.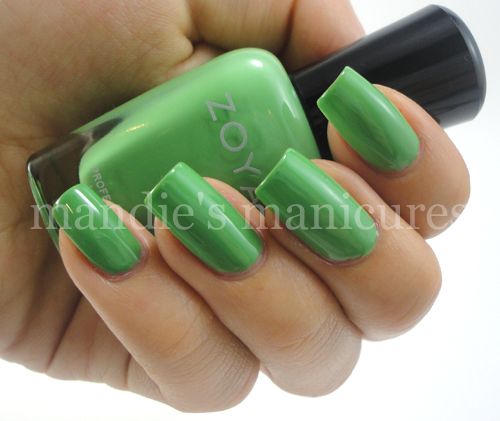 Josie is a lovely kelly green creme. I don't think I have a green like this in my collection, so it is definitely unique to me. Love it! I used two coats.
Application was great for all of these except for Darcy. I had a bit of a streaking issue in the first two coats of the yellow creme, but the third coat smoothed everything out.
The Stunning collection is available NOW on the Zoya website for $8 each. Be sure to get yours to sport these hot colors this summer!
Happy Friday, everyone! :)
Connect with me: FACEBOOK | INSTAGRAM
—
Products provided for an honest review.
PREVIEW: Zoya Stunning & Irresistible Collections Summer 2013
JUST LIKE THE SUN, YOU ARE THE CENTER OF ATTENTION!
STUNNING & IRRESISTIBLE
Twelve new Sun Inspired Colors for Summer 2013.
Summer brings the sunniest colors to nails! Including six super shiny creams and six fresh foil metallics to put all the focus on the brightest shining light in any room - YOU!
Zoya SUMMER 2013: STUNNING Collection
Darcy (ZP663) - Sunny Yellow Cream - Full Coverage.
Thandie (ZP664) - Citrus Orange Cream - Full Coverage.
Micky (ZP665) - Amazing Coral Cream - Full Coverage.
Yana (ZP669) - Rubine Red Cream - Full Coverage.
Josie (ZP667) - Grassy Green Cream - Full Coverage.
Rocky (ZP668) - Serene Blue Cream - Full Coverage.
Zoya SUMMER 2013: IRRESISTIBLE Collection
Kerry (ZP684) - Yellow Gold Foil Metallic - Full Coverage.
Amy (ZP670) - Red Orange Foil Metallic - Full Coverage.
Tinsley (ZP671) - Rose Gold Foil Metallic - Full Coverage.
Bobbi (ZP672) - Hot Magenta Pink Foil Metallic - Full Coverage.
Hazel (ZP673) - Blue Green Foil Metallic - Full Coverage.
Rikki (ZP674) - Fern Green Foil Metallic - Full Coverage.
Shipping April 15, 2013
$8.00 ea. (US)
Available on Zoya.com
Ultra long-wearing, glossy nail lacquers by Zoya are BIG5FREE - all formulas are completely free of harmful industrial chemicals such as toluene, camphor, formaldehyde, formaldehyde resin and dibutyl phthalate (DBP) that are known to cause cancer and birth defects.
Find over 300 stunning Zoya colors on www.zoya.com.
Each and every color has a name as unique as the women who inspired it.
ZOYA IS THE NEW COLOR OF FASHION!
REVIEW: Zoya PixeDust Collection
Good morning! Today I will be showing you swatches of Zoya's PixeDust collection. These beautiful glitter polishes dry to a matte finish with a bit of a grainy texture to imitate fairy pixie dust. Though the word 'grainy,' may make you cringe, I can assure you that the gritty finish is not at all bothersome. The finish makes for an eye-catching manicure, so it's something that you will need to try for yourself to decide whether you love it or not. 
In these swatches, I used two coats of the PixieDust polish for each. I am also showing you how they look with a generous helping of top coat if having a grainy manicure is just not your thing. Enjoy! :)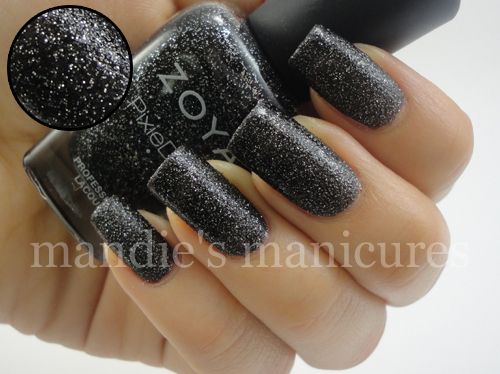 First up is Dahlia, a black base with silver sparkles. This polish imitates the look of the beautiful night sky when it is flooded with a million stars.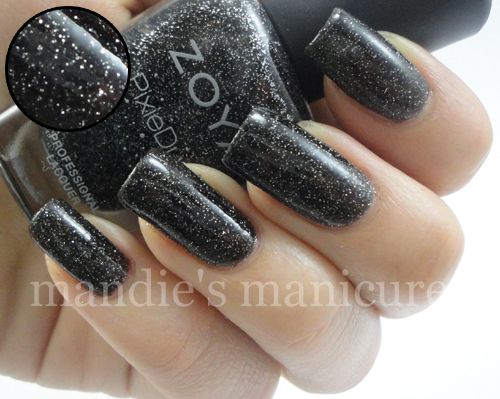 Dahlia with top coat. (No Photoshopping here - my skin tone looks different compared to the previous picture because I accidentally moved a lamp too close to my lightbox for this photo, whoops!)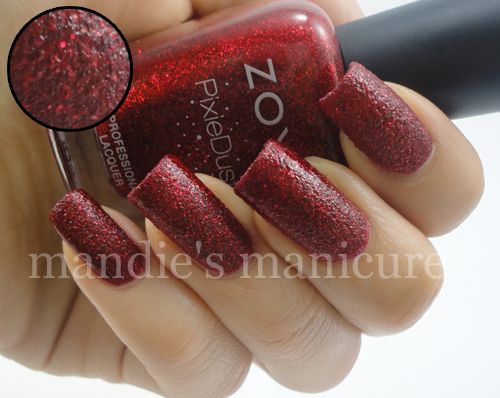 Chyna is a stunning ruby red sparkle! This color truly reminds me of Dorothy's ruby slippers and the texture makes my nails look like they are covered in sequins.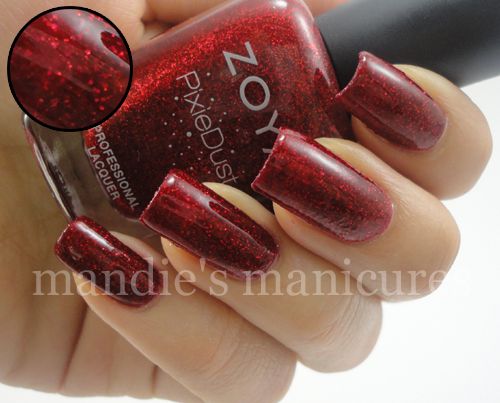 Chyna with top coat.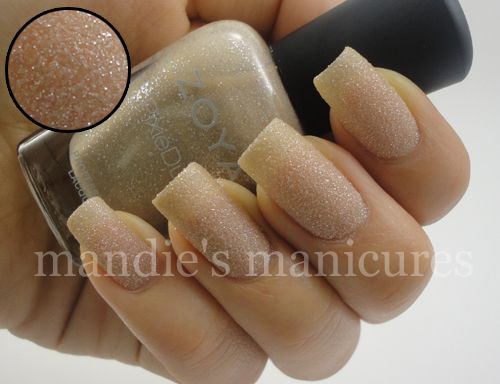 Do my nails look like they are covered in sugar? :) This is Godiva, the nude sparkle of this collection. You can see my nail lines here, so I suggest layering Godiva over an opaque nude polish first if visible nail lines (VNL) aren't your thing.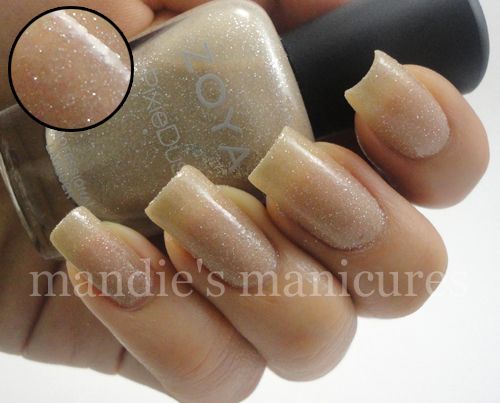 Godiva with top coat.
Vespa is a watermelon-rind-green sparkle. I just love this green - it makes my nails look fresh and ready for the springtime. Again, there is VNL here, so use a similar color for the base before using Vespa.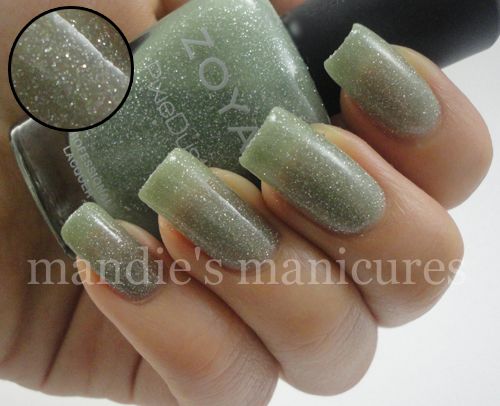 Vespa with top coat.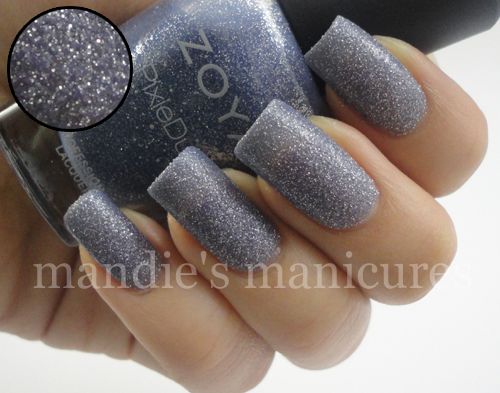 Nyx is a cute, periwinkle sparkle. Love!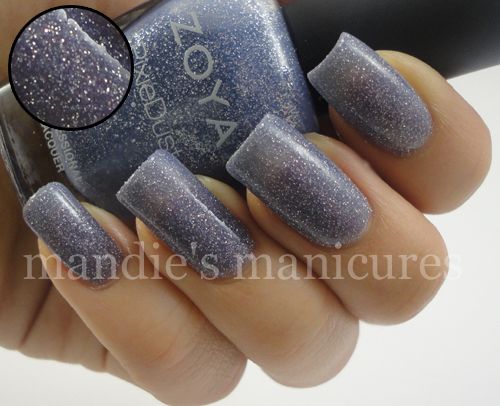 Nyx with top coat.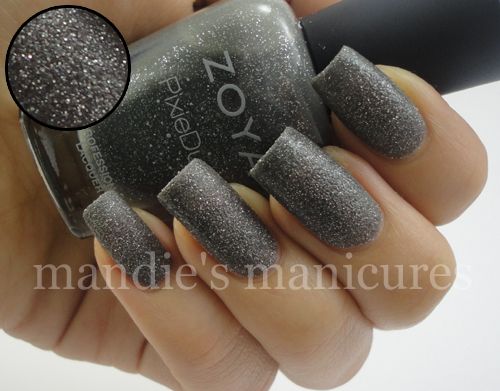 And this is London, a gray sparkle. 
London with top coat.
Are these textured polishes cool or what? This is the newest nail trend and I am absolutely loving it! The Zoya PixieDust collection is available NOW on the Zoya website (click here) for $9/bottle or $54 for the entire collection. Get yours now and wow your friends with these fairy-like manicures. ;)
Keep in touch with me on Facebook and Instagram!
—
Products provided for review.
REVIEW: Zoya Lovely Spring 2013 Collection
(as previewed here)
Hello! Hope everyone is having a wonderful day so far. :) I finally have a break from school work to show you some swatches from the Zoya Lovely collection for Spring 2013! This collection features three gorgeous pastel cremes and three icy shimmers. The weather has been much nicer lately and it's beginning to look like springtime, so get your nail wardrobe ready with some of these spring colors!
This is three coats of Piaf, an icy, golden shimmer. I am not a fan of shimmery finishes, so this isn't a polish I would wear very often. The formula is a bit on the thinner side, so you'll need to work up the layers. Overall, a nice color, but it's not my favorite from this collection.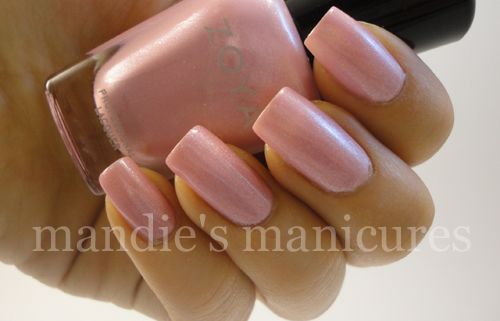 The second icy shimmer in this set is GeiGei. This is a very soft, cotton-candy pink shimmer that is opaque in three coats. No trouble with application.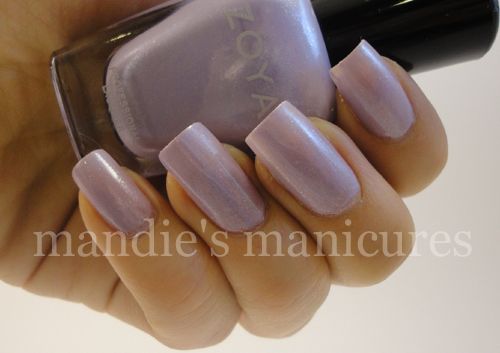 This is Julie, the third and last shimmer of the Lovely collection. I'm not sure what happened, but this polish would not cooperate with me (I may have gotten a bad bottle). I reapplied this polish three separate times, but each time, the bottom layer would get dragged up from the second coat. This is why you can see some "bald spots" in my nails. I used three coats.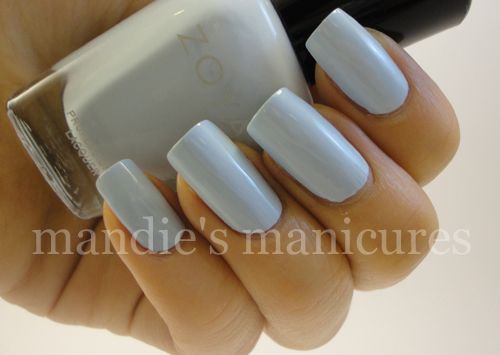 Moving onto the cremes! This is two coats of Blu, a dusty blue creme. I love how creamy and smooth my nails look with this on. The formula for this pastel is awesome - no streaks!
Neely is such a beautiful, green creme. The color reminds of of an avocado face mask - it just looks so cool and refreshing! I used two coats here.
Finally, here is Jacqueline, a nice yellow-nude creme. Though this color required that I use 3 coats for full coverage, the product dried nicely between coats. This is such a beautiful color for the base of any nail art you desire. Get your thinking caps on!
Overall thoughts? I really love the cremes in this set but was not too impressed with the shimmers. Of course, this is just my opinion. What may not work for me, may end up looking great on you! Keep an open mind when trying out new polishes and you may be pleasantly surprised. :)
Each bottle of polish sells for $8 on the Zoya website, or you can get the entire set for $48. 
Questions? Comments? Keep in touch with me on Facebook and Instagram!
—
Products provided for review.