DOMINO EFFECT
(REVIEW: Born Pretty Store 2mm black round studs)
Milani White on the Spot
striping tape, black round studs
Wheee! I have a fun domino manicure for you today. :)
Born Pretty Store always has the cutest nail art items for an affordable price. Using just their 2mm black round studs and some striping tape, I was able to create little dominoes on my nails.
I started by painting my nails with two coats of my favorite white polish. When the base color dried, I added striping tape across each nail. Then, having some domino pieces out as a guide, I used a dotting tool to add the black studs onto my nails one at a time. You can use nail glue as an adhesive, but I prefer using a simple top coat since it is just as effective and less messy.
These black studs from Born Pretty Store are incredibly lightweight, which prevents them from falling off your nails. I love that the backs are flat so that application is easy. To ensure that the studs and striping tape will stay put, seal up your entire manicure with one more layer of top coat.
And here's a picture of some actual dominoes with my nails just for fun. :)
Like what you see? You can easily recreate this look for yourself! Each bag of the 2mm black round studs costs less than $5, and as a reader of mandie's manicures, you can use my coupon code MANDIEW21 to get 10% off your entire purchase + free shipping! Click here for the studs!

Questions? Comments? Keep in touch with me on Facebook!
—
The round black studs were sent to me for consideration from Born Pretty Store. As always, the opinions stated are honest and my own. For more information, please see my full disclosure.
BUTTON UP!
Julep Gunta
Julep Popova
black studs
Julep partnered up with Trina Turk to create 10 lovely shades to welcome the upcoming fall season and today's post features the two colors I received in my September Boho Glam box (read on to the end to see how you can get your first month of Julep for just a penny!).
I started this manicure with two coats of Popova, a creamy jade polish. Then, using tape as a straightedge and guide, I painted half of my nail with Gunta, a royal blue cream. Finally, I finished up the manicure with some black studs to resemble sweater buttons.
Questions? Comments? Talk to me on Facebook!
—
If you are planning to become a Julep Maven for the first time, click here. Simply take the quiz to determine your style and use coupon code PENNY at checkout to get your first month's box for just $0.01!
The black studs can be purchased here. Use coupon code MANDIEW21 to get 10% off + free shipping.
SANDY BEACHES & STARFISHES
(REVIEW: Born Pretty Store Dearlee nail polish and gold star studs) 
Dearlee 22
Sally Hansen Set the Stage
Check out this beach-inspired manicure I created using some Born Pretty Store products (minus the Sally Hansen glitter polish)!
Also, if you like what you see, don't miss out on your chance to WIN $100 to spend on absolutely anything you want from bornprettystore.com. Click here to enter in the Rafflecopter app!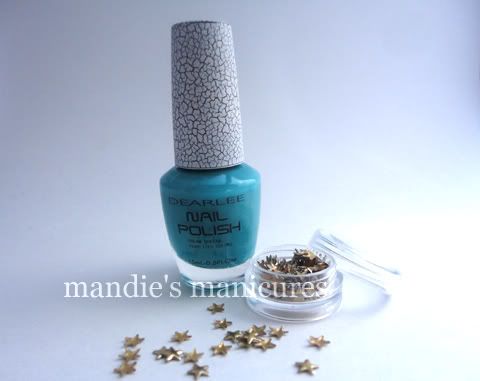 Dearlee's #22 is a highly-pigmented, teal, creme polish. The consistency is thick, but not gloopy, which allows for opacity in just one coat! The bottle shape is comparable to OPI's bottle and very sturdy - only difference is that the bottle cap is not as firm and can be cracked if dropped. However, BPS's shipping team does an amazing job in ensuring safe delivery - my items are always properly packaged in bubble wrap and bubble mailer! I especially like the brush on their Dearlee line. There's something about the flat and wide brush that allows for easier control and better precision. No clean-up was necessary after applying the base color! A brush that makes my life easier deserves an A+ in my book.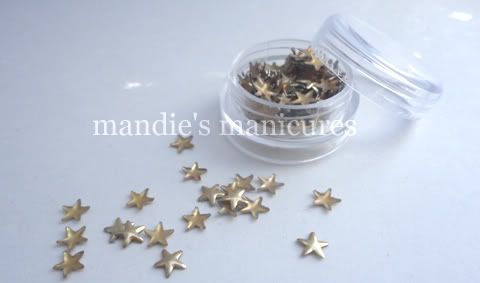 The gold star studs are super cute! (Note: the plastic container is not included. The stars come in a sealed plastic bag.) They are lightweight and easy to use. Like all 3D nail art, simply use a clear top coat as glue to stick them on your nails. I recommend these studs to those of you with flatter nail beds, as they won't stick out as much. You can see that the edges of the stars are poking out on my manicure because my nails curve in a u-shape around my fingers (that sounds a bit gross, huh? But I hope you understand what I mean!). Well, regardless of your nail shape, give these cuties a try! You can purchase them here.
Don't forget to use my coupon code MANDIEW21 to get 10% off your entire purchase + free shipping! :)

—
The Dearlee polish and gold star studs were sent to me for consideration from Born Pretty Store. As always, the opinions stated are honest and my own. For more information, please see my full disclosure.
YOU'RE A STUD!
Today I have a product from Born Pretty Store to share with you. I was generously provided with a bag of 4mm gold square studs for an honest review. The studs came in a small plastic packet, which I later poured into a small container for easier use. They are very light even though they are made of metal, so they do not bother me at all.
I was worried that these studs would snag on my clothes, but I have been wearing these all day with no problems at all - they are flat and the corners are rounded. Unlike other metal rhinestones, these do not get discolored after applying a top coat. 
Application of these studs are incredibly easy. You do not need to use glue. A simple top coat adheres the studs firmly.
Each bag sells for less than $6 and with the coupon code MANDIEW21, you can enjoy a 10% discount off your entire purchase (+ free shipping worldwide). 

Born Pretty Store sent me the product to review. I am in no way affiliated with this company. The opinions stated in this review are honest and my own.
—
I used OPI's Mermaid's Tears as the base color.
Questions? Keep in touch with me via Facebook! My giveaway for two OPI polishes is still open until tomorrow night at 9:00 PM PST.