ALL TAPED UP!
Julep Kate
gold striping tape
Hi there! :) I have a quick NOTD post for you.
When I started painting these nails, my original intent was to use the gold striping tape as painter's tape to paint another color over the white base, but after seeing how elegant the gold looked against white polish, I decided to leave them.
I started with my base Kate, which is a white polish with a pearl finish. I received Kate in my Julep Maven box last July along with other goodies. Then using the striping tape, I went ahead and dazzled up the manicure with some gold stripes.
Tip: Use a top coat to prevent the tape from peeling up.
That's it! Have a great Friday, everyone! :)
Keep in touch: FACEBOOK | INSTAGRAM | PINTEREST
SPEARMINT CANDY CANES
Zoya Purity
Zoya Logan 
striping tape
Hello everyone! This is a quick candy cane manicure created with Zoya Purity and Logan and some striping tape.
I started with two coats of Zoya Purity, a perfect, non-streaky white creme. After my base color dried, I used striping tape to cover off the areas that I wanted to stay white. Then, I layered on a thick coat of Zoya Logan directly on top. Peeled off the striping tape and voilà! Easy candy cane nails! :)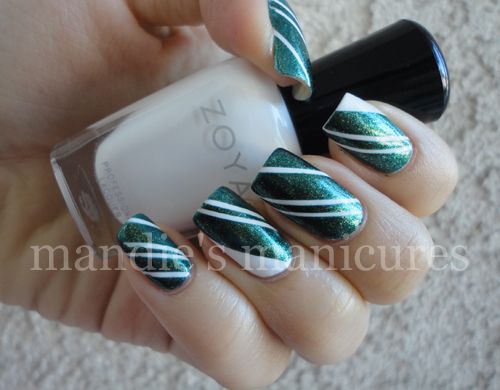 Pictured above is Zoya Purity, which came with my Gilty Pleasures box. I really like this white polish because most white cremes tend to be streaky, but this polish is perfectly opaque and glossy with just two coats.
And here is the second color I used: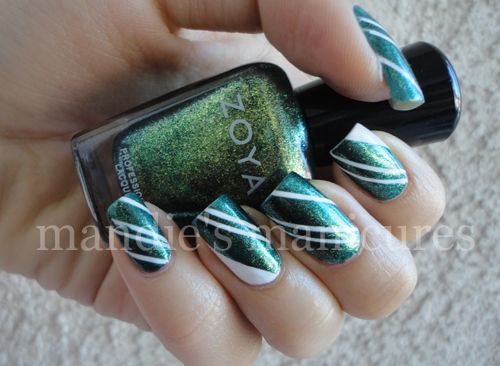 I reviewed Zoya Logan a few days ago (here).
The striping tape can be purchased from Born Pretty Store. You can use my coupon code MANDIEW21 to get 10% off your purchase + free shipping. :)
That's it for today! I wish you all a happy holiday!
—
Keep in touch with me: Facebook | Instagram | Pinterest | Twitter
DOMINO EFFECT
(REVIEW: Born Pretty Store 2mm black round studs)
Milani White on the Spot
striping tape, black round studs
Wheee! I have a fun domino manicure for you today. :)
Born Pretty Store always has the cutest nail art items for an affordable price. Using just their 2mm black round studs and some striping tape, I was able to create little dominoes on my nails.
I started by painting my nails with two coats of my favorite white polish. When the base color dried, I added striping tape across each nail. Then, having some domino pieces out as a guide, I used a dotting tool to add the black studs onto my nails one at a time. You can use nail glue as an adhesive, but I prefer using a simple top coat since it is just as effective and less messy.
These black studs from Born Pretty Store are incredibly lightweight, which prevents them from falling off your nails. I love that the backs are flat so that application is easy. To ensure that the studs and striping tape will stay put, seal up your entire manicure with one more layer of top coat.
And here's a picture of some actual dominoes with my nails just for fun. :)
Like what you see? You can easily recreate this look for yourself! Each bag of the 2mm black round studs costs less than $5, and as a reader of mandie's manicures, you can use my coupon code MANDIEW21 to get 10% off your entire purchase + free shipping! Click here for the studs!

Questions? Comments? Keep in touch with me on Facebook!
—
The round black studs were sent to me for consideration from Born Pretty Store. As always, the opinions stated are honest and my own. For more information, please see my full disclosure.
TRIANGLE PARTY!
Milani White on the Spot
Wet n' Wild Grew Up in Cobalt-imore
Wet n' Wild Precious Petals
Wet n' Wild Hog-Quartz School
Wet n' Wild A Show at the Palladium
Here's a look I created using only drugstore brand nail polishes. I found the limited edition Wet n' Wild Chrome collection at Walgreens several months ago, but finally tried them out. Aside from the bottle size (each are only 8.5 mL), I like these colors. I picked up all 8 with the intention of swatching each individually, but this is more fun. 
Creating this look takes a bit of patience. I started out with two coats of Milani's White on the Spot. After my base dried completely, I used some striping tape to create an X on each nail, and then proceeded to paint each triangle with a different color. This was my first time using striping tape as a guide rather than as a decoration, so you can see that some of the edges are not as straight. If you try this, be sure to press the striping tape firmly down on the nail so no lacquer can bleed under it.
That's all I have for today, folks! Questions? Comments? Talk to me on Facebook!