KISS MY NAILS!
(REVIEW: Born Pretty Store Stamping Plate KD16)
OPI My Very First Knockwurst
Milani Rapid Cherry
stamping plate KD16
To help get you into the Valentine's Day spirit, I have an easy, kissable manicure to share with you today.
My nails are covered in lip prints, thanks to Born Pretty Store's adorable stamping plate KD16. I started my manicure using three coats of OPI's My Very First Knockwurst as the base color (previously reviewed here). After that dried, I went on to the fun part: stamping!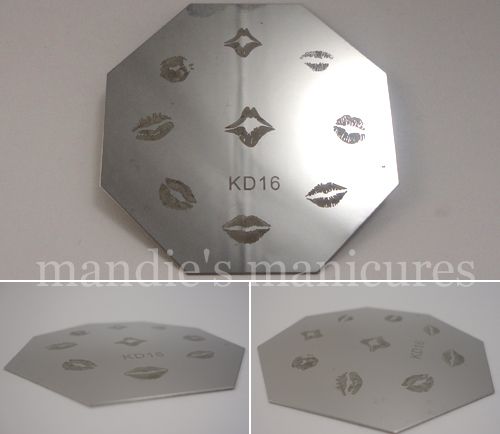 As you can see, the stamping plate has nine different lip prints to choose from. I used four of the nine prints for my manicure. Unlike the round Konad plates, these BPS plates are in the shape of an octagon. The edges can be quite sharp, so please be careful not to cut yourself! Other than that, the plate promises to provide cute little kisses for your nails. :)
I was worried prior to trying out the stamps because the images have very fine crevasses to imitate puckered lips. Usually, I am not very successful with stamping fine lines, but if you look at my close-up picture right above, you can see that the lines came out nicely and very detailed! I am impressed! No smudging at all. :)
I chose Milani's Rapid Cherry for the stamping color, which worked out great for these red lips. Also, since it's "Rapid" Cherry, the color dried very quickly to prevent any dragging from the top coat. Win!
What do you think about this manicure? Talk to me on Facebook!
The stamping plate can be purchased from the Born Pretty Store website here for just $2.99.
Don't forget to use my coupon code MANDIEW21 to get 10% off your entire purchase + free shipping at checkout!
—
Products provided for review.
EXOTIC
OPI Lincoln Park After Dark
Essie Shine of the Times
Konad plate m57
Konad Special Polish White 
I had two math midterms last week, and as soon as I was done, I went straight to the mall to treat myself to a little somethin'. When I spotted the zebra knuckle ring, I KNEW I had to add it to my ring collection. ;) And of course, I did a matching manicure for the ring.
I love layering Essie's Shine of the Times over dark, creme-finish polishes. The effect is incredible from various angles. You can see a swatch (layered over a black polish) of this beautiful flaky polish I posted a few months back here. This is definitely something you want to have handy in your polish collection for an instant eye-catching manicure. Get your own bottle here on Amazon!
—
Like what you see? Become a fan of mandie's manicures on Facebook!
IMMA BEE
China Glaze Happy Go Lucky
OPI Black Onyx
Konad plate m57
Konad Special Polish Black
fimo clay
Buzz buzz, I'm a busy bee, whee! :) You can purchase the fimo clay canes here.
Click here for mandie's manicures on Facebook!
REVIEW: KANDNAIL STAMPING PLATE & STAMPING POLISHES
I received some goodies from Born Pretty Store a few days ago and finally had the chance to try them out today. They provided me with the KandNail stamping plate CK-04 and two stamping polishes in black and white.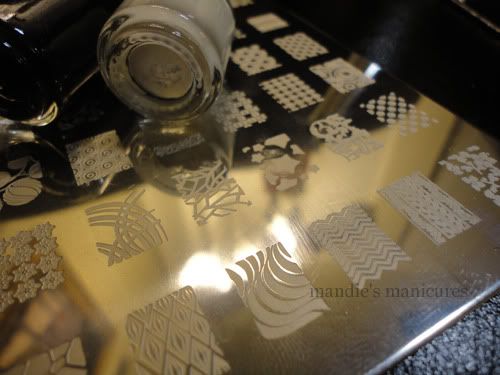 The KandNail stamping plate CK-04 is a large stainless steel slab containing 42 intricate designs. Unlike the Konad plates, KandNail is rectangular in shape and about 3 times larger. I decided to go with a simple zigzag pattern to show you just one of many looks you can create with this plate. The stamping polishes resemble the Konad Special Polishes - the formula is very thick, which works perfectly to make the image opaque.
Overall, I was pleased with the products. My only complaint at the moment is that the designs are not big enough to cover my entire nail bed (or maybe I just have big nails, haha).  I was a little disappointed at first, but of course, you can improvise, get creative, and make things work. :)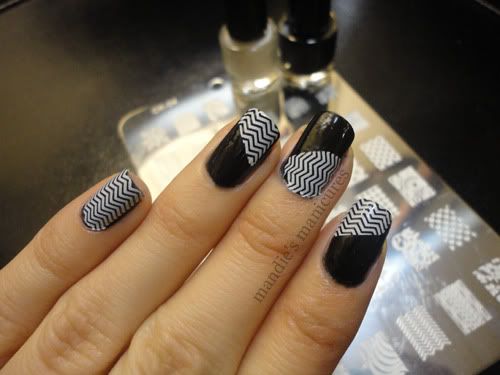 I would definitely recommend this stamping plate to a beginner. You can wow your friends with very detailed designs even if you don't have a steady hand. Please note that I did not use the black stamping polish for the base color. You should use stamping polishes for stamping purposes only as they are much too thick to create a smooth surface. I used a regular black polish for the base.
The KandNail plate costs $7.56 and the polishes cost $3.41. Born Pretty Store offers a wide selection of different stamping plates and various colors for the stamping polishes, so definitely check them out! And of course, as a reader of mandie's manicures, you get a 10% discount off your ENTIRE purchase! Just enter in coupon code MANDIEW21 before checking out.

Thanks for reading! If you have any questions, feel free to drop me a message in my ask box or contact me via Facebook. - mandie
Born Pretty Store sent me these products to review. I am in no way affiliated with this company. The opinions stated in this review are honest and my own.