GREEN GRADIENT
American Apparel Office
Barielle Do Unto Others
Barielle Sweet Addiction
SEPHORA by OPI It's Real 
This is my first attempt at a gradient manicure. Creating a gradient with nail polish is surprisingly very easy and takes no more than five minutes per hand! Please check out s-lacquer's tutorial on how to do a gradient with two colors. I used three different shades of green, but the technique is essentially the same.
I happened to stop by Sephora to gawk at the nail counter and my eyes immediately went to the 18k gold flakes polish, It's Real. Yes, it's real gold, ah! My wallet began to whimper when I saw the price tag, so rather than splurging, I "sampled" it on every nail, hehe. I like! I might just go get a bottle… ;)
This is the manicure before I blinged it out with the gold flakes: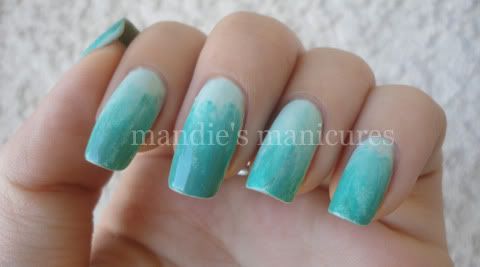 I certainly feel so fancy having 18k gold on my fingers. What do you think? Should I get it? Talk to me on Facebook!
GRAYSCALE
China Glaze Platinum Silver
nails inc. trafalgar square
OPI Lucerne-tainly Look Marvelous
Sally Hansen Twinkle, Twinkle
SEPHORA by OPI Break a Leg-Warmer
All I can say is, magnetic polish = cool. Have a good day!
VANILLA & SPRINKLES
OPI Fit for a Queensland
SEPHORA by OPI Spark-tacular! 
I couldn't capture it with my camera, but Fit for a Queensland has a very subtle pink shimmer in the sun.
IN THE JUNGLE
SEPHORA by OPI Break a Leg-Warmer
Konad plate m57
Konad Special Polish Silver
One of my nails split down the middle because I was being too rough with my hands while washing the car, so I had to cut down all the other nails. :(
And yes, I was trying too hard to get a jungle scene with the houseplant for this manicure, haha.