REVIEW: BA STAR Natural Shadow Palette
(Press samples provided for review.)
Hello, hello! Today I have an eye shadow palette from BA STAR to show you. This is the Natural Shadow Palette, which contains three build-able neutral/brown tones for lustrous smokey eyes, along with two gel glitters for extra glam. 
The set comes with a double-ended applicator: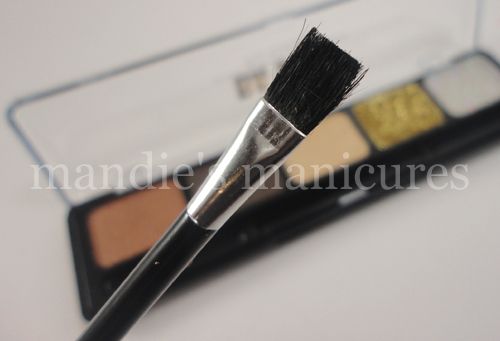 I am not too fond of this regular hair brush because the bristles are a bit flimsy and don't pick up the powder very well. If you're at home doing your make-up, I suggest using your own brushes or if you're on the go, your ring finger will do the job.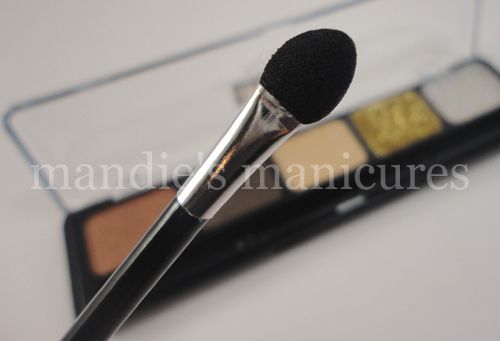 On the other side is a standard sponge tip, which works much better in my opinion. Again, nothing too special. If you have a fluffy brush, you will be able to blend in the colors better.
Now let's move on to the eye shadows!
As I mentioned, there are five different shadows in this palette - three powders and two gels.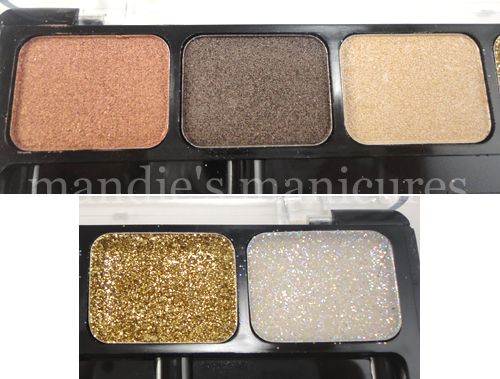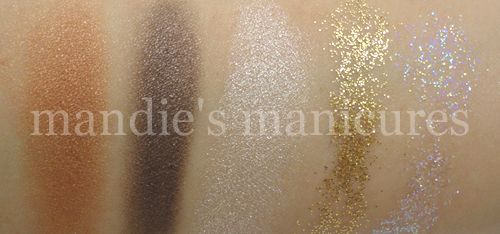 The first three are mineral shadows are in the colors Bronze, Cocoa, and Nude. Because the tones are in very natural shades, it seems to me that they will work for any skin tone! I love that you have everything you need in this compact set. The two gel glitters are new to me. I have never used a gel eye shadow before, but these are pretty cool. If you're going to have a night out after a long day at work, just dab on a bit of the glitter over the mineral shadows for that extra bit of glitz and shine. ;)
TIP: Start out by priming your lids with your favorite eye shadow primer, then apply the Nude shadow all over your lid. Then using the Bronze and Cocoa shadows, slowly build up on the outer V of your eyes to achieve that smokey look. Be sure to blend well so that there are no harsh lines. Finish up with a dark brown/black eyeliner and mascara and you're ready to go!
Aside from the Natural Shadow Palette, BA STAR offers three other shadow palettes in various colors (here). Perhaps you prefer to have bright colors on your eyes!
BA STAR has kindly offered a discount code to my readers (that's you!) to receive 50% off your purchase. Just use the code BBSMOKY when checking out!
Have fun! Keep in touch with me: FACEBOOK | INSTAGRAM
—
Products provided for an honest review.
REVIEW: Barielle Summer Brights Collection 2013 + SWEEPSTAKES
(Press samples provided for review.)
With summer coming right around the corner, it is time to make the transition from your springtime pastels to bright, hot hues. Barielle created a set called Summer Brights to help you with those indecisive moments when you have absolutely no idea what to put on your nails. Let's check out these beauties now, shall we?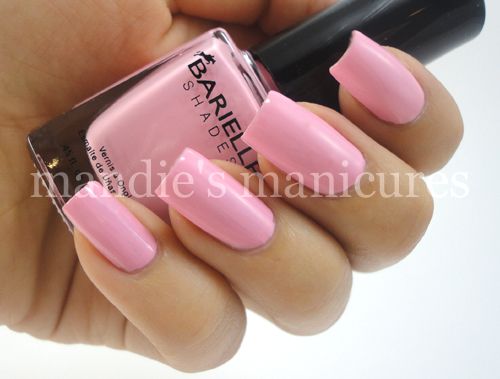 Super bright colors not your thing? You can never go wrong with a simple baby pink creme. This is two coats of Pink Flip-Flops. Application is smooth and easy for such a light color! This is perfect for a pedicure to keep your toes looking stylish when you're wearing sandals throughout the hot summer.
Like bright, eye-catching colors? Then Lemondrops is for you! I am always so impressed with a brand when they can make a yellow polish go on flawlessly and non-streaky on the nails. I just needed two coats for this cute, sunshine yellow creme.
Sweet Addiction is a basic jade creme. This was one of my first Barielle colors and I just love it! And guess what? It's a one-coater! ;)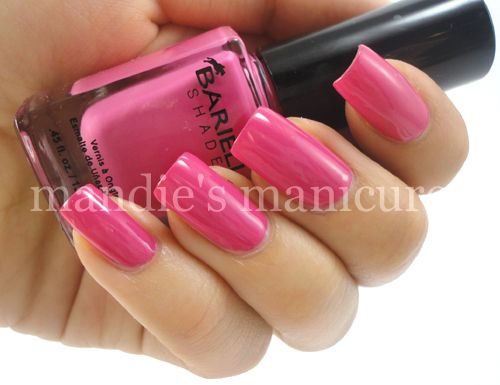 Cosmic Kiss is hot, hot, HOT magenta creme. How cute would this color look with your frilly sundress and over-sized sunglasses? Yep, I am totally ready for the summertime. I used two coats to achieve full opacity.
Finally, we have Blue Capri here. So maybe pink is not your thing and you love blues as much as I do. Then this one is for you! This is a gorgeous, one-coater polish. I am not quite sure how I would describe this color to you - It's not quite blue, and it's not quite purple. It's blurple? Plue? Ah, it's gorgeous, so let's leave it at that!
And there you have it! Just a few more colors for you to consider adding into your summer nail wardrobe.
Barielle polishes are available on their website for $8/bottle, or you can get the entire collection for $25 here.
Want to try your luck at winning this set + more Barielle goodies?
Barielle is hosting a Sweepstakes starting Monday May 5th thru Monday May 27th. There will be 10 winners and one Grand Prize Winner. 
The prizes are Mani-Pedi Spa kits and the Grand Prize includes one Michael Kors Wallet in addition to the Spa Kits.
The lucky winners will get:
One 5 Pack Nail Color Set – Retail $25

One Nail Rebuilding Protein – Retail $17.50

One Nail Strengthener Cream – Retail $17

One No Chip Speed Dry Topcoat – Retail $12.50

One Total Foot Care Cream 2.5oz – Retail $12.00

One Professional Protective Hand Cream 2.5oz – Retail $8.00
Total Value of $92.00!
Just go to Barielle's Facebook page (here) and click on the Sweepstakes tab to enter. Good luck!
Have a great day! And don't forget to keep in touch with me. :)
—
Products provided for an honest review.
REVIEW: Zoya Stunning Collection Summer 2013 (as previewed here)
(Press samples provided for review.)
Oh my, it is such a hot day today in sunny California! It's the perfect time to get your nail polish wardrobe ready for the summer. Today I have Zoya's Stunning collection to show you. Get your eyes ready for some beautiful, bright cremes! You may want to put your sunglasses on. ;)
First up is Darcy, a vibrant, sunshine yellow creme. I know that some people stray away from yellow polishes, but get out of that comfort zone and slap on something bright this summer! This is three coats.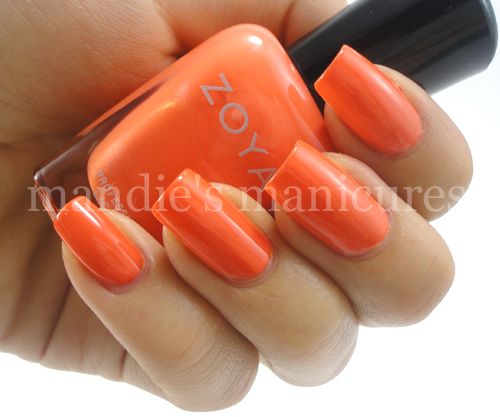 Thandie is a coral creme. It is much more pink in person than pictured. Sometimes when you're having a bad day, putting on colorful nail polish can instantly brighten up your mood (or is that just me?). This is such a cute color that can make you look very happy. :) I used two coats here.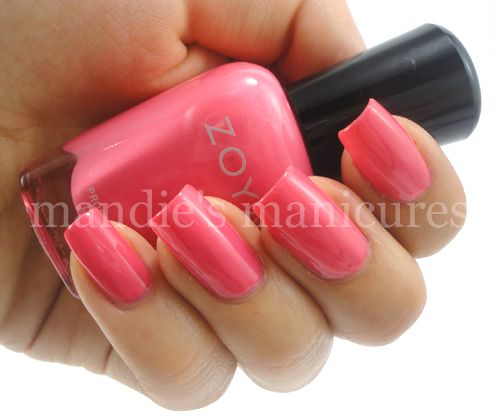 Micky is a sweet, bubblegum pink creme. Super cute for a pedicure when you go out to the beach this summer! Two coats for full coverage.
Yana is a beautiful magenta creme. If you have smaller nails, this polish could easily be a one-coater! 
These last two colors are my favorite from this set. Rocky is a lovely shade of sky blue. It's adorable and a must-have for me! I used two coats.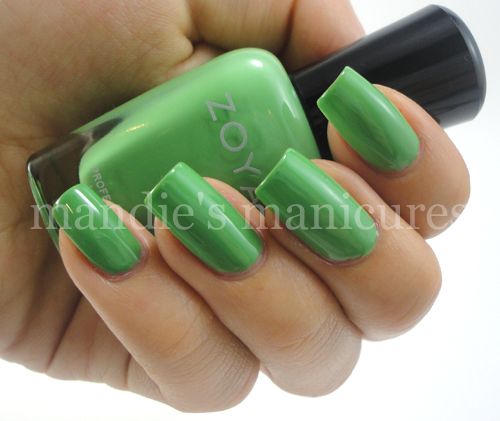 Josie is a lovely kelly green creme. I don't think I have a green like this in my collection, so it is definitely unique to me. Love it! I used two coats.
Application was great for all of these except for Darcy. I had a bit of a streaking issue in the first two coats of the yellow creme, but the third coat smoothed everything out.
The Stunning collection is available NOW on the Zoya website for $8 each. Be sure to get yours to sport these hot colors this summer!
Happy Friday, everyone! :)
Connect with me: FACEBOOK | INSTAGRAM
—
Products provided for an honest review.
REVIEW: Milani Ultrafine Liquid Eyeliner
(Press samples provided for review.)
Ahoy there! Today I am showing you Milani's Ultrafine liquid eyeliners in five different shades. I will show you to swatches on my arm, rather than my eyes because I haven't figured out how to adjust the lighting against my face just yet and I want to be able to show you the true colors of these eyeliners.
But first, let's talk about the brush.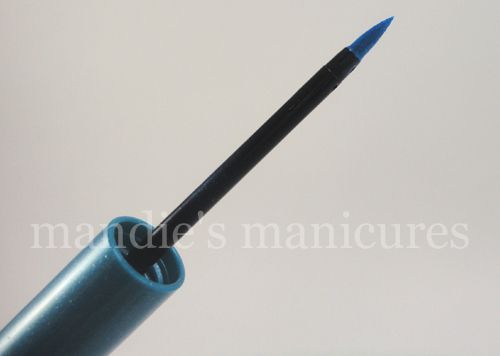 The wand has a pointed felt tip which allows for precise application. You can use the tip to draw thin lines or you can apply a bit more pressure and let the larger end of the tip help you draw thicker lines.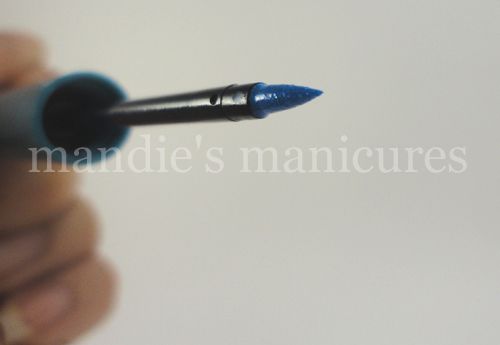 This felt tip is extremely helpful for a beginner because unlike a brush tip, the felt does not change shape as it glides against your skin, thus allowing for straight, crisp lines since you have better control. If you don't have a steady hand, I advise for you to practice with these eyeliners!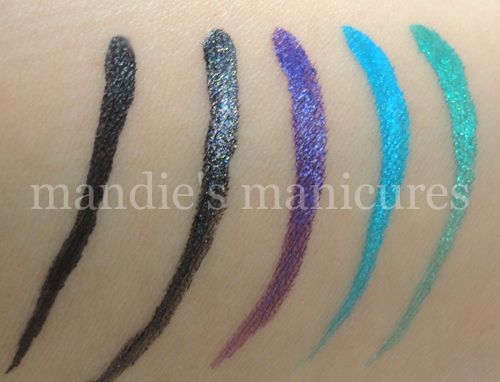 Picture above from left to right: Black Vinyl, Black Gems, Prismatic Purple, Sparkling Turquoise, and Emerald Glisten
Black Vinyl is a basic black liquid eyeliner. The formula is highly pigmented, so you wouldn't need to draw the line on more than once. 
Black Gems is another black liquid eyeliner but with 'gems' laced in. That is, there are various colors of sparkles. It adds a very intense and bold touch to make your eyes pop!
Prismatic Purple is a gorgeous violet liquid eyeliner with a navy blue shimmer. 
Sparkling Turquoise is a sparkling, metallic turquoise. This is perfect for the springtime.
Emerald Glisten is a must-have! Emerald is the color of the year, so you'll definitely want to give this a go. It's beautiful and glistens in the sun.
All five of these eyeliners are waterproof and smudge-proof, which is a big plus in my book because I tend to rub my eyes throughout the day (bad habit, I know). Since they are waterproof, you need to use an oil-base makeup remover to take them off. The nice thing is that with remover, they will come off with ease and will not smear around your face (so no raccoon eyes!).
These eyeliners are available at CVS, Target, Walgreens, Walmart, and Kmart for $7.49 each. You can also find them on the Milani website (here).
Questions? Comments? Keep in touch with me on FACEBOOK & INSTAGRAM!
—
Products provided for an honest review.