TUTTI FRUTTI
China Glaze Gaze
Pretty & Polished Sand Art 
I first saw this gorgeous combination from The Nail Network and I had to recreate the look for myself!
Gaze by China Glaze is a very subtle baby pink creme polish, but it appears almost white in my pictures. With one layer of Sand Art, this manicure reminds me of those tutti frutti-flavored jellybeans!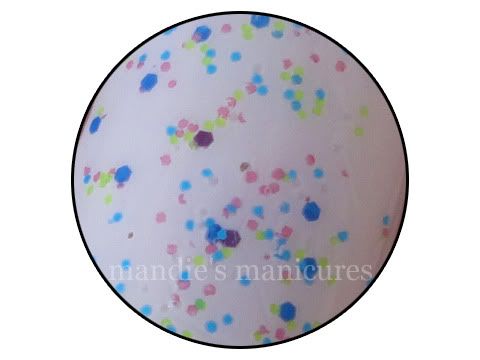 Questions? Leave a comment on this post or talk to me on Facebook! :)
SWATCH
Pretty & Polished Tart
Oh god, oh man. I have no other words to explain the love I have for Pretty & Polished's creations.
This is three coats of Tart, a lavender-jelly polish packed with GLITTER. There are blue and gold (go bears!) hex glitter and large, transparent-pink and white hex glitter. So tell me, does this remind you of the icing and sprinkles on a Pop-Tart? Or a tart berry pie? I just can't decide. :)
Don't forget to LIKE mandie's manicures on Facebook for frequent updates!
SWATCH
Pretty & Polished Pool Party
I'm having a pool party, and all you glitters are invited - hop in! Pool Party is a fun sky-blue jelly polish with a million pieces of glitter in a bottle. In the pictures above, I used four coats along with two generous coats of a thick top coat to smooth out my nails. I cannot wait for the summer!
prosticutee
Asked:
On the Pretty & Polished nail site, whereeee can you find the spot to actually buy the nail polish?
My answer:
Hello there! Pretty & Polished is an indie brand created by a hardworking lady named Chelsea. If you're interested in buying her creations, you'll need to stalk her Etsy store here. She opens roughly every two weeks, but you have to be quick because she sells out within minutes. Good luck! :)