PREVIEW: OPI So So Skullicious Mini Lacquer set for Halloween 2012
Colors to die for!
Celebrate the lives of the dearly departed with OPI's festive Dia de los Muertos-inspired shades, arriving just in time for Halloween, for a limited time only. The new So So Skullicious mini pack includes four mini lacquers in supernaturally bright and bold orange, pink, yellow and black hues.
The So So Skullicious set also includes 10 nail decals for instantaneous nail design, offering vibrant variations of the iconic Dia de los Muertos skull.
"Rather than simply be spooky this Halloween, OPI has created colors that are full of life," explains Suzi Weiss-Fischmann, OPI Executive VP & Artistic Director. "So So Skullicious features vivid colors and fun nail decals that offer the perfect way to get festive for the holiday, whether you're looking for a little way to show Halloween spirit, or planning to get decked out from head to nails and toes!"
So So Skullicious includes the following shades:
Hi, Pumpkin! This jack-o-lantern orange is sweet on you.
A-Rose from the Dead This hot pink is the life of the Halloween party.
Mourning Glory A black so shiny, it will lift your spirits.
Candlelight Be all aglow in this flame yellow.
Each nail lacquer shade in this set contains no DBP, Toluene, or Formaldehyde. So So Skullicious will be available for a limited time beginning September 2012, at Professional Salons, including Beauty Brands, Beauty First, Chatters, Dillard's, JCPenney, Pure Beauty, Regis, Trade Secret, and ULTA, for $12.50 ($14.95 CAN) suggested retail for each mini pack.
For more information, please call 800-341-9999 or visit www.opi.com. Follow OPI on Twitter @OPI_PRODUCTS and become a Facebook fan!
CHUNKY CHEETAH
OPI Spark de Triomphe
OPI Decades of Shades
OPI Black Onyx 
So I was going through my OPI drawer and found many bottles in the back that I rarely use. Yes, I believe that my polishes have feelings and should not be neglected, haha. I picked up Spark de Triomphe and Decades of Shades and knew right away that I wanted to do a blinged-out cheetah manicure. All I needed to take out after that were a black polish and my trusty dotting tools.
I started with three coats of Spark de Triomphe as my base. This chunky gold glitter polish is from the Serena Glam Slam! collection from 2011. I don't know why I've never worn this glitter before - it's absolutely stunning on its own, and I would have worn it alone, but the cheetah was waiting!
Then I used a dotting tool to dab on random blotches of OPI's Decades of Shades on each nail. This chocolate brown creme is from OPI's 25th Anniversary collection and is discontinued. Although discontinued, you can still find it on Amazon, but for a bit more $ than the current OPI's. Decades of Shades has been with me long before I started collecting nail polish and I am so happy to take it out for this manicure today.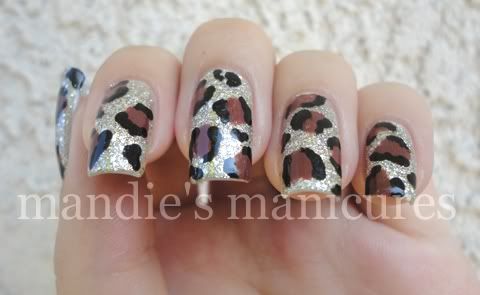 To complete the cheetah look, I used a smaller dotting tool to outline the brown splotches with OPI's Black Onyx.
Finally, I topped everything off with two layers of top coat. I usually only use one coat, but the glitter base was eating it up so quickly! The second coat smoothed everything out.
I am very happy with the finished look! For such an easy manicure, I received so many compliments. :) Would you wear this manicure?
Questions? Comments? Talk to me on Facebook!
REVIEW: OPI Designer Series (DS) shades for Fall 2012
OPI releases two new high-shine hues – DS Indulgence and DS Luxurious – to join the Designer Series by OPI collection this fall. Fusing fashion and technology, the Designer Series lacquer formula is enhanced with real diamond dust, offering light reflecting, multidimensional color.
DS Indulgence, a radiant red-violet with a shimmering, golden finish, will launch along with DS Luxurious, a captivating coral-red with a golden glisten. With these two additions, Designer Series by OPI will offer 12 glitter-filled, highly-saturated, breathtaking colors.
"Red nails are the epitome of glamour, and this fall OPI is adding two dazzling reds to the Designer Series line," says Suzi Weiss-Fischmann, OPI Executive VP & Artistic Director. "With vivid color and intense shimmer and shine, these lacquers create a bold, high-fashion accessory statement. DS Indulgence provides a deeper, classic red look, while DS Luxurious incorporates rich auburn pigments."
These are my first two silver-capped OPI polishes, so I was super excited to try them out right away. Let's look at the swatches now! Be sure to look at the first picture above to see an up-close look at the sparkles.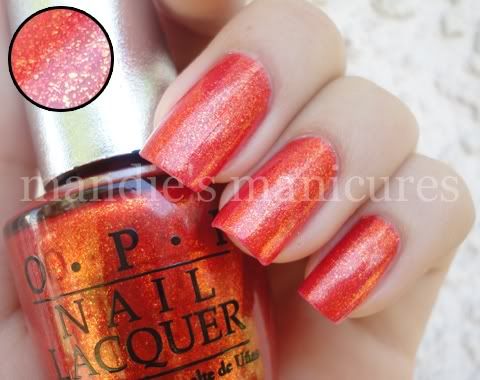 Here I have on two coats of DS Luxurious, a stunning orange foil polish packed with gold flecks. I really love this eye-catching polish! However, I recently went through my nail wheels and realized that this is an exact dupe of China Glaze's Riveting from their Hunger Games collection. Though the colors are the same, the formulas are very different. I prefer the smoother application from DS Luxurious; the polish is better pigmented and is opaque on the nail in just two coats.
DS Indulgence looks like a bronze/copper polish in the bottle, but comes out lighter on the nails. With this polish, you can achieve two different looks. If you are aiming for a raspberry jelly look with gold flakies, you only need to use one coat. With two to three coats, you get a lovely, deep raspberry red foil with an intense amount of gold flecks. This is such a beautiful color and I can't wait to wear it when the fall season comes. In the picture above, I used three coats for full coverage. I highly recommend this polish for your collection!
Designer Series by OPI nail lacquers contain no DBP, Toluene, or Formaldehyde, and each includes OPI's exclusive ProWide™ Brush for the ultimate in application. DS Indulgence and DS Luxurious will be available beginning September 2012 at Professional Salons, including Beauty Brands, Beauty First, Chatters, Dillard's, JCPenney, Pure Beauty, Regis, Trade Secret, and ULTA, for $12.50 ($14.95 CAN) suggested retail for each Nail Lacquer.
Questions? Comments? Talk to me on Facebook!
—
All products mentioned in this post were sent to me for consideration from OPI. As always, the opinions stated are honest and my own. For more information, please see my full disclosure.
REVIEW: OPI Fall/Winter 2012 Germany Collection
Prepare your eyes for 12 new colors from the OPI Germany collection for fall/winter 2012! I will show you the swatches in the same order as my preview post. All pictures are shown with a top coat.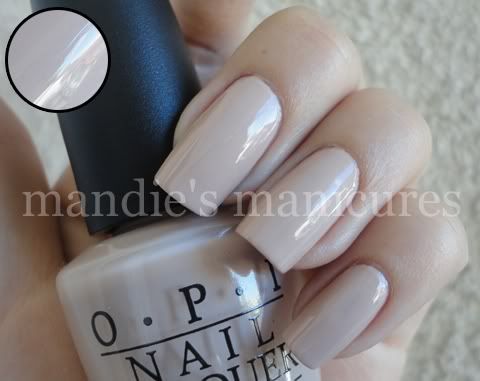 First up is Don't Pretzel my Buttons, a nude beige cream polish. This is a very clean and classy color. If you do not want your nails to overpower your outfit, this is a beautiful beige to try out. I used three coats here for that smooth, porcelain finish. Application requires patience - let each coat dry thoroughly before applying the next to prevent streaks.
This is three coats of My Very First Knockwurst, a dusty-rose cream. The formula in this polish is very similar to Don't Pretzel my Buttons, so be patient with this color! My pictures make the two colors look alike, but in real life, they are very different. I would suggest this beautiful, innocent pink to a bridal party. It will match with any color theme.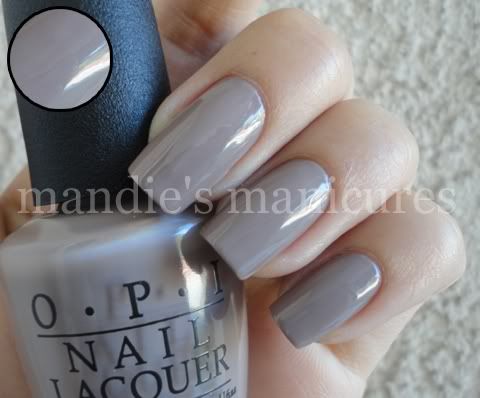 Berlin There Done That is a gorgeous taupe cream with an amazing formula. Two thin coats were enough to achieve bottle color. This is a sophisticated color and is very office-friendly.
Don't Talk Bach to Me is a color that I did not expect to like. Surprise, surprise, I am loving this swampy lime-green! In the bottle, this polish has a subtle silver shimmer, but appears as a cream on my nails, which is fine by me! I believe this is two coats (for some reason, I did not write it down in my swatch notes).
Yes yes yes! Yes? Nein! Nein! Nein! OK Fine! Haha, I cannot get over how cute the name is. Here I have on two coats of this charcoal-gray cream. It almost has a deep blue-green tint if you look at it long enough. Very chic on short nails.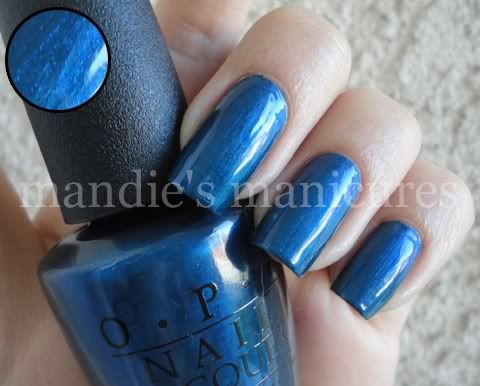 And yet another cute, funky name! OPI always gets me chuckling with their creativity. Unfor-greta-bly Blue is a frosty royal blue polish that applies very smoothly. I used two coats here for opacity. Very shiny finish and sparkles beautifully in the sun.
Every Month is Oktoberfest is one of the more unique colors in the Germany collection. It is almost a duo-chrome polish, but has a shimmering finish. I took so many pictures of this swatch to get the two colors to appear and finally captured them to show you this stunning plum-bronze polish. Two coats for perfection. This is a must-have polish!
This vibrant purple metallic polish reminds me of helium balloons. Here I have on three coats of Suzi & the 7 Düsseldorfs. The formula in this polish is a bit watery, so use thinner coats to avoid flooding your cuticles. I really like that though this is a bright polish outside, it also appears vampy when you're indoors.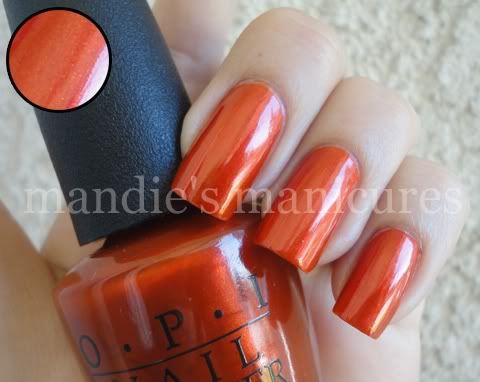 Deutsche You Want Me Baby? Oh man, I had that Human League song playing nonstop in my head while I used this polish! Fun name and a fun color, what more do I need? This is two coats of a frosty-rusty-red-orange deliciousness (this in no way means that I suggest you taste your nail polish, I just really like the color).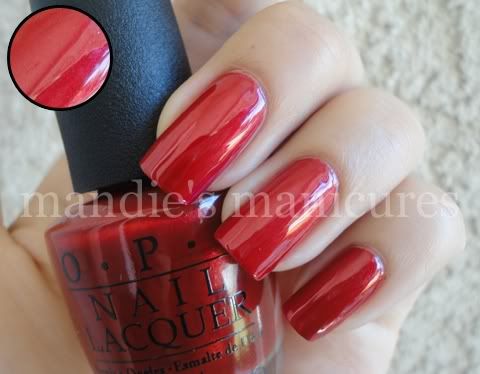 Danke-Shiny Red has a one-coat formula. There's something about this frosty rouge that reminds me of Dorothy's ruby red slippers. Nostalgia at its best, huh? When you try this polish out for the first time, be sure to go stare at it in direct sunlight - it glimmers like crazy! And you will not want to take it off.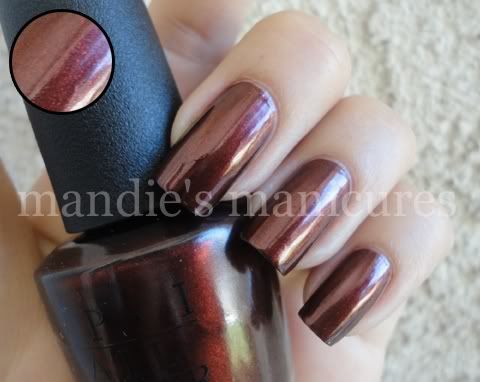 Ahh, we're coming to an end! Here is German-icure by OPI, a stunning deep chocolate-purple/wine polish with a bronze frost. Be careful when you pick up this color at the store - the bottle looks VERY close to Every Month is Oktoberfest. Here I have on just two coats. This is definitely an autumn color to reflect the colors of the leaves. I can't wait to go step on a crunchy one, hehe.
And the last swatch of the day is Schnapps Out of It!, a simple mauve with a silver frost. Surprisingly, this polish is highly pigmented so I only needed to use one coat for the color to become opaque.
Wowza! I think that was the most swatches I have ever done in one post. Hope you are now better informed when you go pick up some of the Germany colors. 
Questions? Comments? Leave a note here or talk to me on Facebook!
—
All products mentioned in this post were sent to me for consideration from OPI. As always, the opinions stated are honest and my own. For more information, please see my full disclosure.