REVIEW: Barielle Summer Brights Collection 2013 + SWEEPSTAKES
(Press samples provided for review.)
With summer coming right around the corner, it is time to make the transition from your springtime pastels to bright, hot hues. Barielle created a set called Summer Brights to help you with those indecisive moments when you have absolutely no idea what to put on your nails. Let's check out these beauties now, shall we?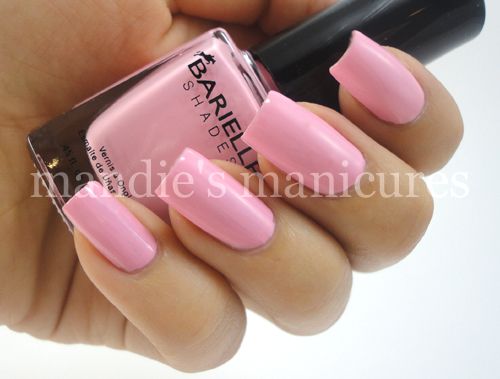 Super bright colors not your thing? You can never go wrong with a simple baby pink creme. This is two coats of Pink Flip-Flops. Application is smooth and easy for such a light color! This is perfect for a pedicure to keep your toes looking stylish when you're wearing sandals throughout the hot summer.
Like bright, eye-catching colors? Then Lemondrops is for you! I am always so impressed with a brand when they can make a yellow polish go on flawlessly and non-streaky on the nails. I just needed two coats for this cute, sunshine yellow creme.
Sweet Addiction is a basic jade creme. This was one of my first Barielle colors and I just love it! And guess what? It's a one-coater! ;)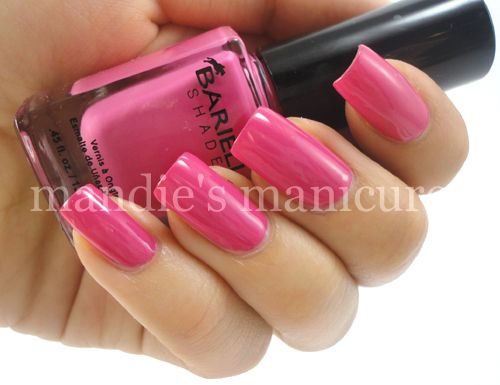 Cosmic Kiss is hot, hot, HOT magenta creme. How cute would this color look with your frilly sundress and over-sized sunglasses? Yep, I am totally ready for the summertime. I used two coats to achieve full opacity.
Finally, we have Blue Capri here. So maybe pink is not your thing and you love blues as much as I do. Then this one is for you! This is a gorgeous, one-coater polish. I am not quite sure how I would describe this color to you - It's not quite blue, and it's not quite purple. It's blurple? Plue? Ah, it's gorgeous, so let's leave it at that!
And there you have it! Just a few more colors for you to consider adding into your summer nail wardrobe.
Barielle polishes are available on their website for $8/bottle, or you can get the entire collection for $25 here.
Want to try your luck at winning this set + more Barielle goodies?
Barielle is hosting a Sweepstakes starting Monday May 5th thru Monday May 27th. There will be 10 winners and one Grand Prize Winner. 
The prizes are Mani-Pedi Spa kits and the Grand Prize includes one Michael Kors Wallet in addition to the Spa Kits.
The lucky winners will get:
One 5 Pack Nail Color Set – Retail $25

One Nail Rebuilding Protein – Retail $17.50

One Nail Strengthener Cream – Retail $17

One No Chip Speed Dry Topcoat – Retail $12.50

One Total Foot Care Cream 2.5oz – Retail $12.00

One Professional Protective Hand Cream 2.5oz – Retail $8.00
Total Value of $92.00!
Just go to Barielle's Facebook page (here) and click on the Sweepstakes tab to enter. Good luck!
Have a great day! And don't forget to keep in touch with me. :)
—
Products provided for an honest review.
PREVIEW: OPI Couture de Minnie Collection
OPI Walks the Runway with New Couture de Minnie Nail Lacquers, Inspired by Minnie Mouse
OPI announces the launch of its Couture de Minnie collection, including four limited edition nail lacquers and one new Liquid Sand™ shade. Created in honor of Disney's beloved character, the Couture de Minnie line explores the fashion-forward side of Minnie Mouse, mixing pink, fuschia and red shades with textural elements. In addition to three crème lacquers, the Couture de Minnie line features a red and white polka dot glitter shade and the strawberry-hued Liquid Sand nail lacquer in Magazine Cover Mouse to give nails a sparkly, matte finish. 
"Last summer, OPI created a 'Vintage Minnie Mouse' line. Women around the world fell in love with the fun and playful shades evocative of Minnie's traditional look," explains Suzi Weiss-Fischmann, OPI Executive VP & Artistic Director.  "This year, OPI is exploring a different side of Minnie Mouse. The Couture de Minnie collection draws inspiration from Minnie's iconic style and incorporates trends most recently seen on the runways, from standout shades to fun textural elements." 
The Couture de Minnie collection includes:
Chic from Ears to Tail 

This pop of bubblegum pink is totally fabulous!

A Definite Moust-Have 

This fantastic fuchsia is at the top of my shopping list.

Minnie Style 

This white and red glitter is the height of fashion.

Innie Minnie Mightie Bow 

Catch this crimson by the toe! 

Magazine Cover Mouse 

The headline-making strawberry has sparkling texture.
Couture de Minnie nail lacquers each feature OPI's exclusive ProWide™ Brush for the ultimate in application. Liquid Sand lacquers should always be worn without top coat. This limited edition promotion will be available beginning June 2013 at professional salons, including Beauty Brands, Beauty First, Chatters, Dillard's, jcp Salons, Pure Beauty, Regis, Trade Secret, ULTA and ulta.com for $9.00 ($10.95 CAN) suggested retail for each nail lacquer.
For more information, please call 800-341-9999 or visit www.opi.com. Follow OPI on Twitter @OPI_PRODUCTS and become a Facebook fan!
PREVIEW: Nicole by OPI Scandalous! Neons & Notorious! Neons
Nicole by OPI Announces Two New Limited Edition Neon Mini Kits, the Brand's First Neon Lacquer
Nicole by OPI launches its first neon nail lacquer with two limited edition mini kits. Scandalous! Neons includes vivid shades of blue, purple and pink while the Notorious! Neons includes vibrant shades of green, fuchsia and orange.
Each Neons kit includes a special white base coat, to be applied before adding color, allowing true neon pigments to pop. "These kits offer the hottest hues in a mini size to complement summer styles," explains Suzi Weiss-Fischmann, Nicole by OPI Executive VP & Artistic Director.  "Think of your nails as a blank canvas.  With these color combinations, there are endless options for creating works of art."
In addition to the white base, Scandalous! Neons includes:
Blue Neon (this blatant blue is deliberately belligerent)
Purple Neon (this attention-seeking purple is a real publicity hound)
Pink Neon (this pink's purpose is to provoke your senses).
Along with white base, Notorious! Neons includes:
Green Neon (this gossip-stirring green is the talk of the town)
Fuchsia Neon (this fuchsia is famous for being unabashedly bold)
Orange Neon (this outrageous orange doesn't know the meaning of meek).
"The shades included in both sets are perfect for accessorizing fingers and toes with bright pops of color," adds Weiss-Fischmann. "The first step is to apply the white base coat followed by the desired neon shade; finish with one coat of Nicole by OPI Top Coat Plus to achieve intense neon color with a glossy finish."
Nicole by OPI formulas are long-lasting, fast-drying, and salon-quality. Scandalous! Neons and Notorious! Neons mini packs will be available in stores beginning May 2013 for $10 each at retailers including Meijer, CVS, Duane Reade, H-E-B, Kroger, and ShopKo. Top Coat Plus will be sold alongside the kits for $7.99. In Canada, the kits will be available for $12.50 each and Top Coat Plus for $10.99 at Loblaw, Jean Coutu, Rexall, London Drugs, and Shoppers Drug Mart.   
For more information, visit nicolebyopi.com. Follow Nicole by OPI on Twitter @NicoleByOPI and become a Facebook fan!
REVIEW: Zoya Stunning Collection Summer 2013 (as previewed here)
(Press samples provided for review.)
Oh my, it is such a hot day today in sunny California! It's the perfect time to get your nail polish wardrobe ready for the summer. Today I have Zoya's Stunning collection to show you. Get your eyes ready for some beautiful, bright cremes! You may want to put your sunglasses on. ;)
First up is Darcy, a vibrant, sunshine yellow creme. I know that some people stray away from yellow polishes, but get out of that comfort zone and slap on something bright this summer! This is three coats.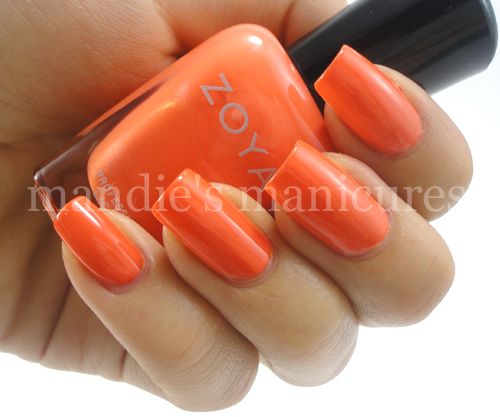 Thandie is a coral creme. It is much more pink in person than pictured. Sometimes when you're having a bad day, putting on colorful nail polish can instantly brighten up your mood (or is that just me?). This is such a cute color that can make you look very happy. :) I used two coats here.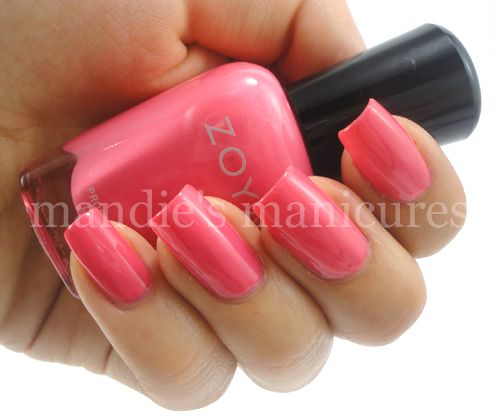 Micky is a sweet, bubblegum pink creme. Super cute for a pedicure when you go out to the beach this summer! Two coats for full coverage.
Yana is a beautiful magenta creme. If you have smaller nails, this polish could easily be a one-coater! 
These last two colors are my favorite from this set. Rocky is a lovely shade of sky blue. It's adorable and a must-have for me! I used two coats.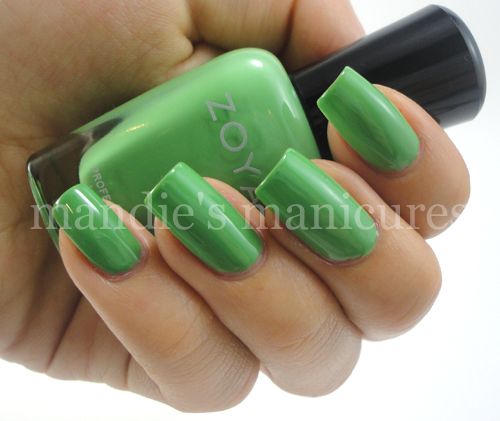 Josie is a lovely kelly green creme. I don't think I have a green like this in my collection, so it is definitely unique to me. Love it! I used two coats.
Application was great for all of these except for Darcy. I had a bit of a streaking issue in the first two coats of the yellow creme, but the third coat smoothed everything out.
The Stunning collection is available NOW on the Zoya website for $8 each. Be sure to get yours to sport these hot colors this summer!
Happy Friday, everyone! :)
Connect with me: FACEBOOK | INSTAGRAM
—
Products provided for an honest review.