REVIEW: Dead Sea Premier Beautifying Nail Kit (Passion Fruit)
Happy Friday everyone! During my last giveaway, I asked for ideas of what my readers (that's you!) would like to see on mandie's manicures. The most-mentioned topic was nail care and maintenance, so I have an amazing nail kit to share with you today. And since this is a nail care post, yes, you will see some butt-naked nails. Viewer discretion is advised! ;)
The Beautifying Nail Kit from Dead Sea Premier contains everything you need to have healthy nails and cuticles: nail filer, buffing block, cuticle oil, and hand cream. There are three scents to choose from: Herbal, Passion Fruit, and Milk & Honey. The lovely representative of Premier sent the Passion Fruit nail kit for me to try out. Let's take a closer look at each item now and how I used them to keep my hands happy.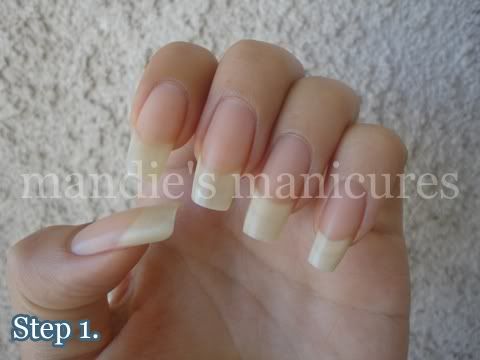 Step 1: Before you begin your nail care regimen, remove all nail polish, dirt, and oil by using acetone (or any polish remover). Wash your hands with soap and water and thoroughly dry them.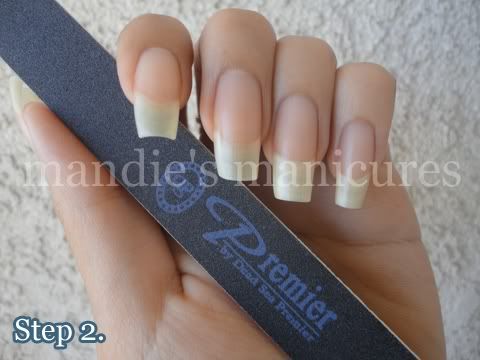 Step 2: Using the Premier nail filer, carefully smooth away any rough nail edges. Then use it to shape your nails to the desired shape. I like to keep my nails squared, but you can easily use this filer to form rounded or almond-shaped nails. The grit on this filer is very fine, so when you file quickly (not vigorously), you do not feel bumps.
If you have been a long-time reader/follower of mandie's manicures, then you know that I do not like to use nail clippers since they cause my nails to split and break. Instead, I always recommend filing your nails on a regular basis to maintain the shape and length. Be sure to file in only one direction (not back and forth).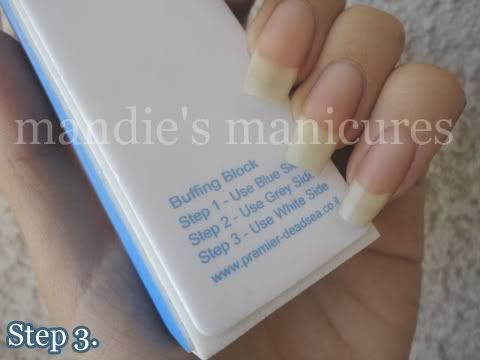 (Haha, I hate putting my bare nails next to white objects because they make my nails appear very stained in comparison.)
Step 3: The buffing block in this kit has four sides of different colors to help you identify which side to use first. You should use this buffing block sparingly (once a month), because you are essentially removing a tiny layer of your nail beds each time. First use the blue side to lightly buff each nail, which will remove lines, ridges, and any bumpy texture. Then using the gray side, again, LIGHTLY, buff away the white dust. This side will remove all remaining ridges and stimulate blood circulation under your nails, which encourages healthy and strong growth. Finally, use the white sides to buff the nails. The white sides are made of silk, so you will hear your nails squeak as you buff, haha. To my amazement, after using the white side, my nails are extremely smooth and glossy without needing nail polish!
If you are someone who does not like to use nail polish regularly, but want shiny and healthy-looking nails, I recommend trying out this buffing block! You need to see it on your own nails to believe it.

Step 4: Sometimes when you are buffing your nails, you may accidentally run the buffer over your cuticles as well, which results in dry, uncomfortable hands. Luckily, this kit includes the Mineral Rich Cuticle Oil. You can see in the picture above that the tube is tiny on the end, so you get the right amount of oil on each nail each time. Dab a tiny drop (a little bit goes a long way) on each nail and massage the oil into your cuticles and nail beds. You will immediately see the difference in your cuticles' health.
After frequent use, you will notice that it softens your cuticles and loosens them from your nails. I have been using this cuticle oil everyday for the past two weeks and I have not had the need to push my cuticles back! The cuticle oil has a very fresh fragrance (fruity, but also floral). Passion fruit smells amazing!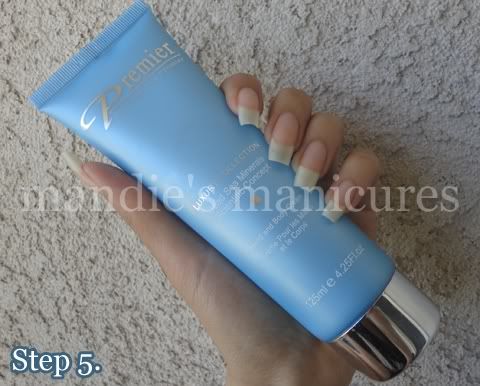 Step 5: Finish up by applying the Hand and Body Cream all over your hands. You can use this cream throughout the day as you wish, and trust me, you will because it smells amazing.
"This light lotion glides on easily and allows skin to breathe, leaving it irresistibly soft and supple. Its luxurious formula is enriched with Dead Sea minerals and natural plant extracts to soften and smooth your skin. When combined with our cuticle oil it improves the flexibility of your nails and helps to reduce flaking and breakage."

The lotion is creamy and thick, yet non-greasy. I just applied a bit to my hands and I am typing away on my laptop! See the picture above. That tiny amount is enough to entirely apply on one hand. Love it! Did I already mention that it smells amazing?
Step 6: Sit back and admire your hands!
And that's it! Beautiful hands and nails in under ten minutes. If you have any questions/comments, talk to me on Facebook!
The Dead Sea Premier Beautifying Nail Kit can be purchased here for $39.99/set. Be sure to check out their website for other skin care products.
—
All products mentioned in this post were sent to me for consideration from Premier Dead Sea. As always, the opinions stated are honest and my own. Please understand that I am not a licensed professional, nor do I consider myself one. What may work for me may not give the same results for you. For more information, please see my full disclosure.
REVIEW: DAZZLE DRY NAIL SYSTEM & CHERRY PARFAIT
I have received many emails in the past few weeks with questions about how to prolong the life of a manicure. I always explain the necessity of using a base coat and a top coat, but results may vary from person to person, thus trial and error is required until the proper product is found that works for you. Well, today I have a new product (new to me) to share and suggest to you!
The Dazzle Dry System comes complete with a base (2) and top coat (4) as well as a solution (1) to prep your nails before applying the base coat. Dazzle Dry offers vegan nail polishes that contain no harmful chemicals (toluene, DBP, camphor, formaldehyde, and nitrocellulose free).
Before starting your manicure, you will need to use acetone to clean off any leftover polish from the previous manicure.
1. Start by moistening a cotton ball with the Dazzle Dry Nail Prep solution and use it wipe each nail surface.
This solution is definitely helpful to prolong your manicure's wear time because it removes any oil residue on the nails. This solution smells like rubbing alcohol, but it was not as strong so it did not bother me. It also nourishes and strengthens your nails (though I have only used it once for this manicure, so I do not see a difference yet).
2. Then apply the Dazzle Dry Base Coat on each nail. Let it dry for 1-2 minutes.
Unlike other base coats that I have used, this one was a bit runnier. It was not thick at all, so it was very easy to let it glide onto each nail. I usually wait about five minutes before applying my color, but with this base coat, I waited less than one minute. You can tell when the base coat is dry because it goes on glossy, but dries matte, which is very helpful so you don't need to guess. The smell of this base coat was particularly strong (different than the usual nail polishes that I use) in my opinion. I think it may have something to do with the fact that Dazzle Dry polishes are vegan, but I am not too sure.
3. Apply 1-3 coats (depending on the opacity level of the polish) of your choice of Dazzle Dry Nail Lacquer. In the picture above, I used two coats of Dazzle Dry's Cherry Parfait.
Cherry Parfait is a beautiful, bubblegum-pink creme polish. I was extremely pleased with the dry time. Trust me, I am not even exaggerating. As soon as I was done painting all five fingers on one hand, the first finger I painted on that hand was already fully dried to the touch! And listen, it takes me less than two minutes to paint one hand with a single coat. One coat wasn't enough for me, so I went in with one more and it was just perfect.
4. To ensure that your polish will last with a beautiful high-gloss, apply the Dazzle Dry Top Coat over the color.
Wow! I am beyond impressed with this top coat. Whenever I find a product I like, I am generally very loyal to the brand and will stick with it. Dazzle Dry's top coat is definitely going into my list of favorites. It finished up my manicure to perfection, leaving a beautiful high-gloss shine. Another plus is that it took about five minutes to be completely dry (I'm talking air dry, no UV curing)! I took those pictures immediately after finishing the manicure. I am very rough with my hands, but as you can see, no dents/nicks/smudges at all. 
My overall thoughts? I highly recommend to all my readers to try out the Dazzle Dry Nail System and Nail Lacquers. If you are someone who is always in a rush or if you feel that you just don't have the time to pamper yourself with a manicure, this is perfect for you. You can easily achieve a salon-finish look with this kit in less than 20 minutes.
Click here to view and purchase Dazzle Dry products.
—
All products mentioned in this post were sent to me for consideration from Dazzle Dry. As always, the opinions stated are honest and my own. For more information, please see my full disclosure.
I got a rush of askers in my inbox from the past week with very similar questions, so I'll try to answer some of them in one post rather than spam my followers' dashboards with multiple posts. Just a reminder that I absolutely enjoy receiving questions, so feel free to ask away. If you don't see an answer within a week, it's either because it has already been answered in a previous post or it can be found in my FAQ page. I don't mind anonymous questions, but it's easier if you ask with your username so that I can answer privately. If you would like an immediate response, then you can definitely post on my Facebook wall or shoot me an email! Okay, on to the questions.
1. Hello to you, too! Thank you very much. :) Your nails may be breaking easily because you are trying to maintain square-cut nails. I love how square nails look, but they require more maintenance because they can easily snag on clothing and split easily. If this is your case, then try growing your nails while keeping them rounded. Once they grow to the desired length, then file them until you get the shape you want. I emphasize and stress the importance of FILING your nails. I very rarely cut my nails with nail clippers because it results in weakened nails, which will eventually split/crack/break within a few days (ouch). If you absolutely need to use nail clippers, make sure they are not dull. When you file your nails, file in ONE direction. Never file back and forth!
Aside from how you cut your nails, remember to take care and nourish them. Avoid soaking your hands in water for long periods of time. If you wash dishes, use gloves. If your fingers are getting wrinkly from a bath/shower, your nails are also being exposed to too much water. From experience, I noticed that keeping my hands wet for too long results in soft nails, which become brittle when dry. Not good. :( When I say nourish, I mean using cuticle creams/oils all over your fingers as well as the nail beds. Keeping your nails regularly polished may prevent breaking as well.
There's a lot more to say, but I don't want to repeat myself. I answered some other nail maintenance questions here, so please check them out for further tips. 
2. Thank you! I use pure acetone, which you can buy from any local beauty store. They are sold by the gallon and generally very cheap. Pure acetone cleans off nail polish very well compared to what you find at drugstores since there are no moisturizers mixed in. Please be careful with pure acetone though. You can damage your nails and cuticles by overusing it. Avoid inhaling the fumes.
3. Hello, there! I "groom" my nails by first filing to get the desired shape, then lightly buffing the nail beds to rid of any ridges or yellowing. Do not over-buff the nail beds as you can easily thin out your nails and cause them to break. Then I apply cuticles creams all over to keep my cuticles nourished. I like to use Lush's Lemony Flutter and/or Bert's Bees' Lemon Butter Cuticle Cream. I leave the cream on my nails and cuticles to let them soak in the goodness for at least an hour. Make sure the cream is no longer on your nails when you begin to apply nail polish.
—
Okay! I think that's the best I can answer for now. You can check out other answered questions here. I gotta get back to my homework. Expect a new manicure post soon. :) - mandie
Anonymous Asked:
hiya mandie! hope you're doing well. sorry to be nagging on ya i'm sure you get 384934893 questions/day! i just wanted to know how youre able to stand using a polish that takes more than 2 coats to be opaque (like your mint green swatch). i lose my patience and my manicure turns out streaky if i have to keep layering it. whats your advice on that? i just really want to get that nice salon-finished look like yours without having to dish out so much $$! anyway keep it up girl, love your site<3
My answer:
Hi there! Thanks for your questions. Okay let me see if I can answer all your questions/comments properly.
I am doing well, thank you for asking! :) No, you're not nagging on me at all. And no, I don't get THAT many questions/day, silly!
I don't mind polishes that require more than 2 coats to be opaque because in the long run, those are the polishes that will have the longest shelf-life. Polishes that require only 1 coat to be opaque are usually the ones that get chunky and thick after a year or so - an incredible waste of money! Sure, you could buy nail polish thinner, but I really don't like the idea of mixing another chemical into my lacquer.
Patience. Yes, patience is a must-have when you're doing manicures. My advice is to ONLY paint your nails when you WANT to and when you actually have the time to allow for proper drying time. I find myself getting so frustrated when I paint my nails if I'm not really in the mood because I mess up so much and paint things that are no where near my nails - it's ridiculous, really.
When you're using a more sheer color, then the first coat or two will of course be streaky, but don't stop there. Let it dry completely and then move on to a third coat or a fourth. This time, paint with a gentler hand so that you're not dragging the bottom layer with you, which causes that streak. Also make sure you have enough polish on the brush (!), otherwise you'll create an uneven surface. And finally, let gravity do its job. If it looks a tad bumpy/streaky, ignore it and continue painting the other 9 fingers. By the time you get back to the first nail, you'll see that gravity has pulled the polish down to fill in any dents on your nail bed (that sounds funny, but I'm not sure how else to explain it, haha).
For that finished salon-look, a glossy top coat will do the job! Then do a quick clean up with a small brush and pure acetone if you accidentally painted your skin or cuticles. Oh, speaking of cuticles - definitely take the time to condition your cuticles to make your hands look even healthier. I started using Lush's Lemony Flutter every night for the past month, and let me tell you, it has been doing wonders! I also use Bert's Bees Lemon Butter Cuticle Cream during the day. Try them out and see if they help.
Okay, phew, that was long. Good luck!