REVIEW: CVS Exclusive Milani Nail Shades for Spring 2012
Today I will be showing you 8 of the 10 CVS exclusive Milani polishes for Spring 2012. Haha, yes, yes, I know - I know the picture above is swatcherific-overload, but continue reading for a review and larger picture of each individual polish. 
Here I have three coats of U Pinky Swear, a cute bubblegum-pink creme polish. This is pictured without a top coat, so you can really see how the Milani polishes shine. I love the easy and flawless application of this polish.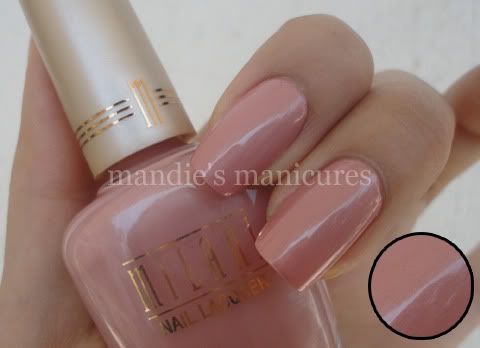 A Rose Mylady is a brown-pink neutral creme polish. When I was swatching this color on my nail wheels, I had a difficult time deciding whether it belonged with the pinks or the neutrals. In the end, I decided to put her on the pinks because the word "rose" is used in the name. Anyway, in the picture above, I used three coats to reach opacity.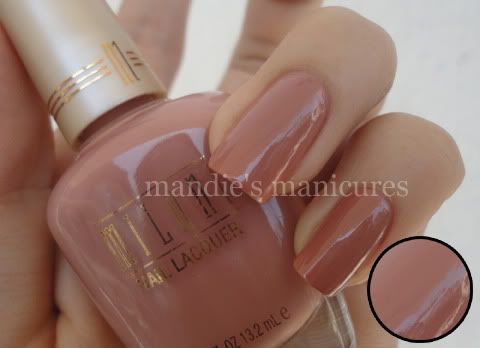 And here are two coats of a milky chocolate polish called Natural Touch. I am not a fan of this color since it is too neutral for me (I prefer bright, vivid colors). 
Pink Slippers is a very sheer beige polish. You can see that there are visible nail lines even though I used four coats of this polish. You may want to layer this polish over a creme for better coverage. I really like that it is laced with a golden shimmer, but I wish it were less sheer.
Check out this hot pink! Fuchsia Fierce is a one-coat polish. The name says it all. It's fuchsia. And it's fierce! I usually shy away from hot pinks and reds because I hate staining my nails, but surprisingly enough, my nails were fine after removal. That's an A+ in my book.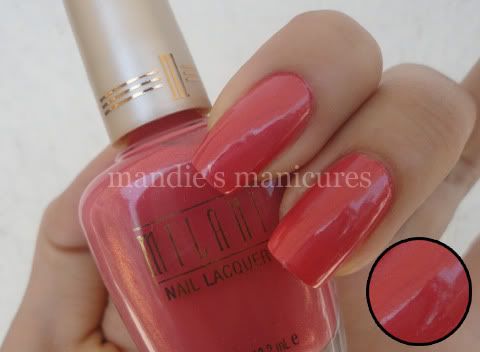 Pink & Proper is very close Pink Slippers, in that they are both sheer and have a golden shimmer. Here I have three coats of Pink & Proper.
Hipster Plum is a gorgeous vampy violet creme polish. Here I used two coats for complete coverage. I cannot wait to use this during the fall. It's such a sophisticated, chic color!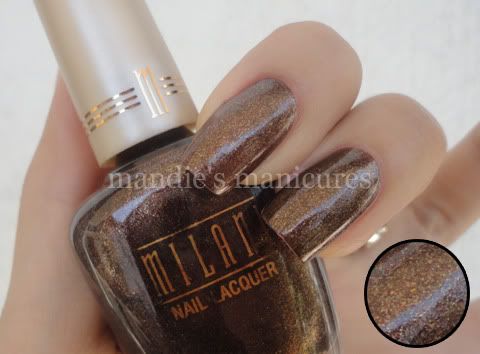 And oh my, this is Chocolate Sprinkles, a yummy metallic brown polish with gold "sprinkles"! This color really wowed me! I could not stop staring at my nails after applying two coats of this polish. It's definitely a must-have. Application is a dream for a metallic polish - smooth, no streaks at all. I absolutely love this polish.
What do you think? Will you be going to CVS to pick up some of these beauties? They retail for $4.49/bottle. If you don't have a CVS nearby, you can also purchase them from the Milani website and on Amazon.
Questions? Comments? Talk to me on Facebook!
—
All products mentioned in this post were sent to me for consideration from Milani. As always, the opinions stated are honest and my own. For more information, please see my full disclosure.