REVIEW: Barielle Summer Brights Collection 2013 + SWEEPSTAKES
(Press samples provided for review.)
With summer coming right around the corner, it is time to make the transition from your springtime pastels to bright, hot hues. Barielle created a set called Summer Brights to help you with those indecisive moments when you have absolutely no idea what to put on your nails. Let's check out these beauties now, shall we?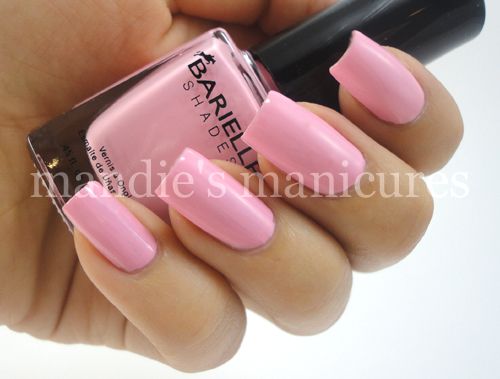 Super bright colors not your thing? You can never go wrong with a simple baby pink creme. This is two coats of Pink Flip-Flops. Application is smooth and easy for such a light color! This is perfect for a pedicure to keep your toes looking stylish when you're wearing sandals throughout the hot summer.
Like bright, eye-catching colors? Then Lemondrops is for you! I am always so impressed with a brand when they can make a yellow polish go on flawlessly and non-streaky on the nails. I just needed two coats for this cute, sunshine yellow creme.
Sweet Addiction is a basic jade creme. This was one of my first Barielle colors and I just love it! And guess what? It's a one-coater! ;)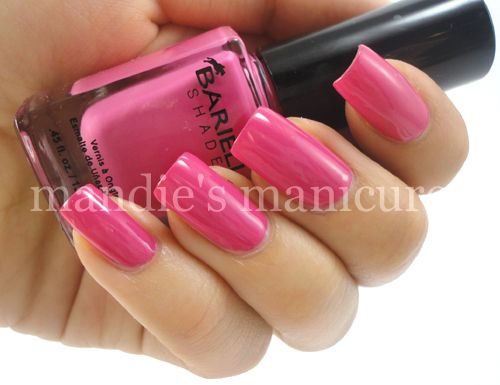 Cosmic Kiss is hot, hot, HOT magenta creme. How cute would this color look with your frilly sundress and over-sized sunglasses? Yep, I am totally ready for the summertime. I used two coats to achieve full opacity.
Finally, we have Blue Capri here. So maybe pink is not your thing and you love blues as much as I do. Then this one is for you! This is a gorgeous, one-coater polish. I am not quite sure how I would describe this color to you - It's not quite blue, and it's not quite purple. It's blurple? Plue? Ah, it's gorgeous, so let's leave it at that!
And there you have it! Just a few more colors for you to consider adding into your summer nail wardrobe.
Barielle polishes are available on their website for $8/bottle, or you can get the entire collection for $25 here.
Want to try your luck at winning this set + more Barielle goodies?
Barielle is hosting a Sweepstakes starting Monday May 5th thru Monday May 27th. There will be 10 winners and one Grand Prize Winner. 
The prizes are Mani-Pedi Spa kits and the Grand Prize includes one Michael Kors Wallet in addition to the Spa Kits.
The lucky winners will get:
One 5 Pack Nail Color Set – Retail $25

One Nail Rebuilding Protein – Retail $17.50

One Nail Strengthener Cream – Retail $17

One No Chip Speed Dry Topcoat – Retail $12.50

One Total Foot Care Cream 2.5oz – Retail $12.00

One Professional Protective Hand Cream 2.5oz – Retail $8.00
Total Value of $92.00!
Just go to Barielle's Facebook page (here) and click on the Sweepstakes tab to enter. Good luck!
Have a great day! And don't forget to keep in touch with me. :)
—
Products provided for an honest review.
WATCH OVER ME
SoFlaJo Watch Over Me
Nicole by OPI Kissed at Midnight
Hey hey! :) Today I have a quick NOTD for you. This is a glitter gradient manicure with SoFlaJo's Watch Over Me as the base color.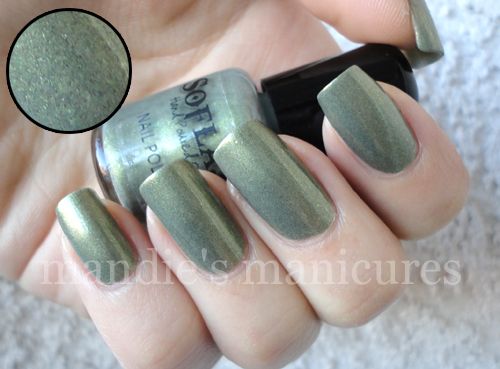 Watch Over Me is an olive green polish laced with a golden shimmer. In the photo above, I used three coats for opacity. Application is smooth and non-streaky. This polish was created by the talented Jody from SoFlaJo to raise money for the Newtown Animal Center in memory of Catherine Hubbard. 100% of profits from this polish will be donated to the shelter.
To complement the golden shimmer, I decided to top off the manicure with a gold glitter gradient using Nicole by OPI's Kissed at Midnight from the Selena Gomez Collection. I will be reviewing this glitter and the other polishes in an upcoming post.
And to end this post, here's macro shot just for fun. :)
Each full-sized bottle of Watch Over Me is $10. Click here for ordering details.
—
Products provided for review.
DINO-ROAR!
OPI Who the Shrek Are You?
OPI Black Onyx
OPI Black Shatter
I'm not really sure where I was going with this manicure, hence the inconsistency. This green reminds me of dinosaurs and dino eggs.
My Tamagotchi needs a new battery! :(
SILVER DOLLAR(NAILART)
OPI Black Onyx
Wet n' Wild Kaleidoscope 
silver striping tape, silver rhinestones
I bought a few rolls of striping tape from Dollar Nail Art a few weeks ago and decided to try it out last night. They're a bit irritating since their edges are sharp. I ended up having to trim it down around the edges today so I wouldn't accidentally scratch my students, heh. But on the upside, they're very easy to use and can double up as a miniature mirror to check for stains in your teeth!