SWATCH
Julep Kylie
Strange trends in the nail world will come and go, and I am sure that magnetic polishes are already considered to be "old news," just like shatter and crackle polishes, but I still think they are fun. Kylie is a magnetic polish that I received in my May Julep Maven box (American Beauty). Like all magnetic polishes, she is a metallic, shimmering polish. I almost regret purchasing nails inc.'s magnetic polishes last year when they first came out because this sultry violet polish resembles nails inc.'s houses of parliament. Oh well!
Kylie retails for $18 (magnet included), but you can get her along with other Julep products for just $0.01 by using coupon code SHAREONMAY at checkout. Click here to get started!
—
Questions? Talk to me on Facebook! :)
SWATCH
Liang Qi Er Magic Magnetic Polish in Green
Click here to read more about this polish!
Want a chance to win this amazing magnetic polish and more? Check out my giveaway ending 3/16/12!
REVIEW: MAGIC MAGNETIC NAIL POLISH (GREEN) & NAIL WHEELS
Hello lovely followers! Today I have a beautiful green magnetic nail polish along with some nail wheels from Born Pretty Store (BPS) to share with you. 
The magnetic polish blew my mind. I have to admit that I wasn't expecting it to work very well because a few months ago, I splurged for nails inc.'s magnetic polishes (so I was being a bit biased). BPS offers various colors of their magnetic polishes for a fraction of the cost. The magnetic polish was extremely easy to use and it even came with the magnet. I started off with two thin coats of the polish to build a foundation. When those two layers dried completely, I put a thick layer over a nail (do this one nail at a time so that the polish doesn't dry before you can get the magnet on it) and immediately placed the magnet as close to the nail as possible without actually touching the nail. I let the magnet hover over the nail for 30 seconds. "WOW." The wavy effect came out perfectly and I love that 3D look it gives off. Then I repeated the same step for each finger.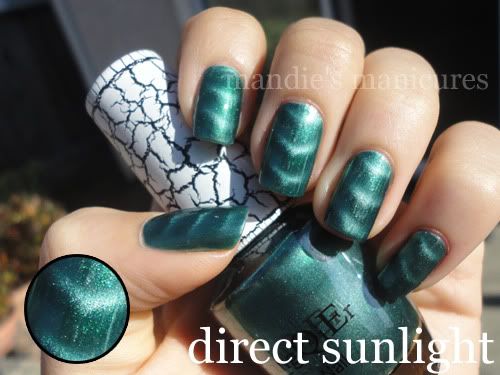 This polish is perfect for you busy bees - you get instant nail art! I highly recommend this product to all my followers. It is definitely a cheaper alternative to nails inc.'s magnetic polishes and there are even more colors to choose from on the BPS website.
I had no trouble with the formula. The polish went on smoothly with no streaks. Oh and finally, I have to gush about the bottle and brush. It is the same shape as OPI's (my favorite brand) bottles and it came with the similar wide-style brush. Love everything about this!
Okay, moving on to the nail wheels.
I was so excited to finally have some nail wheels to use for swatching and practicing. Don't you hate it when you have a fresh, new manicure, but then you buy more nail polish and you can't swatch them on your own fingers? Story of my life. With these nail wheels, you can easily paint them, hover the nail over your finger, and get a good sense of what the color will look like on your hands. Amazing. The package comes with ten nail wheels, each with 20 nails (a total of 200 nails).
I plan on using these wheels to swatch my nail collection for easy viewing. :)
The set of nail wheels and magnetic polish each cost about $6. These prices are amazing and I don't know where else you would be able to get these deals! On top of that, shipping is free, and when you use my coupon code MANDIEW21, you get 10% off your entire purchase.

Feel free to drop me a line if you have any questions! You can also find me on Facebook. Thanks for reading! - mandie
—
Did you see anything you like on the BPS website? Want a chance to win $20 worth of products from the BPS website? Then check out my giveaway (sponsored by BPS) for a chance to win!
Born Pretty Store sent me these products to review. I am in no way affiliated with this company. The opinions stated in this review are honest and my own.
GRAYSCALE
China Glaze Platinum Silver
nails inc. trafalgar square
OPI Lucerne-tainly Look Marvelous
Sally Hansen Twinkle, Twinkle
SEPHORA by OPI Break a Leg-Warmer
All I can say is, magnetic polish = cool. Have a good day!