ALL TAPED UP!
Julep Kate
gold striping tape
Hi there! :) I have a quick NOTD post for you.
When I started painting these nails, my original intent was to use the gold striping tape as painter's tape to paint another color over the white base, but after seeing how elegant the gold looked against white polish, I decided to leave them.
I started with my base Kate, which is a white polish with a pearl finish. I received Kate in my Julep Maven box last July along with other goodies. Then using the striping tape, I went ahead and dazzled up the manicure with some gold stripes.
Tip: Use a top coat to prevent the tape from peeling up.
That's it! Have a great Friday, everyone! :)
Keep in touch: FACEBOOK | INSTAGRAM | PINTEREST
TARO BUBBLE MILK TEA
Julep Renee
Essence A Lovely Secret
Mandicures Panda Freckles 
Hello loves! Today I have a quick gradient manicure to share with you. This look was created with two shades of lavender, a glitter polish, and a makeup sponge. I started with two coats of Renee from my March Julep Maven box. To create the subtle gradient, I dabbed a makeup sponge with A Lovely Secret (swatch and review here) and slowly worked it up on my tips.
Tips:
Use a heavier hand towards the end of your nail tips for a darker finish.
Start sponging BEFORE the base color dries completely (start while it is still slightly tacky) so that the color transition is smoother.
The gradient alone looked boring to me, so I added some black and white glitter. I hand-mixed this glitter polish myself and decided to call it Panda Freckles. :)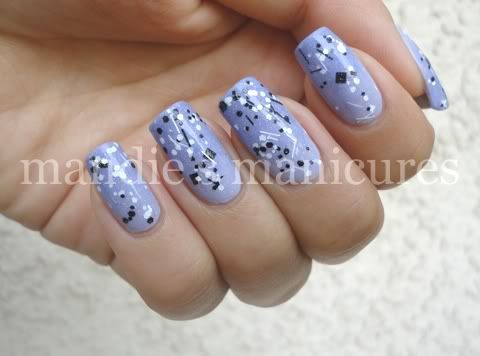 And then I decided that this manicure reminded me of taro bubble milk tea, so I had to name it accordingly, haha.
What do you think? Would you try this manicure for yourself? Talk to me on Facebook!
BUTTON UP!
Julep Gunta
Julep Popova
black studs
Julep partnered up with Trina Turk to create 10 lovely shades to welcome the upcoming fall season and today's post features the two colors I received in my September Boho Glam box (read on to the end to see how you can get your first month of Julep for just a penny!).
I started this manicure with two coats of Popova, a creamy jade polish. Then, using tape as a straightedge and guide, I painted half of my nail with Gunta, a royal blue cream. Finally, I finished up the manicure with some black studs to resemble sweater buttons.
Questions? Comments? Talk to me on Facebook!
—
If you are planning to become a Julep Maven for the first time, click here. Simply take the quiz to determine your style and use coupon code PENNY at checkout to get your first month's box for just $0.01!
The black studs can be purchased here. Use coupon code MANDIEW21 to get 10% off + free shipping.
AMERICA THE BEAUTIFUL
Zoya Tamsen
Julep America
Happy fourth of July! I hope everyone will be having a fun-packed day with your loved ones. :) I have been incredibly busy these past few days, but I wanted to be able to do a quick post for Independence Day. Here is a very simple manicure with America from my July Julep Maven box! America is a VERY densely packed with red, blue, and silver glitter (and pssst, the silver glitter chunks are STARS). I tried layering her over a white creme, but it looked a tad smudgy, so I went for a red-orange creme, Zoya's Tamsen. 
Well, I am going to go enjoy my day and I hope you all have a blast with your BBQ's, watermelon, and of course, fireworks. Have a great day and stay safe! :)
—
Julep's America came FREE with my July box! Don't forget that you can still join the Julep Maven program and receive your first box for just $0.01 using coupon code COLOR2012. Click here to get started!