REVIEW: Judith August's "The Everything Pencil" Face & Body Concealer
Hello all! Today I am jumping out of my blog's comfort zone and reviewing a non-nail product, but I will keep it relevant, hehe. :) As a nail blogger, I am (or try to be) very cautious with my hands - I liberally apply on hand and cuticle moisturizers/creams/oils throughout the day, avoid excessive water and sun exposure, and I file my nails regularly to maintain their shape. However, I can only do so much to prevent the macro option on my camera from capturing any imperfections.
Last week, I was helping my family clear out some weeds and prune some bushes in the front yard. Lazy me didn't want to go find some gloves, and well, one thing led to another and I ended up getting about five cuts on my arms and one on my hand. Look at it! Don't worry, it's almost healed. I waited a week to do this post so you don't have to witness any blood.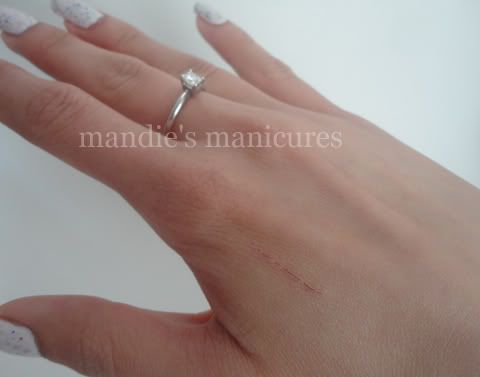 Luckily, I happen to have Judith August's The Everything Pencil in my make-up bag. This pencil concealer is incredibly easy to use and it really can soften and conceal "everything" on your face and body. Simply draw it over the blemish, acne scar, age spot, bruise, birth mark, broken capillaries, fine lines, dark circles, etc. The texture of the concealer is smooth and creamy, so application is a breeze.
Here I am applying a thin layer of the concealer in the shade Pure Beige, which matches perfectly for my pale/light skin. There are six shades in total, so you are bound to find the perfect match for your complexion.
In the picture above, you can visibly see the concealer. Now using your finger or a make-up brush, pat and blend until you can no longer see it. Notice the difference?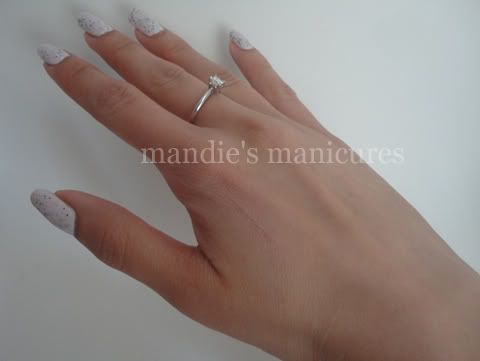 Yes, you can still slightly see where the scar is, but no concealer can magically make something bumpy disappear. I'm so happy with the result - no more stitch-like scar!
I love that The Everything Pencil contains goodies, such as Vitamin E and aloe vera to help my cut heal quickly. Aside from providing coverage for scars on your face and body, you can use this pencil to keep your lipstick from running - simply apply it over the lip-line, powder, and then apply lipstick. You can even use it as a highlighter to emphasize your nose bridge, brow bones, and cheek bones (using the Ultra Light shade)! The concealer is water-resistant and long-lasting, so you do not need to retouch often.
Here is a close-up of the result:
I love The Everything Pencil. It's light and convenient, so I recommend carrying one in your purse or pocket everywhere you go! Each pencil retails for $16. You can purchase them on the Judith August website and on Amazon. It comes with a cute little box and a sharpener. Enjoy! :)
Questions? Comments? Talk to me on Facebook!
—
The Everything Pencil was sent to me for consideration from Judith August Cosmetics. As always, the opinions stated are honest and my own. For more information, please see my full disclosure.