REVIEW: 365 Days of Color Color Changing Collection
Are you ready to see something cool? Color-changing polishes! The creative Sunny of 365 Days of Color sent me her latest collection to share with you all. In the photos below, I am showing you the polishes in cold temperature. And by cold, I mean waving-my-fingers-around-in-my-backyard and/or sticking-my-fingers-in-the-freezer kind of cold. :) I will show you at the end of this post how the polishes look when they are warmed up.
Let's see some swatches now!
Glitter Princess is a cute bubblegum creme filled with various types of glitter. This polish is quite sheer, but thanks to the smooth formula, I was able to easily build the color up to opacity with three thin coats. The glitter in Glitter Princess comes out easily without "fishing around."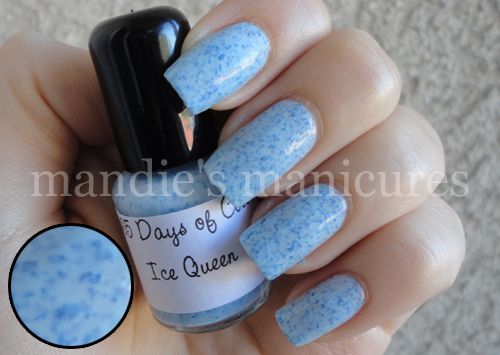 I was most excited to try out Ice Queen because of the matte royal blue shards. This is a gorgeous baby blueberry polish that is opaque in three coats. I love that it is so densely packed with the blue shards, giving this manicure such a unique look.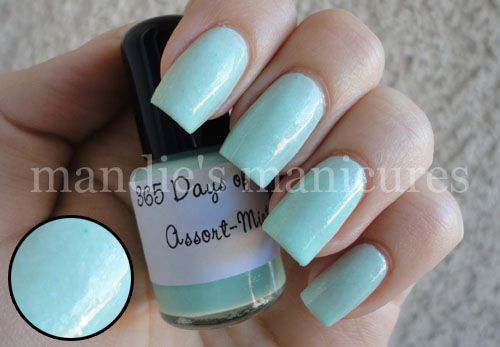 Assort-Mint is a sheer minty green creme with green flakies. I took so many pictures of this polish, but my camera was so stubborn! If you tilt your computer screen back, you can see the flakies in my up-close view on the bottom left corner. I had a difficult time applying this polish smoothly on my nails because the formula is on the thicker side. The flakies kept clumping up in certain areas. I suggest using very thin coats when working with this polish and waiting for the layers to dry before applying the next. I used four coats here.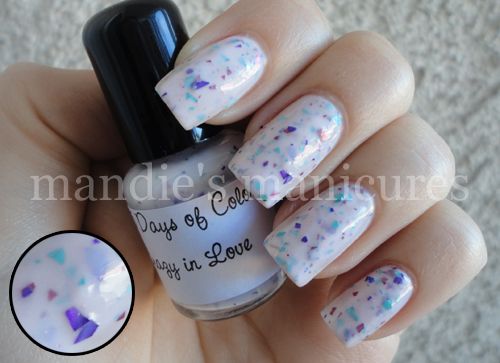 Crazy in Love is my favorite! This is a white jelly packed with teal, purple, and red shards. From Sunny's description, this polish is supposed to be coral when cold, but mine stayed white. Even after sticking my fingers in the freezer, haha. I still love how this polish looks even without the color change. I used four coats here.
Now let's see some color-changing action! I took the following pictures about ten seconds apart from each other in 47°F San Jose weather. The first picture shows how the polishes look after dunking my fingers into hot (not scorching hot - please don't do that!) water.
From left to right: Assort-Mint, Ice Queen, Glitter Princess, Crazy in Love
You can definitely see the color change in Assort-Mint and in Glitter Princess. However, Ice Queen did not turn white even after putting my fingers in hot water and Crazy in Love did not turn coral in the cold. 
Overall, I really enjoyed these polishes. I have never tried color-changing polishes until today and I love the fact that these are packed with glitter!
The Color Changing collection will be available in 365 Days of Color's online store starting in January 2013. 
Questions? Comments? Talk to me on Facebook!
—
All polishes mentioned in this post were sent to me for consideration from 365 Days of Color. As always, the opinions stated are honest and my own. For more information, please see my full disclosure.
SWATCH
Pretty & Polished Tart
Oh god, oh man. I have no other words to explain the love I have for Pretty & Polished's creations.
This is three coats of Tart, a lavender-jelly polish packed with GLITTER. There are blue and gold (go bears!) hex glitter and large, transparent-pink and white hex glitter. So tell me, does this remind you of the icing and sprinkles on a Pop-Tart? Or a tart berry pie? I just can't decide. :)
Don't forget to LIKE mandie's manicures on Facebook for frequent updates!
REVIEW: Sally Hansen's Smooth & Perfect and Gem Crush Nail Lacquers
Today I am reviewing six polishes from Sally Hansen's Smooth & Perfect and Gem Crush collections.
Smooth & Perfect Color + Care:
"This breakthrough nail color hides ridges and imperfections with a breathable porcelain-smooth finish. Enhanced with ginseng, camelia oil and lotus to promote stronger, healthier nails."
Gem Crush Nail Color:
"Instant glam with finger-to-toe bling. This innovative full coverage glitter formula turns nails into jewelry that stays on wherever you go."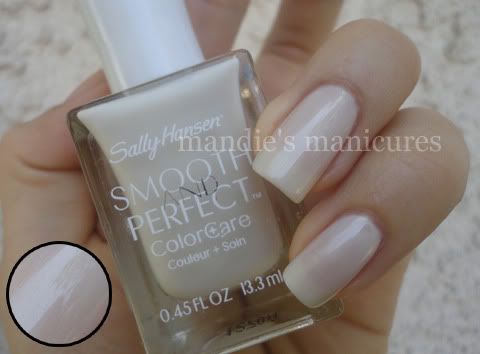 First up, I have four coats of Fog from the Smooth & Perfect collection. This is an extremely sheer off-white, transparent gray polish. Application was surprisingly very easy and non-streaky for such a sheer polish. I love that the polishes in the Smooth & Perfect collection really do have a beautiful porcelain-like finish, as described.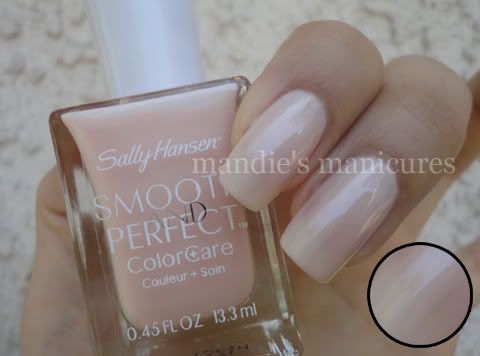 Here is four coats of Linen, a slightly peachy-pink sheer polish. Yes, I know four coats sounds like quite a bit, but the color definitely builds up with every extra coat. Drying time is also reasonable (about 15 minutes after four coats).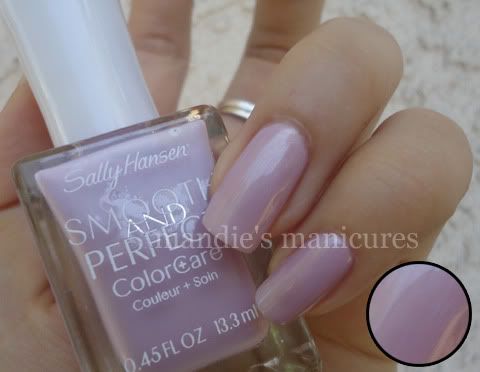 Next up is Whisper, a subtle and sheer lilac polish. In the picture above, I used four coats of Whisper to reach bottle color. You can see that there is still a visible nail line (VNL) on each finger. I do not like having VNL's, so after swatching up these super sheer polishes, I decided to make some jelly sandwiches. Not the bread and jelly kind, but the sheer jelly polish and glitter kind. Confused? Don't be. Just continue reading.
A "jelly sandwich" in the "nail world" is a very simple manicure using sheer/jelly and glitter polishes. A sheer/jelly polish is first applied, then glitter is layered over. Finally, another coat of the sheer/jelly polish is layered over the glitter, thus "sandwiching" it between. I really like the jelly sandwich manicure because it mutes the sparkles from the glitter, making it more appropriate to wear to a work environment where sparkling nails may be "too much." I'm using too many quotation marks now, aren't I?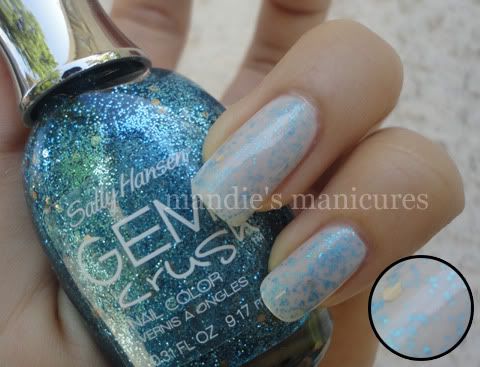 Here is jelly sandwich #1. Here I sandwiched Bling-tastic from the Sally Hansen Gem Crush collection between Fog. Bling-tastic is a clear polish packed with blue and silver hex glitter. This polish is extremely dense in glitter, so you can easily wear it on its own - you will need about three coats for full coverage.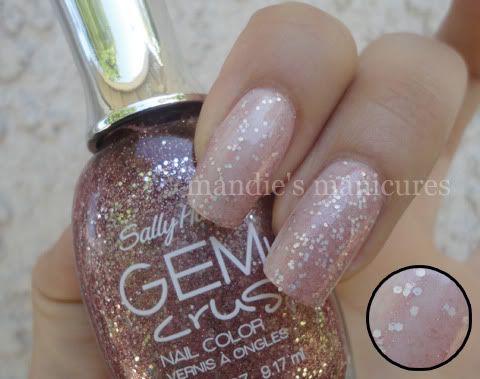 Jelly sandwich #2: This is one coat of Razzle Dazzler sandwiched between Linen. Are you starting to see why I like jelly sandwiches now? Razzle Dazzler is a clear polish with pink and silver hex glitter. This polish is even more dense than Bling-tastic, so as with the last one, you can definitely wear it on its own.
And finally, #3 is a Whisper and Glitz Gal sandwich. Glitz Gal is a granite glitter polish, but notice how it turns a deep purple after being sandwiched between Whisper. 
I enjoyed trying out these Sally Hansen polishes very much. The Smooth & Perfect polishes are very sheer, but they are, in my opinion, the perfect polishes to use for a jelly sandwich manicure. They retail for $5.99 at Walgreens, Target, and CVS. You can also find them on Amazon. The Gem Crush polishes retail for $7.99/bottle and can be found in the drugstores mentioned above.
—
All products mentioned in this post were sent to me for consideration from Sally Hansen. As always, the opinions stated are honest and my own. For more information, please see my full disclosure.
SWATCH
365 Days of Color Mint Chip
My, oh my. Does the name sound delicious or what? Here I have five coats of 365 Days of Color's Mint Chip. It is a grayish-green jelly polish with black square glitter pieces. Remind you of anything? Of course, mint chocolate chip ice cream! Perfect for the summertime!
Application of this product was very easy - smooth, non-streaky. I wish it were tinted a bit more lime-green for that minty look though. Overall, it is very well-executed, and I am very happy to see 365 Days of Color grow. I look forward to what other polishes her creative mind will think up! Mint Chip is just one of five polishes in the Candy Shoppe collection. Check them out today!
—
The product mentioned in this post was sent to me for consideration from 365 Days of Color. As always, the opinions stated are honest and my own. For more information, please see my full disclosure.