REVIEW: Shimmer Polish
"Shimmery inspirations of nail polish within a bottle!"
Does the above photo excite you? Are you as crazy about glitter polish as I am? Today I have 12 sparkling glitter mixtures from Shimmer Polish to show you! All of these polishes can be worn alone with 2-3 coats or can be layered over another color for a different look.
The formula for all of these polishes are perfect - smooth application and non-goopy, which is awesome for glitter bombs!
Let's take a look at how I chose to wear them in these swatches!
Carol has a chocolate-brown tinted base with a mix of copper, gold, and blue glitter. I layered Carol over Milani's Chocolate Sprinkles (swatched here) to bring out the copper glitter. Very pretty!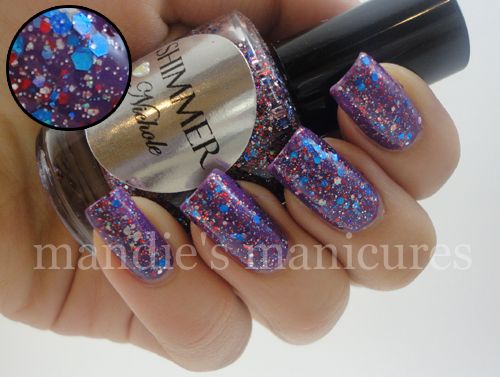 This is Nichole layered over Barielle's Grape Escape. Nichole is a clear-base polish with red, white, and silver glitter. This polish mix is absolutely perfect for the Fourth of July!
Alessandra is a jelly-red tinted base polish with red, gold, and green glitter. This is a very festive mix for the winter holidays. Here I layered Alessandra over Barielle's Rachel Red.
Mary is a deep, raspberry jelly polish with a unique blend of black, fuchsia, and silver glitter. Because the jelly base is very dark, I chose to wear Mary alone with two coats to get a 'squishy' jelly sandwich manicure.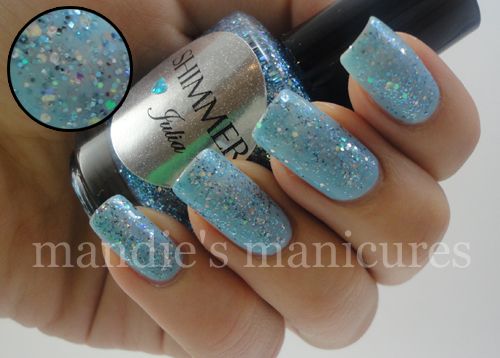 Julia is a snowy blend of baby blue and silver iridescent micro glitter. Here I am wearing one coat over OPI's What's With the Cattitude? from the Shrek collection.
Kelly is a lovely blend of gold and green glitter in a green jelly base. I layered her over Barielle's Do Unto Others. Kelly is going to be on my fingers for St. Patrick's day for sure!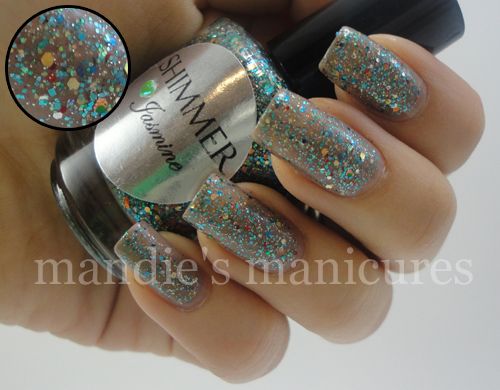 Jasmine is a tan jelly polish with a stunning blend of blue, gold, green, and red glitter. I layered Jasmine over American Apparel's Mouse, which is a tan creme to complement the tan jelly base.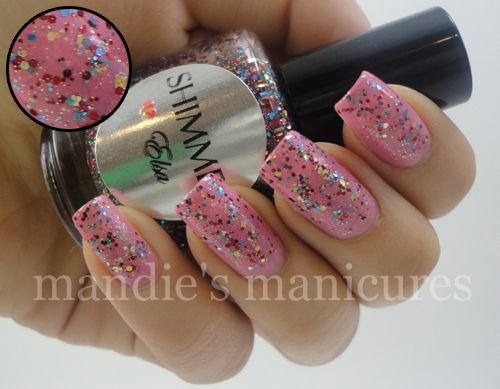 Elsa has a pink-tinted base with gold, blue, green, and red glitter. I layered one coat of Elsa over Nicole by OPI's Naturally. Such a girly and cute blend of glitter!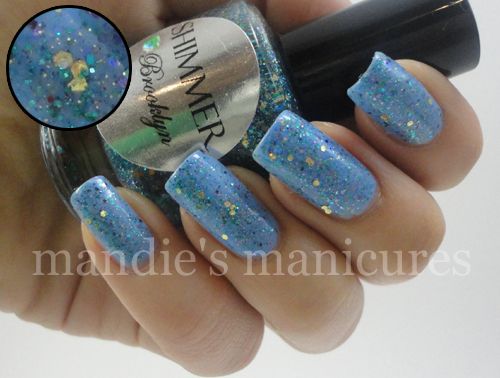 Brooklyn is a clear-base polish with green, turquoise, purple, and gold glitter. I layered Brooklyn over JESSICA Cosmetics' Sophia (swatched here).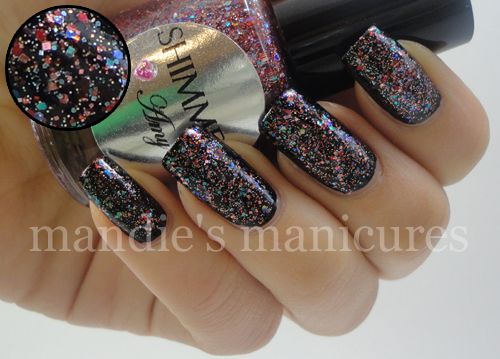 Oh my, check out Amy! This is such an eye-catching glitter blend of blue, pink, green, purple, and more! I layered just one coat of Amy over Milani's Black Swift. You can really see how dense this glitter is.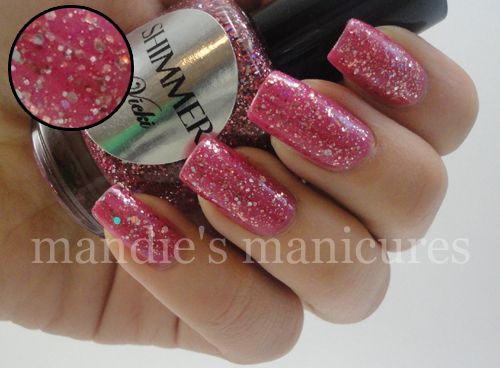 Vicki is a fuchsia jelly with gold and pink micro glitter. I layered Vicki over JESSICA Cosmetics' Amira (swatched here).
You made it to the end of this post! This is two coats of Eva, which is a very deep, plum-red jelly with black and pink micro glitter.
Whew! That was a lot to look at, huh? Well, what do you think?
Shimmer Polish is available on Etsy (click here) for $12/bottle. You can also see more swatches of the other available polishes on the Shimmer Polish blog and you can get updated on FB.
Don't forget to keep in touch with me on my Facebook page and on Instagram! :)
—
Products provided for review.
REVIEW: 365 Days of Color Color Changing Collection
Are you ready to see something cool? Color-changing polishes! The creative Sunny of 365 Days of Color sent me her latest collection to share with you all. In the photos below, I am showing you the polishes in cold temperature. And by cold, I mean waving-my-fingers-around-in-my-backyard and/or sticking-my-fingers-in-the-freezer kind of cold. :) I will show you at the end of this post how the polishes look when they are warmed up.
Let's see some swatches now!
Glitter Princess is a cute bubblegum creme filled with various types of glitter. This polish is quite sheer, but thanks to the smooth formula, I was able to easily build the color up to opacity with three thin coats. The glitter in Glitter Princess comes out easily without "fishing around."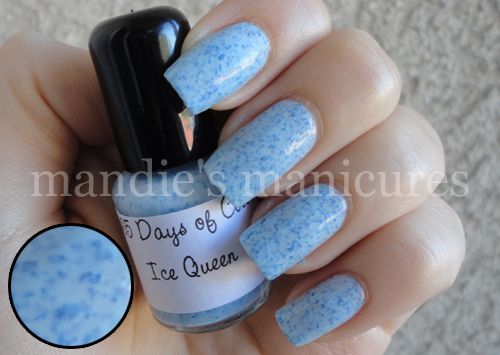 I was most excited to try out Ice Queen because of the matte royal blue shards. This is a gorgeous baby blueberry polish that is opaque in three coats. I love that it is so densely packed with the blue shards, giving this manicure such a unique look.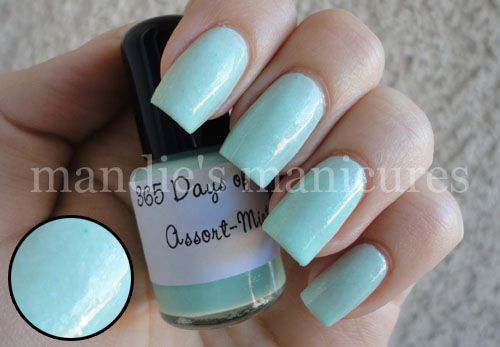 Assort-Mint is a sheer minty green creme with green flakies. I took so many pictures of this polish, but my camera was so stubborn! If you tilt your computer screen back, you can see the flakies in my up-close view on the bottom left corner. I had a difficult time applying this polish smoothly on my nails because the formula is on the thicker side. The flakies kept clumping up in certain areas. I suggest using very thin coats when working with this polish and waiting for the layers to dry before applying the next. I used four coats here.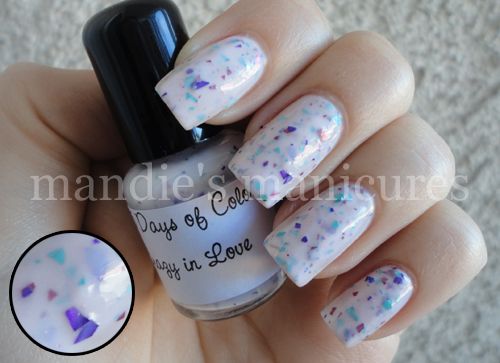 Crazy in Love is my favorite! This is a white jelly packed with teal, purple, and red shards. From Sunny's description, this polish is supposed to be coral when cold, but mine stayed white. Even after sticking my fingers in the freezer, haha. I still love how this polish looks even without the color change. I used four coats here.
Now let's see some color-changing action! I took the following pictures about ten seconds apart from each other in 47°F San Jose weather. The first picture shows how the polishes look after dunking my fingers into hot (not scorching hot - please don't do that!) water.
From left to right: Assort-Mint, Ice Queen, Glitter Princess, Crazy in Love
You can definitely see the color change in Assort-Mint and in Glitter Princess. However, Ice Queen did not turn white even after putting my fingers in hot water and Crazy in Love did not turn coral in the cold. 
Overall, I really enjoyed these polishes. I have never tried color-changing polishes until today and I love the fact that these are packed with glitter!
The Color Changing collection will be available in 365 Days of Color's online store starting in January 2013. 
Questions? Comments? Talk to me on Facebook!
—
All polishes mentioned in this post were sent to me for consideration from 365 Days of Color. As always, the opinions stated are honest and my own. For more information, please see my full disclosure.
REVIEW: Serum No. 5 Love Lacquers
Get your eyes ready for some glitter-tastic polishes from the lovely Victoria of Serum No. 5! I also have a swatch of the infamous Day Glow towards the end of the post. Trust me, you may want to get your wallets ready for these polishes.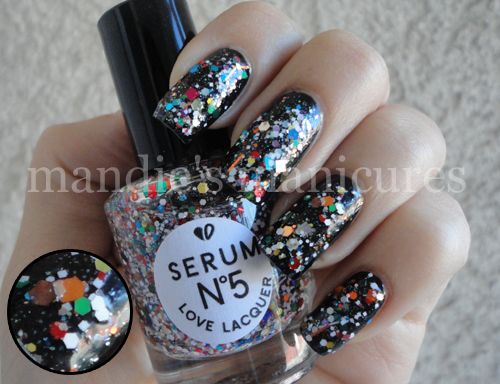 Happy Special Day is the definition of a glitter bomb nail polish. This is a clear-base polish filled with various types of glitter. I had fun applying a coat of HSD over each nail because you don't know what kind of glitter you will get. In the picture above, I put one coat (You can see how much glitter came out from just one coat. Glitter bomb, indeed!) over a black creme polish. It can be layered over almost any color!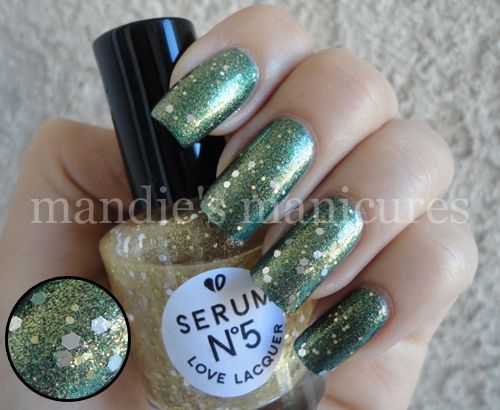 A girl's gotta eat. Indeed, we do, so give me some gold! This is Serum No. 5's Girl's Gotta Eat, a gold shimmering polish with various sizes of hex gold glitter. I chose to layer this over Zoya's Logan (from the Zoya Ornate collection 2012 - I will review this set in a later post). Since the base color is tinted with a golden shimmer, it slightly changed the shade of the green. This is a very festive look for the upcoming holidays.
Girl's BFF is the silver version of Girl's Gotta Eat. This is a clear-base polish packed with holographic silver micro glitter and hex glitter of various sizes. I layered two coats over a white creme polish and it reminds me of fresh snow (granted, I have never seen snow in real life, haha). I would recommend using this glitter polish over any creme polish during the holidays for instant bling. You could use this over a baby blue for a snowflake-looking manicure.
Call it 'Treuse is a lime-green shimmering polish with fuchsia hex glitter. I wasn't sure about this polish when I first saw it in the bottle, but I certainly like it on the nails. It's definitely unique. I used four coats for full coverage. The first two coats came out a bit sheer, but it built up quite nicely with no issues.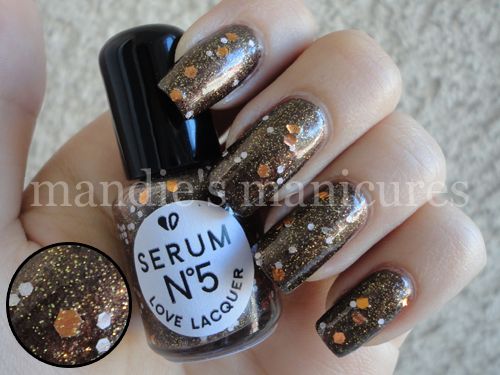 Rise and Grind .. sleepyhead! I originally tried wearing this polish on its own, but I was not able to get rid of the visible nail lines. So, I layered two coats of this brown jelly polish over Milani's Chocolate Sprinkles (reviewed here). RaG has copper and white hex glitter that remind me of marshmallows and salted caramel inside a cup of hot chocolate. Yum! The copper glitter pieces actually sit completely flat, but the reflective property makes it seem that they are curling.
Starry Nights is my favorite of all the polishes I am showing you today. This is a midnight purple-blue shimmer base with gold and silver square glitter. And the best part? Silver star glitter! I had a bit of trouble fishing out the star glitter pieces, but after leaving the bottle upside down for awhile, I was able to get a few out. I used three coats for full coverage. When dry, the texture is a bit bumpy, but a top coat smooths everything out.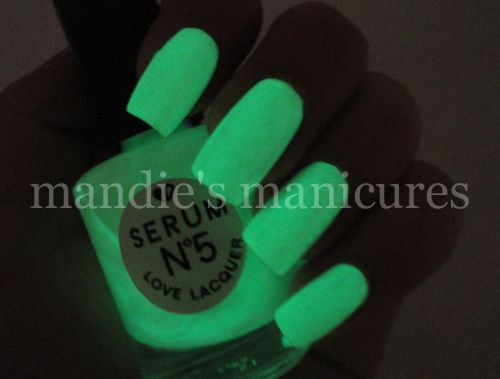 I was so excited that Victoria included a bottle of Day Glow for me to review! I read so many great reviews for this glow in the dark polish a few weeks ago, and it really is fabulous. It actually doesn't require pitch darkness to see the glow. The two pictures above depicts Day Glow in daylight and in a dimmed room. See how bright it glows? Amazing! I used three coats for full opacity. It dries matte, so I used a top coat for a glossy finish.
Finally, here is one coat of Thanks for the Memories on top of Day Glow. TftM is a black and white glitter in a clear base. Unlike the usual black and white glitter polishes we have been seeing lately, TftM has black shards. Application is easy, as with all the other polishes in this post. No fishing required!
And just for fun, I took a picture of this final manicure in the dark. It has a splattered look!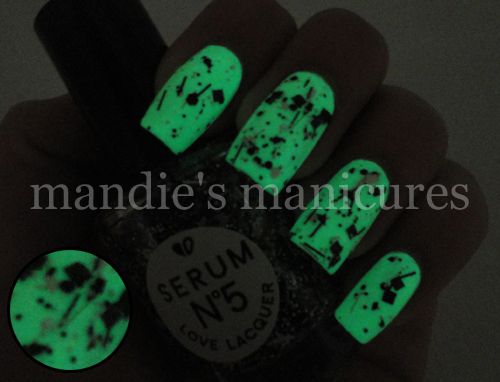 So! Did you see anything you like? I certainly enjoyed trying out these Serum No. 5 polishes today. You can purchase these polishes from Victoria's Etsy shop. She is having a Black Friday/Cyber Monday until November 26th, so use coupon code GIVETHANKS to receive 20% off your order. Be sure to LIKE Serum No. 5 on Facebook for updates!
Questions? Comments? Talk to me on Facebook!
—
All products mentioned in this post were sent to me for review. As always, the opinions stated are honest and my own. For more information, please see my full disclosure.
GLASS SHARDS
Zoya Kristen
365 Days of Color Old Time Movie 
When I can't decide what to wear, my go-to colors are the milky, pastel cremes. I painted my nails with Zoya's Kristen, and decided to top her off with something I hadn't used yet in my stash. I came across a mini bottle of Sanaz's (of 365 Days of Color) Old Time Movie, a clear polish with shreds of black and silver flakies. End result? Love! A manicure with a statement. But what's the statement? How about "I'm subtle, but crazy with my shards of black and silver glass"? Perfect.
Anyway, tomorrow is mandie's manicures' first birthday! I can't believe it has been a year since I started sharing my manicures with you all. To celebrate, I will be posting up something special tomorrow. Get ready!
That's all I have for today, folks! Be sure to LIKE mandie's manicures on Facebook to get updated! :)