REVIEW: Rimmel London Nail Lacquer
Today I have a review for two bright, springtime shades from Rimmel London's Lasting Finish Pro collection and their French White Tip Pro nail liner.
Professional polished perfection for flawless up to ten-day color and shine. Enriched with micro-sized minerals that fill in imperfections on the nail surface, Lasting Finish Pro Nail Enamel creates a smooth and super glossy finish for up to 10 days of maximum color impact and shine. Advanced micro formula technology with an active time-release system enhances shine over time. It captures and reflects light for color that shines with dimension. UV fade protection keeps color true. The formula is ultra flexible and long wearing with superior shock absorption and chip resistance.

The Mistake-Free Pro Brush features a wide angled brush for a fast and mistake-free professional application. With more than 800 fine textures bristles, the brush is designed to adapt to any nail shape and requires less strokes to apply, while delivering a super smooth finish and truly streak-free result.
I started and finished each of these manicures with Rimmel's Base Coat Top Coat Pro. This two-in-one polish served as a base coat as well as a top coat. The formula is less sticky compared to the base coats that I usually use, but it still helped keep my manicure on for several days before chipping. This is a definite must for when you use highly pigmented polishes because it prevents your nails from staining. As a top coat, it promises a beautiful glossy finish. It takes a bit longer to be completely dry (compared to Seche Vite or Out the Door top coats), so I suggest using this polish when you have the time to sit still in order to avoid nicking your new manicure.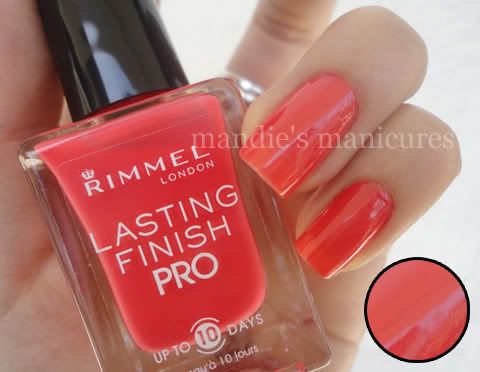 Here I have on four coats of Sunset Orange, a vibrant, coral jelly polish. I was expecting this to be a creme polish, but I am actually very excited that it's a jelly. You know what that means? Jelly sandwiches! I would not recommend wearing this polish alone, because as you can see above, I still have a very visible nail line peeping through four coats. I will try sandwiching a glitter polish between next time I do a layering experiment.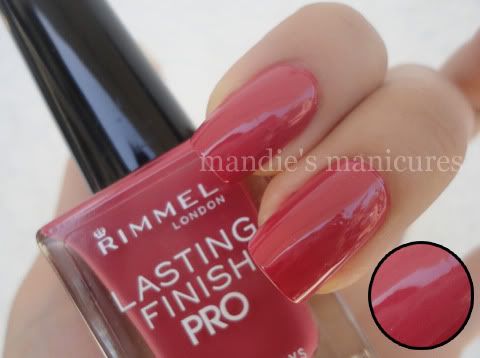 Next up is Rimmel's English Rose, an elegant, muted pink. This color reminds me of pink chocolate. In the picture above, I have just two coats on for full coverage. I finished this manicure off with Rimmel's Base Coat Top Coat Pro. Look at that shine!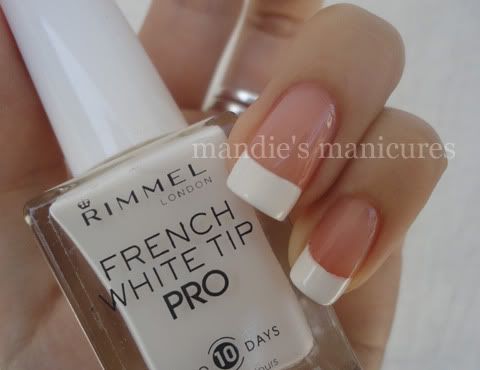 Finally, here I have a French tip manicure using Rimmel's French White Tip Pro nail liner. The brush on this polish is extremely fine, which helped me easily create the tips on this manicure. I started out by outlining the shape of my nail tips with the thin brush, and then filled it up. Again, I finished off this manicure with Rimmel's Base Coat Top Coat Pro for that glossy finish. You can use the brush on this polish to draw intricate designs since the brush is so thin. Unlike striper brushes, this one was about half the size (length-wise), so it is easy to control. You can create straight lines, zigzags, polka dots, etc. with the thin brush - just be creative!
I am very happy that I had a chance to try out some of Rimmel's nail polishes. The formula for these polishes are bit more watery than what I am used to, so when you use them, avoid putting too much on the brush or you will flood your cuticles. The brushes on Sunset Orange and English Rose are rounded at the ends, which, to my surprise, actually allowed for extra precision (I didn't get any on my skin, and thus no clean up necessary).
You can purchase Rimmel products at your local CVS, Walgreens, and Target. Each polish retails for $3.99. You can also find these products on their website here or on Amazon.
—
All products mentioned in this post were sent to me for consideration from Rimmel London. As always, the opinions stated are honest and my own. For more information, please see my full disclosure.
Anonymous Asked:
how do you get such perfect french tips? :) and happy birthday by the way.
My answer:
Thank you for the birthday wishes!
When you do French manicures, you want to paint the top of the nails first with whatever color you want for the tips. You don't need to be neat at this stage. After it dries, use a round angled nail brush (make sure it's made for nails because acetone will eat plastic bristles .. not a pretty picture) with PURE acetone to clean up the edges and to round out the bottom for a more natural tip shape. I emphasize PURE acetone because store-bought acetone is weak (mostly because they add other ingredients in there that are supposed to soften your cuticles or whatever) and doesn't do a very good job of cleaning up nail polish in one swipe, which in turn leads to streaky edges.
After you have repeated that ten times, use a nice see-through pink to add some flesh-colored tone to the bottom of the nails and finish off with a glossy top coat.
Hope that makes sense. Good luck!
ORANGE TIPS
OPI Flit a Bit
Wet n' Wild Kaleidoscope
Orly Bare Rose
Thank you to all of my new followers! I am very excited to share my nail art with you. <3
Today is my 21st birthday and since I'm not doing anything at the moment, I figured I would show you my current nails. It's nothing fancy, but orange is my favorite color. I am drinking an iced milk tea with almond jelly from Tapioca Express. I guess you could say this is my first "drink" of the day. ;)
Looking forward to the rest of the day and night!