GLASS SHARDS
Zoya Kristen
365 Days of Color Old Time Movie 
When I can't decide what to wear, my go-to colors are the milky, pastel cremes. I painted my nails with Zoya's Kristen, and decided to top her off with something I hadn't used yet in my stash. I came across a mini bottle of Sanaz's (of 365 Days of Color) Old Time Movie, a clear polish with shreds of black and silver flakies. End result? Love! A manicure with a statement. But what's the statement? How about "I'm subtle, but crazy with my shards of black and silver glass"? Perfect.
Anyway, tomorrow is mandie's manicures' first birthday! I can't believe it has been a year since I started sharing my manicures with you all. To celebrate, I will be posting up something special tomorrow. Get ready!
That's all I have for today, folks! Be sure to LIKE mandie's manicures on Facebook to get updated! :)
GREEN GRADIENT
American Apparel Office
Barielle Do Unto Others
Barielle Sweet Addiction
SEPHORA by OPI It's Real 
This is my first attempt at a gradient manicure. Creating a gradient with nail polish is surprisingly very easy and takes no more than five minutes per hand! Please check out s-lacquer's tutorial on how to do a gradient with two colors. I used three different shades of green, but the technique is essentially the same.
I happened to stop by Sephora to gawk at the nail counter and my eyes immediately went to the 18k gold flakes polish, It's Real. Yes, it's real gold, ah! My wallet began to whimper when I saw the price tag, so rather than splurging, I "sampled" it on every nail, hehe. I like! I might just go get a bottle… ;)
This is the manicure before I blinged it out with the gold flakes: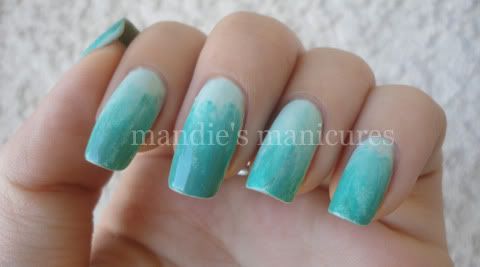 I certainly feel so fancy having 18k gold on my fingers. What do you think? Should I get it? Talk to me on Facebook!
EXOTIC
OPI Lincoln Park After Dark
Essie Shine of the Times
Konad plate m57
Konad Special Polish White 
I had two math midterms last week, and as soon as I was done, I went straight to the mall to treat myself to a little somethin'. When I spotted the zebra knuckle ring, I KNEW I had to add it to my ring collection. ;) And of course, I did a matching manicure for the ring.
I love layering Essie's Shine of the Times over dark, creme-finish polishes. The effect is incredible from various angles. You can see a swatch (layered over a black polish) of this beautiful flaky polish I posted a few months back here. This is definitely something you want to have handy in your polish collection for an instant eye-catching manicure. Get your own bottle here on Amazon!
—
Like what you see? Become a fan of mandie's manicures on Facebook!
Just another picture of my galaxy nails, but this time with a cookie!
Yesterday mandie's manicures reached 1,000 followers! You are all amazing. <3
You can also LIKE mandie's manicures on Facebook. - mandie