REVIEW: Dead Sea Premier Beautifying Nail Kit (Passion Fruit)
Happy Friday everyone! During my last giveaway, I asked for ideas of what my readers (that's you!) would like to see on mandie's manicures. The most-mentioned topic was nail care and maintenance, so I have an amazing nail kit to share with you today. And since this is a nail care post, yes, you will see some butt-naked nails. Viewer discretion is advised! ;)
The Beautifying Nail Kit from Dead Sea Premier contains everything you need to have healthy nails and cuticles: nail filer, buffing block, cuticle oil, and hand cream. There are three scents to choose from: Herbal, Passion Fruit, and Milk & Honey. The lovely representative of Premier sent the Passion Fruit nail kit for me to try out. Let's take a closer look at each item now and how I used them to keep my hands happy.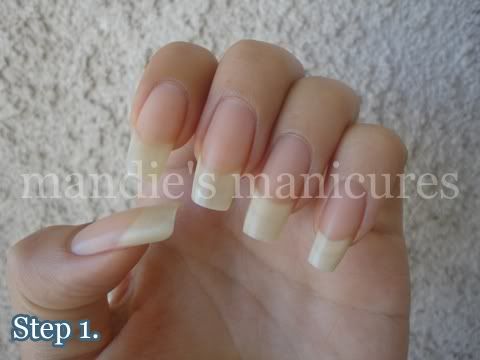 Step 1: Before you begin your nail care regimen, remove all nail polish, dirt, and oil by using acetone (or any polish remover). Wash your hands with soap and water and thoroughly dry them.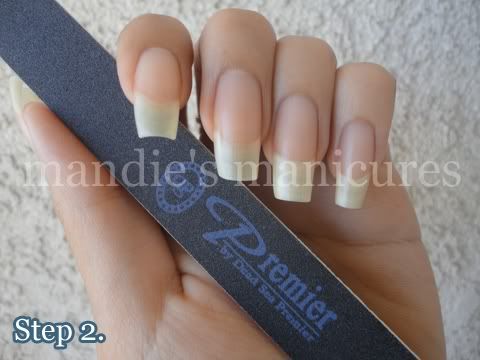 Step 2: Using the Premier nail filer, carefully smooth away any rough nail edges. Then use it to shape your nails to the desired shape. I like to keep my nails squared, but you can easily use this filer to form rounded or almond-shaped nails. The grit on this filer is very fine, so when you file quickly (not vigorously), you do not feel bumps.
If you have been a long-time reader/follower of mandie's manicures, then you know that I do not like to use nail clippers since they cause my nails to split and break. Instead, I always recommend filing your nails on a regular basis to maintain the shape and length. Be sure to file in only one direction (not back and forth).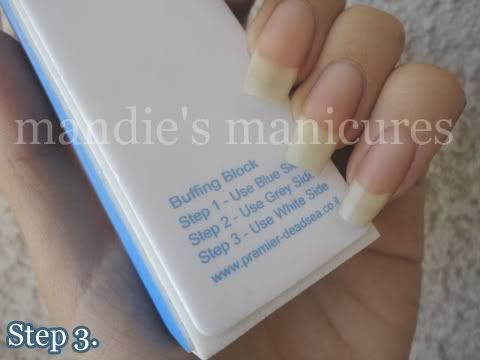 (Haha, I hate putting my bare nails next to white objects because they make my nails appear very stained in comparison.)
Step 3: The buffing block in this kit has four sides of different colors to help you identify which side to use first. You should use this buffing block sparingly (once a month), because you are essentially removing a tiny layer of your nail beds each time. First use the blue side to lightly buff each nail, which will remove lines, ridges, and any bumpy texture. Then using the gray side, again, LIGHTLY, buff away the white dust. This side will remove all remaining ridges and stimulate blood circulation under your nails, which encourages healthy and strong growth. Finally, use the white sides to buff the nails. The white sides are made of silk, so you will hear your nails squeak as you buff, haha. To my amazement, after using the white side, my nails are extremely smooth and glossy without needing nail polish!
If you are someone who does not like to use nail polish regularly, but want shiny and healthy-looking nails, I recommend trying out this buffing block! You need to see it on your own nails to believe it.

Step 4: Sometimes when you are buffing your nails, you may accidentally run the buffer over your cuticles as well, which results in dry, uncomfortable hands. Luckily, this kit includes the Mineral Rich Cuticle Oil. You can see in the picture above that the tube is tiny on the end, so you get the right amount of oil on each nail each time. Dab a tiny drop (a little bit goes a long way) on each nail and massage the oil into your cuticles and nail beds. You will immediately see the difference in your cuticles' health.
After frequent use, you will notice that it softens your cuticles and loosens them from your nails. I have been using this cuticle oil everyday for the past two weeks and I have not had the need to push my cuticles back! The cuticle oil has a very fresh fragrance (fruity, but also floral). Passion fruit smells amazing!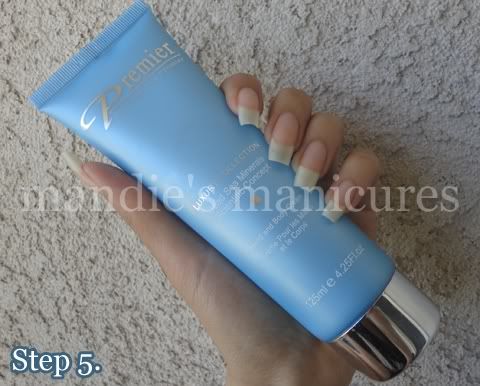 Step 5: Finish up by applying the Hand and Body Cream all over your hands. You can use this cream throughout the day as you wish, and trust me, you will because it smells amazing.
"This light lotion glides on easily and allows skin to breathe, leaving it irresistibly soft and supple. Its luxurious formula is enriched with Dead Sea minerals and natural plant extracts to soften and smooth your skin. When combined with our cuticle oil it improves the flexibility of your nails and helps to reduce flaking and breakage."

The lotion is creamy and thick, yet non-greasy. I just applied a bit to my hands and I am typing away on my laptop! See the picture above. That tiny amount is enough to entirely apply on one hand. Love it! Did I already mention that it smells amazing?
Step 6: Sit back and admire your hands!
And that's it! Beautiful hands and nails in under ten minutes. If you have any questions/comments, talk to me on Facebook!
The Dead Sea Premier Beautifying Nail Kit can be purchased here for $39.99/set. Be sure to check out their website for other skin care products.
—
All products mentioned in this post were sent to me for consideration from Premier Dead Sea. As always, the opinions stated are honest and my own. Please understand that I am not a licensed professional, nor do I consider myself one. What may work for me may not give the same results for you. For more information, please see my full disclosure.