SWATCH
China Glaze For Audrey
Deborah Lippmann Mermaid's Dream
I am so excited to show you my first Deborah Lippmann polish! This beautiful polish came just in time for my birthday. Thank you to everyone for the sweet birthday wishes. I really appreciate it and will get back to each and everyone of you soon (unless you left me a message as an anonymous asker, haha). <3
Anyway, before I get all teary about getting older, let's talk about this gorgeous polish, shall we? Mermaid's Dream is a very unique, shimmering seafoam green polish with blue, gold, and green hex glitter. Since my nails are longer than usual and require quite a bit of polish for coverage, I did not want to use Mermaid's Dream for a full manicure. Instead, I used it for two accent fingers, and then painted the rest of my nails with China Glaze's For Audrey. :)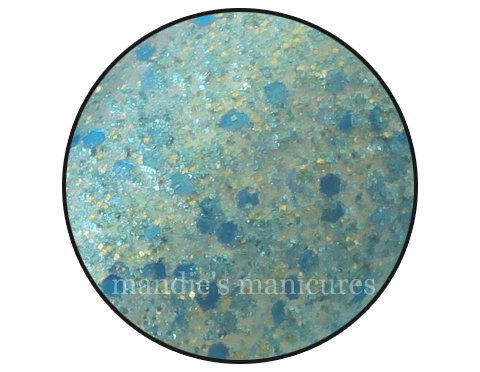 I'm going to cut this post short and leave you with an awesome close-up picture of Mermaid's Dream. I'll be off the computer for the rest of the day, but will get back to any emails/messages as soon as I can. Have a great day!
What do you think about this color combination? Talk to me on Facebook!
TUTTI FRUTTI
China Glaze Gaze
Pretty & Polished Sand Art 
I first saw this gorgeous combination from The Nail Network and I had to recreate the look for myself!
Gaze by China Glaze is a very subtle baby pink creme polish, but it appears almost white in my pictures. With one layer of Sand Art, this manicure reminds me of those tutti frutti-flavored jellybeans!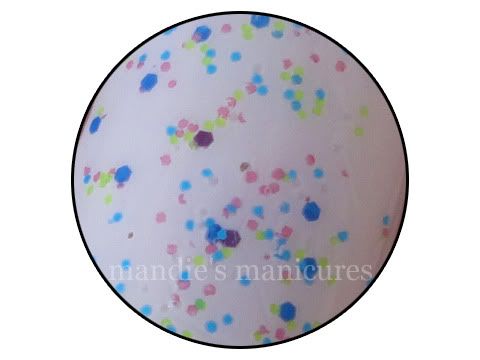 Questions? Leave a comment on this post or talk to me on Facebook! :)
GOLD AND TURQUOISE
Barielle Swizzle Stix
Chine Glaze Tarnished Gold
Today I have a simple manicure to show you. Crackle and Shatter polishes were a big deal last summer, but the trend died down quicker than I could say, "Hey, that's a pretty cool pol-.." Well, either way, I still find the Crackle polishes to be amazing - someone was definitely a genius to combine the ingredients to make a polish behave in such a bizarre way!
My choice of the color combination is inspired by a game I recently started playing (and finished within one week, hehe) - Uncharted: Golden Abyss. I was hooked and continued to play to view the amazing graphics of the temples and forests of Panama in the game. Aside from shooting down Guerro's army, what stood out the most to me were the jewels and precious stones. In one chapter, I searched high and low to collect turquoise stones, until I finally came across an area of shining gold (well, I'll stop now so I won't spoil the game for you). Absolutely gorgeous! Here's an even closer look:
Well, what do you think? Is Crackle too old news for you? Feel free to comment on this post or talk to me on Facebook! If you want to recreate this look, you can purchase these polishes on Amazon.
all-your-lives-are-moments
Asked:
I was wondering if you know of any good yellow polishes? All the ones I have seemed to try are really badly formulated (ie, too streaky or too thick). Help?
My answer:
Hello there!
My favorite yellow creme polish right now is China Glaze's Happy Go Lucky. I used it in both my bees and my dried flowers manicures. If you like a bit of shimmer in your yellow polish, try China Glaze's Solar Power. Another yellow creme that I discovered recently is Milani's Yellow Whiz. It dries quickly and is very affordable. You can see it in my water marbling here. I have had no trouble with the formula in these polishes, so give them a try! :)
I have also heard good things about Zoya's Pippa, but I have yet to try it.
Hope that helps! Feel free to message me again if you have any further questions, or talk to me on Facebook! :)