CHUNKY CHEETAH
OPI Spark de Triomphe
OPI Decades of Shades
OPI Black Onyx 
So I was going through my OPI drawer and found many bottles in the back that I rarely use. Yes, I believe that my polishes have feelings and should not be neglected, haha. I picked up Spark de Triomphe and Decades of Shades and knew right away that I wanted to do a blinged-out cheetah manicure. All I needed to take out after that were a black polish and my trusty dotting tools.
I started with three coats of Spark de Triomphe as my base. This chunky gold glitter polish is from the Serena Glam Slam! collection from 2011. I don't know why I've never worn this glitter before - it's absolutely stunning on its own, and I would have worn it alone, but the cheetah was waiting!
Then I used a dotting tool to dab on random blotches of OPI's Decades of Shades on each nail. This chocolate brown creme is from OPI's 25th Anniversary collection and is discontinued. Although discontinued, you can still find it on Amazon, but for a bit more $ than the current OPI's. Decades of Shades has been with me long before I started collecting nail polish and I am so happy to take it out for this manicure today.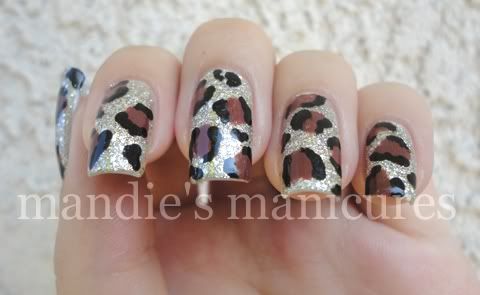 To complete the cheetah look, I used a smaller dotting tool to outline the brown splotches with OPI's Black Onyx.
Finally, I topped everything off with two layers of top coat. I usually only use one coat, but the glitter base was eating it up so quickly! The second coat smoothed everything out.
I am very happy with the finished look! For such an easy manicure, I received so many compliments. :) Would you wear this manicure?
Questions? Comments? Talk to me on Facebook!
IN THE JUNGLE
SEPHORA by OPI Break a Leg-Warmer
Konad plate m57
Konad Special Polish Silver
One of my nails split down the middle because I was being too rough with my hands while washing the car, so I had to cut down all the other nails. :(
And yes, I was trying too hard to get a jungle scene with the houseplant for this manicure, haha.