BUTTON UP!
Julep Gunta
Julep Popova
black studs
Julep partnered up with Trina Turk to create 10 lovely shades to welcome the upcoming fall season and today's post features the two colors I received in my September Boho Glam box (read on to the end to see how you can get your first month of Julep for just a penny!).
I started this manicure with two coats of Popova, a creamy jade polish. Then, using tape as a straightedge and guide, I painted half of my nail with Gunta, a royal blue cream. Finally, I finished up the manicure with some black studs to resemble sweater buttons.
Questions? Comments? Talk to me on Facebook!
—
If you are planning to become a Julep Maven for the first time, click here. Simply take the quiz to determine your style and use coupon code PENNY at checkout to get your first month's box for just $0.01!
The black studs can be purchased here. Use coupon code MANDIEW21 to get 10% off + free shipping.
SANDY BEACHES & STARFISHES
(REVIEW: Born Pretty Store Dearlee nail polish and gold star studs) 
Dearlee 22
Sally Hansen Set the Stage
Check out this beach-inspired manicure I created using some Born Pretty Store products (minus the Sally Hansen glitter polish)!
Also, if you like what you see, don't miss out on your chance to WIN $100 to spend on absolutely anything you want from bornprettystore.com. Click here to enter in the Rafflecopter app!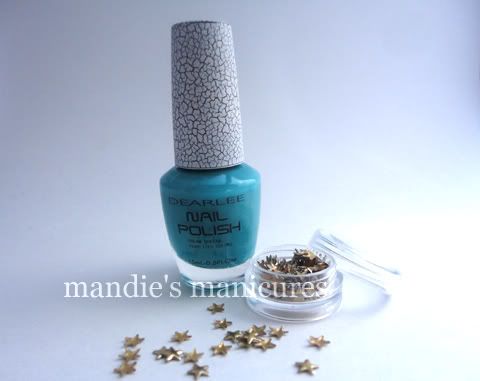 Dearlee's #22 is a highly-pigmented, teal, creme polish. The consistency is thick, but not gloopy, which allows for opacity in just one coat! The bottle shape is comparable to OPI's bottle and very sturdy - only difference is that the bottle cap is not as firm and can be cracked if dropped. However, BPS's shipping team does an amazing job in ensuring safe delivery - my items are always properly packaged in bubble wrap and bubble mailer! I especially like the brush on their Dearlee line. There's something about the flat and wide brush that allows for easier control and better precision. No clean-up was necessary after applying the base color! A brush that makes my life easier deserves an A+ in my book.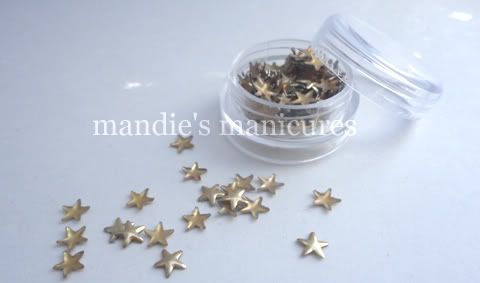 The gold star studs are super cute! (Note: the plastic container is not included. The stars come in a sealed plastic bag.) They are lightweight and easy to use. Like all 3D nail art, simply use a clear top coat as glue to stick them on your nails. I recommend these studs to those of you with flatter nail beds, as they won't stick out as much. You can see that the edges of the stars are poking out on my manicure because my nails curve in a u-shape around my fingers (that sounds a bit gross, huh? But I hope you understand what I mean!). Well, regardless of your nail shape, give these cuties a try! You can purchase them here.
Don't forget to use my coupon code MANDIEW21 to get 10% off your entire purchase + free shipping! :)

—
The Dearlee polish and gold star studs were sent to me for consideration from Born Pretty Store. As always, the opinions stated are honest and my own. For more information, please see my full disclosure.
FLUORESCENT FUN
(REVIEW: Born Pretty Store Flurorescent Neon nail polishes: 14, 15, 16, 22)
Hello all! You are going to love what I have to show today. Look at this fun (and easy) look I created using just four neon polishes and some black striping tape! Born Pretty Store recently sent me four of their new fluorescent neon polishes to review. I saw the four colors and I knew they had to be worn all together rather than swatched on their own. Check them out:
(From left to right: BPS Fluorescent Neon polish 15, 16, 22, and 14) 
15 is, in my opinion, a TRUE color dupe of a yellow highlighter. It is definitely bright enough to be spotted a mile away! Aside from being such a unique polish color, the best part about this yellow polish is that you need only two coats for opacity! Really - application is a dream. Love love love.
16 is a neon, apple-green polish. I'm sure there's no such thing as a neon apple, but if one existed, it would look like 16 and I would love to have it dunked in caramel, please. Again, another beautiful color by Born Pretty Store.
22 is a milky blueberry neon goodness. Seriously, I'm sure you're already tired from my raving for these polishes, but they deserve a very good review. The application again is easy with no streaks at all. You can achieve bottle color with just one coat of this polish.
And last, but not least, 14 is a sizzling-hot neon pink. It is much, much brighter in person than what you see in these pictures, so be sure to get yourself a bottle to experience the glory you will feel.
Overall, I am in love with these fluorescent polishes. The formula is perfect for neon polishes (opacity in just one or two coats) and they dry quickly as well. Also, they apparently glow under LED/UV lighting! I haven't tested this out yet, but there are some cool pictures on their site. 
Check out all the other colors of the fluorescent polishes here! Each bottle sells for $4.99, but with coupon code MANDIEW21, you can get 10% off your entire order + free shipping! Enjoy! :)

—
The nail polishes mentioned in this post were sent to me for consideration from Born Pretty Store. As always, the opinions stated are honest and my own. For more information, please see my full disclosure.
REVIEW: Born Pretty Store Metallic Nail Varnishes
Hello all! Born Pretty Store (BPS) has extended the length of time for the validity of my coupon code for you to use. I will attach the code at the bottom of this post for you to get 10% + free shipping off your entire purchase from their online store. Today, I have a set of five shimmering/metallic polishes from BPS to share with you. Each bottle contains 16 mL of polish, so they are full-sized. Unfortunately, these polishes do not have actual names - they are known by numbers, so bear with me as I show you the following swatches (let's hope I don't mix any up, haha).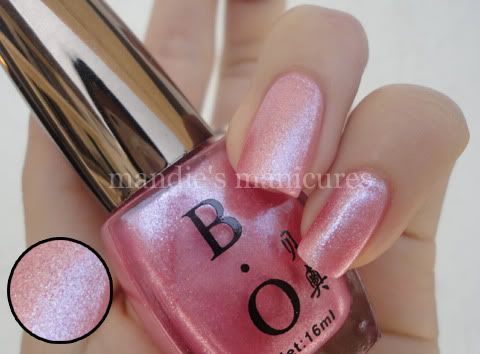 First up, we have four coats of 49, a frosty, bubblegum pink. 49 is very sheer, so I would suggest layering it over a pink creme polish. This is a very playful, yet subtle color to wear. I usually don't care for pink polishes, but I find this to be a very cute color.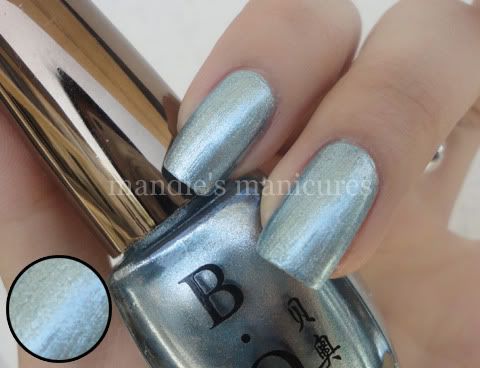 And here are two coats of 42 (unrelated side note: the OCD side of me is suddenly very aware that I did not put these swatches in order by number, but I want to keep the order of how I arranged the polishes in the first photo above, ah), a metallic muted-blue. The first coat comes out a bit streaky, but after layering on a second coat, everything evens out. 42 is something I would wear to prom!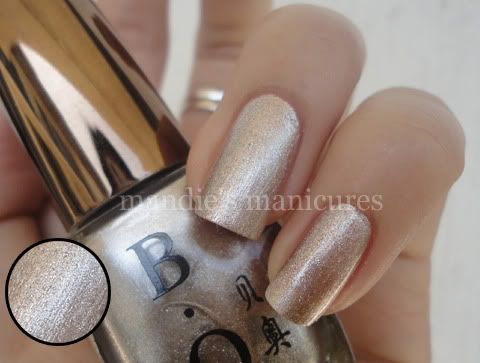 61 is my favorite polish of this entire set. Here I have two coats of this classy metallic beige polish. Why do I like it so much? Well, it's not quite silver, and yet it's not quite gold. What is it? Gilver? Sold? That makes no sense, huh? I like it. Let's leave it at that.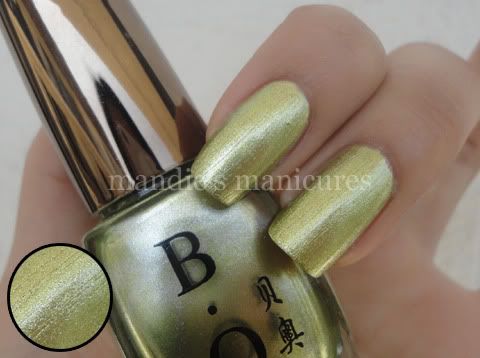 Holy, look at lucky number 13! This metallic lime-green polish applies beautifully in just two coats. Just like 42, the first coat is streaky, but a second coat evens everything out. Slap on a top coat, and you're good to go. This color is not a duo-chrome, but I would say it's the cousin of OPI's Just Spotted a Lizard (without the color-shifting effect, of course).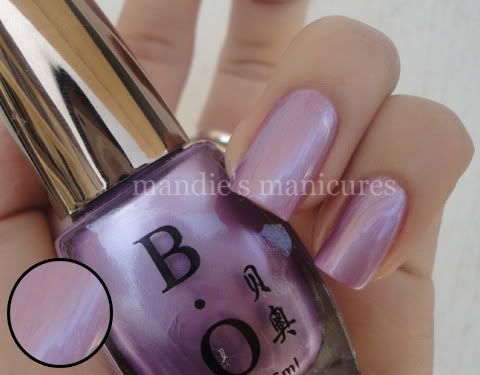 And last but not least, we have 51, a soft violet. I am not sure why this color is part of this set because it does not have the shimmering formula like the other four polishes. Nonetheless, it's a beautiful polish that reminds me of a helium-filled purple balloon, floating away. Ah. :) In the photo above, I used three coats of 51 to achieve bottle color.
Overall, these polishes wowed me. The formula allows for easy application with a chrome-like finish when dry (except 51). My only complaint is that they have a very strong scent, almost like permanent markers, but I am generally very sensitive to odd smells, so that's up to you to judge!

The entire set of all five polishes sells for less than $14. You can purchase yours here. And, as I mentioned earlier, BPS generously extended the time for my readers to use the coupon code to receive 10% off! Use coupon code MANDIEW21 at checkout to get your discount!
—
The products mentioned in this post were sent to me for consideration from Born Pretty Store. As always, the opinions stated are honest and my own. For more information, please see my full disclosure.