REVIEWS: Barielle's Gem Stone Earth Collection, Nail Rebuilding Protein Base Coat, and Ultra Speed Dry Manicure Extender
I am very excited to tell you that I am now a proud owner of some Barielle nail products. I was offered the entire Gem Stone Earth collection as well as their top and base coats for review, and seeing as I have never used Barielle products before, I of course said, YES!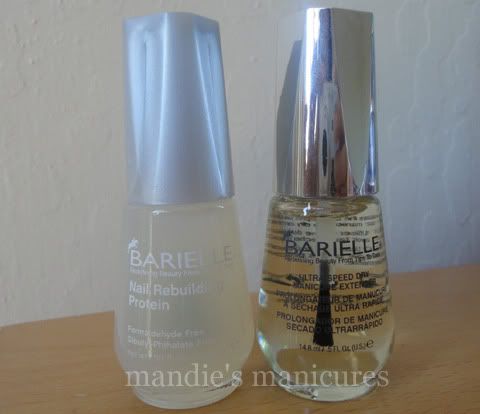 Before I move on to the swatches of the Gem Stone Earth collection, I will review their special base and top coats. When you begin a manicure, you must always use a base coat to protect your natural nails, as well as to prevent chipping.
In the following swatches, I used Barielle's Nail Rebuilding Protein Base Coat (pictured above, on the left). This base coat is designed for those of you with soft, peeling nails. You can use this as a treatment to rejuvenate your nails. The directions say to "use it 2-3 times per week for 3 weeks without additional lacquers to allow nails to breathe and recover. Then use it as a fortifying base coat in your weekly manicure regimen." Since my nails are fairly strong, I did not use it as a treatment, so I cannot comment on how it works in the long-run, but I used it as a regular top coat. Unlike other top coats, this one is not very sticky, but it does an amazing job in maintaining a manicure for at least a week before chipping occurs. After removing the base coat, I feel as though it has helped make my nails even stronger - they feel very well-nourished, even after using pure acetone for removal. I highly recommend this base coat to anyone who is looking to strengthen his/her natural nails. 
And of course, to complete a manicure, one must always use a top coat. I used one coat of Barielle's Ultra Speed Dry Manicure Extender Top Coat in the swatches below. The formula for this top coat is a bit runnier than I prefer, but it works well. You need to make sure the color is completely dry before applying this top coat because it can smear the color. It dries very quickly (dry to the touch in about 1 minute) with a high-gloss shine - very pretty!
Now let's move on to the swatches!
Here we have two coats of Granite Glitter, a smoky, metallic gray. This polish applied flawlessly with beautiful coverage.
This is two thin coats of Green Opal, a swampy mustard-green metallic polish. The first coat was a tad on the streaky side, but after another thin coat, everything smoothed out nicely. This is a gorgeous color to pair with gold jewelry.
Amber Sparkler is a milk-chocolate brown polish with a satin finish. This polish tends to be on the streaky side, but after several coats, it evens out. In the picture above, I used four coats of Amber Sparkler to smooth out the surface, but as you can see in my close-up, there are still some visible streaks.
And here we have Back to Nature, a peachy nude creme polish. This polish is fully opaque in three coats and is very sophisticated to wear on its own.
Finally, I present to you, Pink Quartz. This is my favorite polish out of the entire collection. I love how this cotton candy pink creme applies smoothly on my nails. In the picture above, I have on three coats.
Each nail polish retails for $8. You can purchase them on Amazon and the Barielle website.
Don't forget to enter in Barielle's BFF Sweepstakes (between May 21, 2012 to June 30, 2012) to win 3 shades of your choice as well as their nail strengthener cream, and their top and base coats!
—
The products mentioned in this post were sent to me for consideration from Barielle. As always, the opinions stated are honest and my own. For more information, please see my full disclosure.