REVIEW: Barielle Summer Brights Collection 2013 + SWEEPSTAKES
(Press samples provided for review.)
With summer coming right around the corner, it is time to make the transition from your springtime pastels to bright, hot hues. Barielle created a set called Summer Brights to help you with those indecisive moments when you have absolutely no idea what to put on your nails. Let's check out these beauties now, shall we?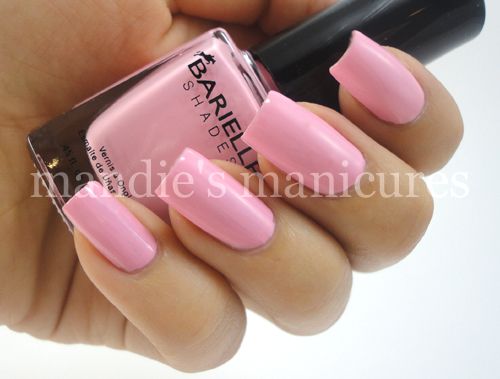 Super bright colors not your thing? You can never go wrong with a simple baby pink creme. This is two coats of Pink Flip-Flops. Application is smooth and easy for such a light color! This is perfect for a pedicure to keep your toes looking stylish when you're wearing sandals throughout the hot summer.
Like bright, eye-catching colors? Then Lemondrops is for you! I am always so impressed with a brand when they can make a yellow polish go on flawlessly and non-streaky on the nails. I just needed two coats for this cute, sunshine yellow creme.
Sweet Addiction is a basic jade creme. This was one of my first Barielle colors and I just love it! And guess what? It's a one-coater! ;)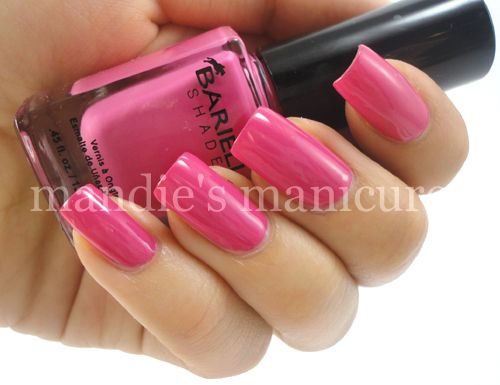 Cosmic Kiss is hot, hot, HOT magenta creme. How cute would this color look with your frilly sundress and over-sized sunglasses? Yep, I am totally ready for the summertime. I used two coats to achieve full opacity.
Finally, we have Blue Capri here. So maybe pink is not your thing and you love blues as much as I do. Then this one is for you! This is a gorgeous, one-coater polish. I am not quite sure how I would describe this color to you - It's not quite blue, and it's not quite purple. It's blurple? Plue? Ah, it's gorgeous, so let's leave it at that!
And there you have it! Just a few more colors for you to consider adding into your summer nail wardrobe.
Barielle polishes are available on their website for $8/bottle, or you can get the entire collection for $25 here.
Want to try your luck at winning this set + more Barielle goodies?
Barielle is hosting a Sweepstakes starting Monday May 5th thru Monday May 27th. There will be 10 winners and one Grand Prize Winner. 
The prizes are Mani-Pedi Spa kits and the Grand Prize includes one Michael Kors Wallet in addition to the Spa Kits.
The lucky winners will get:
One 5 Pack Nail Color Set – Retail $25

One Nail Rebuilding Protein – Retail $17.50

One Nail Strengthener Cream – Retail $17

One No Chip Speed Dry Topcoat – Retail $12.50

One Total Foot Care Cream 2.5oz – Retail $12.00

One Professional Protective Hand Cream 2.5oz – Retail $8.00
Total Value of $92.00!
Just go to Barielle's Facebook page (here) and click on the Sweepstakes tab to enter. Good luck!
Have a great day! And don't forget to keep in touch with me. :)
—
Products provided for an honest review.
REVIEW: Barielle Sweet Treats Spring 2013 Collection
I always like it when nail polish names are inspired by food. It's just so appealing in my opinion (but of course, please do not eat your nail polish!). Today I am showing you swatches of Barielle's newest collection called Sweet Treats for Spring 2013. This set contains four cremes and one shimmer. Oh, and trust me, once you see the names, you may develop a sugar craving - I know I am wanting a sour green apple chew right now! ;)
Oh my, just check out this tart, green creme! Mmm! Green Apple Chew is such a funky lime-green. I like it quite a bit. This is two coats for full coverage. Don't you think the name is just perfect for this color?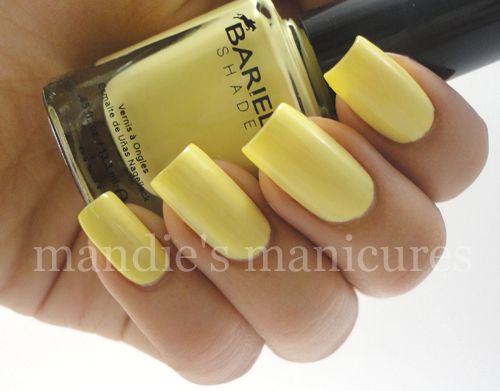 Banana Drop is a lovely, yellow pastel creme with non-streaky application. I only needed two coats here.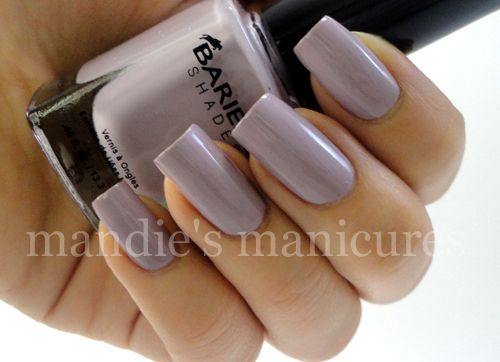 Lilac Jelly Bean is a muted gray-lavender creme. Can you believe this is a one-coater polish? It really is! Now I want to know what a lilac-flavored jellybean would taste like .. hmm.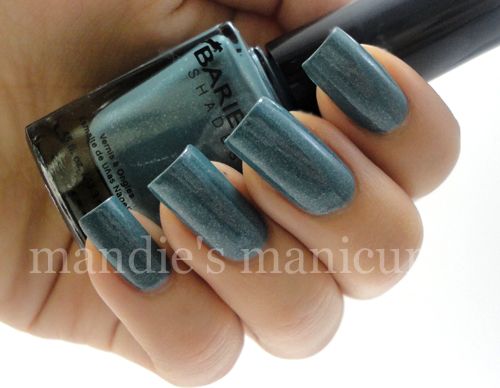 Blue Cotton Candy is the oddball of this collection. It is the only non-creme and it is absolutely stunning in person! This deep blue-gray polish is laced with a silver shimmer, which looks like sugar crystals; that's just perfect for a cotton candy polish, huh? It is highly pigmented, so be sure to use a good base coat to prevent staining!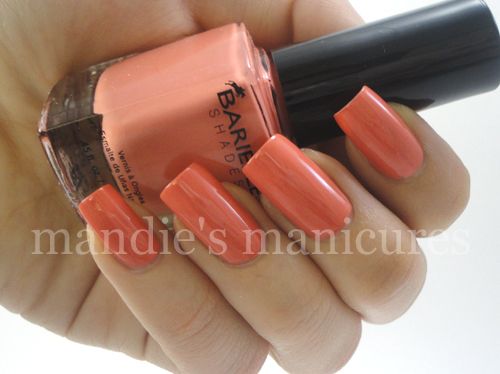 Orange Parfait is a salmon creme (I think I just ruined the Sweet Treats name by calling it a salmon creme, whoops!). I would say that this is a flattering color for any skin tone. Only two coats for full coverage.
And there you have it! More spring colors for you to add onto your lovely nails. :) The Sweet Treats collection can be purchased from the Barielle website (click here) for $25. The polishes are also sold separately for $8 each. 
Keep in touch with me on Facebook and Instagram!
—
Products provided for review.
REVIEW: Shimmer Polish
"Shimmery inspirations of nail polish within a bottle!"
Does the above photo excite you? Are you as crazy about glitter polish as I am? Today I have 12 sparkling glitter mixtures from Shimmer Polish to show you! All of these polishes can be worn alone with 2-3 coats or can be layered over another color for a different look.
The formula for all of these polishes are perfect - smooth application and non-goopy, which is awesome for glitter bombs!
Let's take a look at how I chose to wear them in these swatches!
Carol has a chocolate-brown tinted base with a mix of copper, gold, and blue glitter. I layered Carol over Milani's Chocolate Sprinkles (swatched here) to bring out the copper glitter. Very pretty!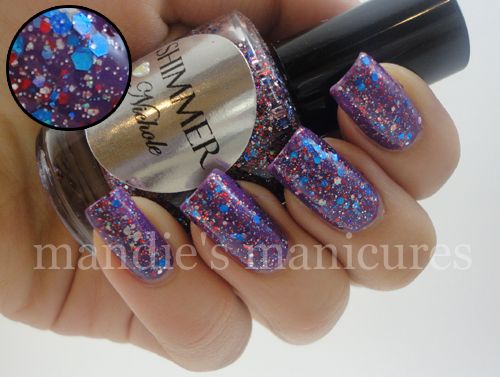 This is Nichole layered over Barielle's Grape Escape. Nichole is a clear-base polish with red, white, and silver glitter. This polish mix is absolutely perfect for the Fourth of July!
Alessandra is a jelly-red tinted base polish with red, gold, and green glitter. This is a very festive mix for the winter holidays. Here I layered Alessandra over Barielle's Rachel Red.
Mary is a deep, raspberry jelly polish with a unique blend of black, fuchsia, and silver glitter. Because the jelly base is very dark, I chose to wear Mary alone with two coats to get a 'squishy' jelly sandwich manicure.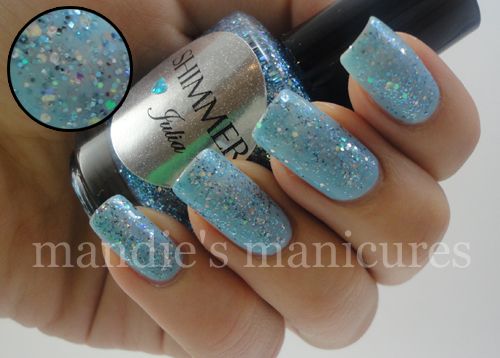 Julia is a snowy blend of baby blue and silver iridescent micro glitter. Here I am wearing one coat over OPI's What's With the Cattitude? from the Shrek collection.
Kelly is a lovely blend of gold and green glitter in a green jelly base. I layered her over Barielle's Do Unto Others. Kelly is going to be on my fingers for St. Patrick's day for sure!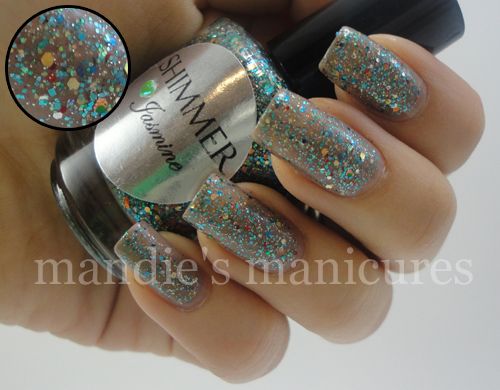 Jasmine is a tan jelly polish with a stunning blend of blue, gold, green, and red glitter. I layered Jasmine over American Apparel's Mouse, which is a tan creme to complement the tan jelly base.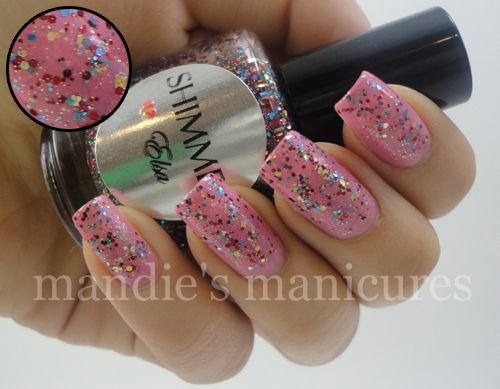 Elsa has a pink-tinted base with gold, blue, green, and red glitter. I layered one coat of Elsa over Nicole by OPI's Naturally. Such a girly and cute blend of glitter!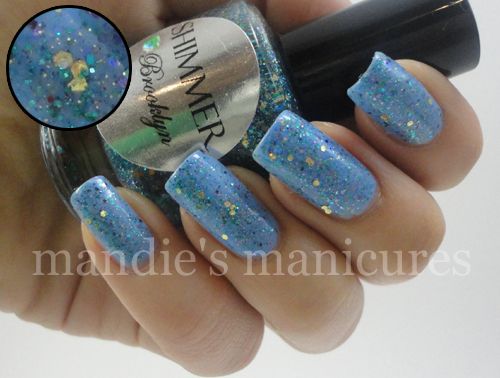 Brooklyn is a clear-base polish with green, turquoise, purple, and gold glitter. I layered Brooklyn over JESSICA Cosmetics' Sophia (swatched here).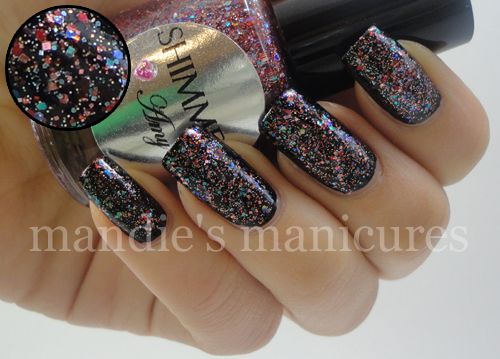 Oh my, check out Amy! This is such an eye-catching glitter blend of blue, pink, green, purple, and more! I layered just one coat of Amy over Milani's Black Swift. You can really see how dense this glitter is.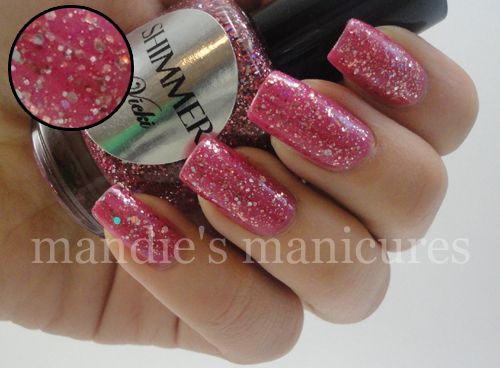 Vicki is a fuchsia jelly with gold and pink micro glitter. I layered Vicki over JESSICA Cosmetics' Amira (swatched here).
You made it to the end of this post! This is two coats of Eva, which is a very deep, plum-red jelly with black and pink micro glitter.
Whew! That was a lot to look at, huh? Well, what do you think?
Shimmer Polish is available on Etsy (click here) for $12/bottle. You can also see more swatches of the other available polishes on the Shimmer Polish blog and you can get updated on FB.
Don't forget to keep in touch with me on my Facebook page and on Instagram! :)
—
Products provided for review.
REVIEW: Barielle Carnival Fiesta Collection
I have a colorful fiesta on my nails for you to see today! The lovely people from Barielle surprised me and sent me their most recent collection for review. :) I have a feeling you might just want to have a few of these beauties in your collection.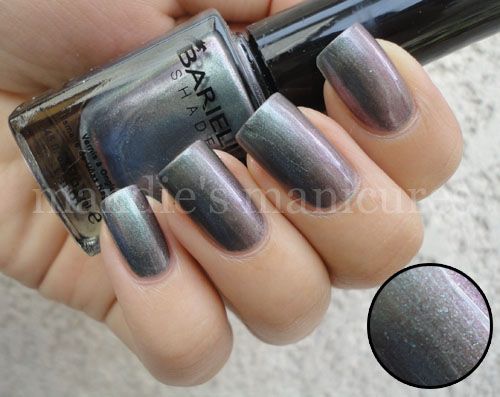 Wanna Samba? is a charcoal-violet duochrome polish! I have absolutely no idea how to photograph duochromes, so this picture does not do the polish any justice, but believe me when I tell you that it is a dazzling shade of violet when looked at from a different angle. I have on two coats. Application can be a bit on the streaky side, so I suggest using thin coats and seal everything up with a thick and shiny top coat.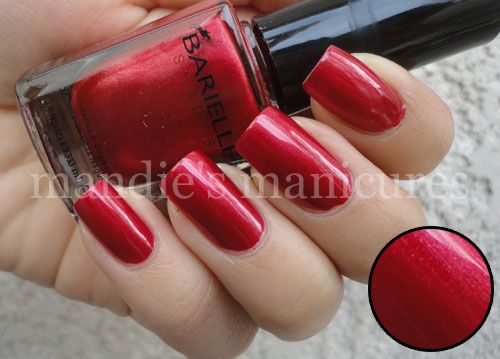 Lindsay's Dancin' is a cherry-red metallic polish. This polish is on the thinner side, so you'll want to avoid putting too much polish on your brush. You can see that I flooded my cuticle on my index finger. Unfortunately I did not notice this until after I had finished swatching. Apologies for the mess! Here I used two coats.
Jillian's Jammin' is a stunning foil polish! I get so excited about foils because they're always so shiny, hehe. This is a gorgeous ocean blue laced with purple-fuchsia shimmering flecks. I wish the polish were more pigmented so that I could avoid the visible nail lines, but I will try layering this over another blue next time. I used three coats here.
This is two coats of Holiday Madness, a swampy green-gold metallic polish. I was not expecting to like this color since I usually stay away from golden hues, but this green is actually quite classy to me. Love!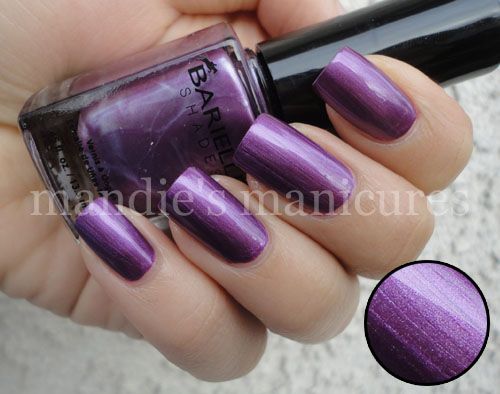 This last one is my absolute favorite out of the entire collection. I have on two coats of Rio's Rockin' Bands, a frosty, bright grape polish. I was a bit worried about this polish at first when I looked at the bottle (you can see some weird streaks in there), but once I got the polish on my nails, I was very happy with the outcome. It's such a bold color!
What do ya think? Talk to me on Facebook!
You can purchase the entire Carnival Fiesta collection from the Barielle website (here) for $25, or each polish sells for $8 individually. They are also on Facebook, so be sure to check them out!
—
All polishes mentioned in this post were sent to me for consideration from Barielle. As always, the opinions stated are honest and my own. For more information, please see my full disclosure.