REVIEW: Zoya Awaken & Monet Spring 2014 Collection
(Press samples provided for review.)
Zoya's spring collection for 2014 is just stunning! The Awaken set includes four shimmering, metallic pastels along with two delicate creme polishes. To complement the set, Zoya brings us a cellophane glitter topper, Monet.
Monet contains multi-colored cellophane holographic hex glitter in a lightly-tinted clear base. The tint is a barely-visible pink so it does not change the base color. In the swatches below, I applied one coat of Monet to my accent nail to show you different looks you can achieve with such a versatile glitter topper.
All Awaken polishes are swatched with two coats and no top coat.
Dillon is a seafoam-minty green polish with a gorgeous silver shimmer. Take a look at the macro shot to see that shine! The addition of Monet on top creates a mermaid-like effect on the nails. Since the glitter is holographic, you can see the different colors it reflects - such a beautiful combination!
Rebel is an aqua blue with the same silver shimmer as in Dillon. Monet behaves a bit differently on top of this blue; the glitter reflects mostly pinks and purples, whereas with the previous polish, I was able to see more yellows and greens. 
Hudson is a dreamy violet taken to another dimension with that silver shimmer. I usually prefer creme over shimmering polishes, but I just can't say no to a color like this. The flecks of silver create such a luxurious manicure!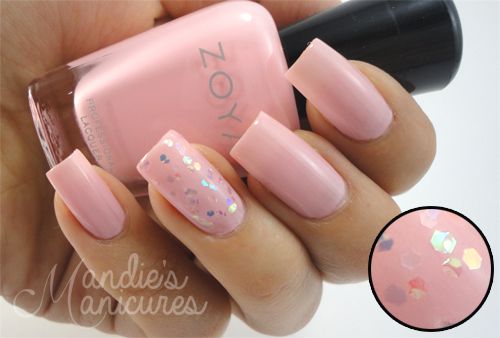 Dot is a classic pink creme. It has a crelly (creme-jelly) consistency in the first coat, but it is fully opaque with a second coat. I always find myself reaching for this shade of pink whenever I can't decide what to wear on my nails. It's the perfect color for a clean manicure and it matches with practically every outfit. Classy, indeed!
Cole is a tangerine creme. I love the color orange, but find it difficult wearing oranges on my nails since it clashes with my yellow undertone. But! The fact that it's a pastel makes it all the more wearable for me. This is a beautiful color for a pedicure - it's almost flip flop season and you'll want that pop of color on your toes!
Brooklyn is an elegant yellow-gold metallic polish. It has a silky satin finish, but I just could not find a way to apply this polish without the streaks. You will definitely want to use a top coat to smooth out the manicure when using this shade.
Which polishes will you be including for your springtime manicures? I highly recommend Dillon, Rebel, and Hudson with Monet on top. The flawless formula and the shimmering silver flecks just make me swoon! Each of the Awaken polishes can be purchased from the Zoya website for $9 each and Monet is $10.
That's all for today! Happy Friday! :)
Keep in touch with me on Instagram!
—
Disclosure: Products provided for an honest review.