KISS MY NAILS!
(REVIEW: Born Pretty Store Stamping Plate KD16)
OPI My Very First Knockwurst
Milani Rapid Cherry
stamping plate KD16
To help get you into the Valentine's Day spirit, I have an easy, kissable manicure to share with you today.
My nails are covered in lip prints, thanks to Born Pretty Store's adorable stamping plate KD16. I started my manicure using three coats of OPI's My Very First Knockwurst as the base color (previously reviewed here). After that dried, I went on to the fun part: stamping!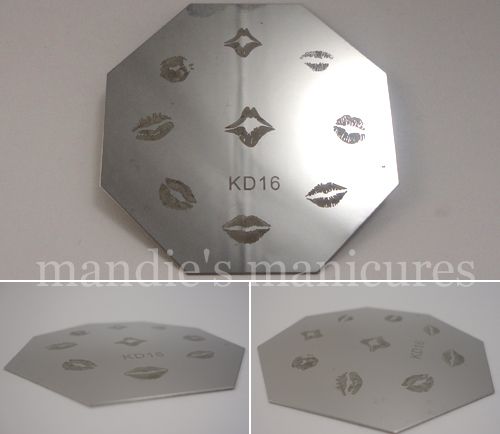 As you can see, the stamping plate has nine different lip prints to choose from. I used four of the nine prints for my manicure. Unlike the round Konad plates, these BPS plates are in the shape of an octagon. The edges can be quite sharp, so please be careful not to cut yourself! Other than that, the plate promises to provide cute little kisses for your nails. :)
I was worried prior to trying out the stamps because the images have very fine crevasses to imitate puckered lips. Usually, I am not very successful with stamping fine lines, but if you look at my close-up picture right above, you can see that the lines came out nicely and very detailed! I am impressed! No smudging at all. :)
I chose Milani's Rapid Cherry for the stamping color, which worked out great for these red lips. Also, since it's "Rapid" Cherry, the color dried very quickly to prevent any dragging from the top coat. Win!
What do you think about this manicure? Talk to me on Facebook!
The stamping plate can be purchased from the Born Pretty Store website here for just $2.99.
Don't forget to use my coupon code MANDIEW21 to get 10% off your entire purchase + free shipping at checkout!
—
Products provided for review.