REVIEW: OPI Mariah Carey Collection Part 1: Liquid Sand
(as previewed here) 
Who is ready to see some Liquid Sand from OPI's Mariah Carey collection? There are four other polishes in this set, but I felt that the Liquid Sand polishes deserved their own post!
I wasn't too sure what to expect prior to trying out these polishes because I was hearing mixed reviews about the graininess, but it's something different and definitely worth trying out. I used three coats of each polish for the swatches and will show you swatches without and with top coat (even though the label says to wear WITHOUT top coat, ooh I am such a rebel, huh?). They look great both ways, hehe. :)
This is three coats of Stay the Night, which is a black sandy-jelly (not sure how else to describe it) with red hex glitter. These Liquid Sand polishes have longer dry times compared to regular polishes, so be sure to use thin coats and wait for each coat to dry before applying the next. That way you'll get an even manicure since you won't drag the "sand" from bottom coat.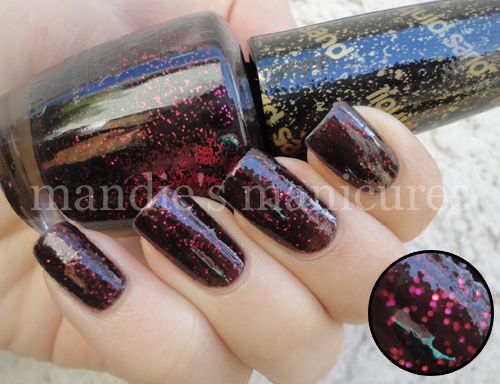 And this is Stay the Night with one coat of top coat. I actually like how it looks with a top coat, too. :)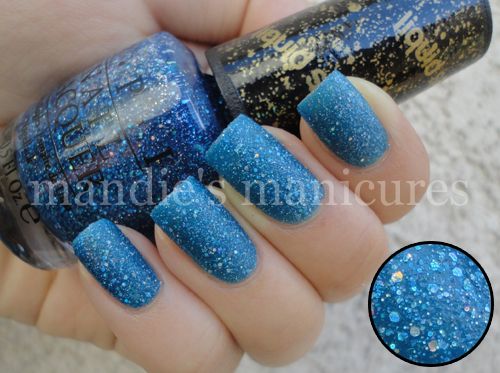 Get Your Number is an aqua sandy-jelly with holographic glitter pieces. This one has a more jelly quality, so you may need a fourth coat to cover up your nail lines.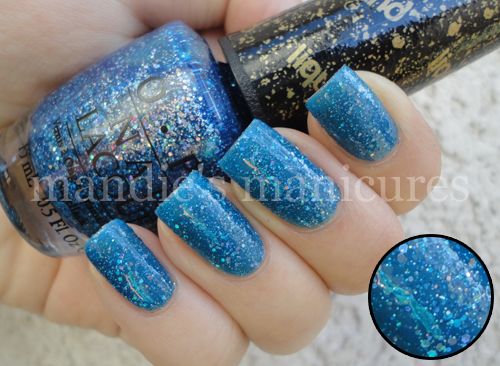 With top coat. Mystical, huh?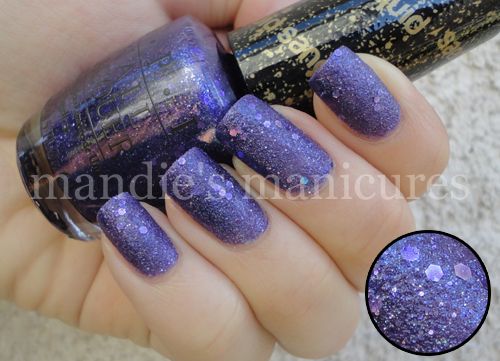 Can't Let Go is a nice aubergine sandy-jelly with micro and large silver glitter. I like the purple sand, but it seems to muddle up the silver glitter.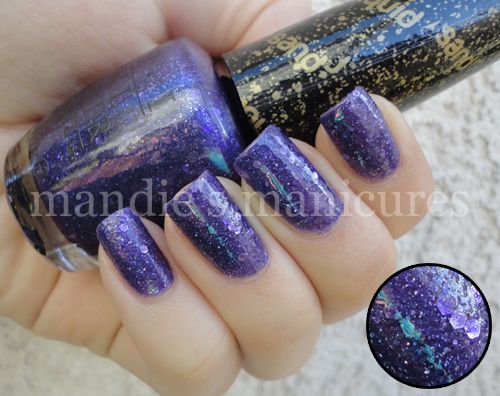 With top coat. I like this one better with a top coat, too!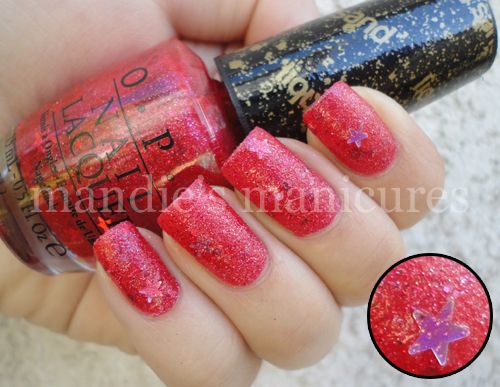 Finally, this is The Impossible, which is a red sandy-jelly with micro hex and large star glitter. The star glitter is such a pleasant surprise to see in the bottle. :) You may need to tip the bottle upside down before using this polish since the star pieces are heavier and thus tend to sink to the bottom.
With top coat. Look at how it makes the holographic star glitter shine!
Overall, I really like the Liquid Sand polishes! The graininess does not bother me - they don't snag on my clothes or hair. If you're not a fan of matte finishes, you can always top them off with a shiny top coat and still have that amazing textured-look.
What do you think? Will you be trying any of these Liquid Sand polishes?
Talk to me on Facebook!
—
All polishes mentioned in this post were sent to me for consideration from OPI. As always, the opinions stated are honest and my own. For more information, please see my full disclosure.