REVIEW: Priti NYC Summer 2012 Grand Slam Kit
(preview here)
With the Summer 2012 Olympics coming up towards the end of this month, I am excited to share with you this Olympic-inspired Grand Slam nail kit with you today. Priti NYC creatively chose specific colors to represent some of the participating countries in this tennis tournaments this summer. 
"Four of Priti NYC's bestsellers get inspiration from the four major international tennis tournaments! Miss Jeckyl for the US and Australian Open's blue courts, White Ballet Dahlia for Wimbledon's all white dress code, Peporomia Pixie for its grassy green courts, and Barbarossa for the French Open's signature clay courts at Roland-Garros."
I just love seeing these four polishes put together and can't wait to attempt some nail art with them soon! For today, I present you with the swatches.
Miss Jeckyl is a sheer, sky-blue creme polish. Here, I used four coats to reach opacity, which sounds like quite a bit, but the formula is easy to work and dries quickly between coats. I love the fresh, crisp look of this color on these hot summer days we have been having. It reminds me of a refreshing, ice-cold, blue-raspberry slushee, yummy! I recommend this color to everyone, as it works on almost any skin tone.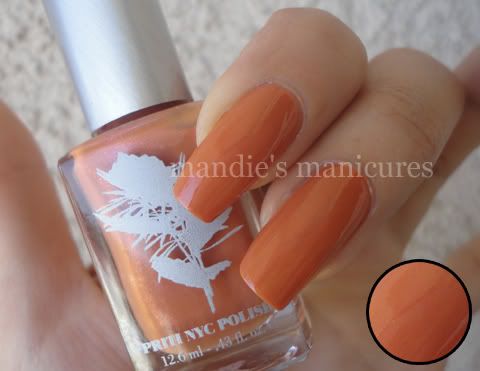 Next up is Barbarossa, a tantalizing, pumpkin-orange creme polish with a pink shimmering glow. I just did a quick Google search to look up the signature clay courts of France, and Barbarossa truly matches the courts spot on! The pink shimmer in the polish is an added bonus to polish, but it is difficult to see unless you are very close to the bottle. You can see that I had a difficult time trying to capture the shimmer on my nails, but you can definitely see it in the bottle. I used three coats in the picture above and had no trouble at all with the formula. I love orange so this color wins a place in my nail polish heart (yes, I have a second heart for my nail polishes, haha).
I can never have enough white polishes since it is such a basic color (wait, is white even considered a 'color'?). It can be used alone, for a French manicure, to create a clean canvas for your nail art, etc. However, finding a GOOD white polish with a non-streaky formula can be quite difficult. Look no further! Priti NYC's White Ballet Dahlia is incredibly easy to work. I used three coats for that porcelain-smooth finish.
Last, but not least, I have on three coats of Peporomia Pixie, a bold, hunter green creme polish. When I took my first look at the name, I read "pepperoni pizza," which makes no sense at all, haha (just a random side note for you). This is a very nice color for a clean pedicure. I read somewhere that green makes your feet look smaller. Try it out!
This was my first time trying some of Priti NYC's nail lacquers, and I am in love. The formula is so easy to smooth onto your nails and the bottles are so cute! I have nothing but good words for these polishes, so I highly recommend you get your hands on the Grand Slam kit to prepare for the upcoming Olympics! 
The nail kit retails for $37.50 and can be purchased HERE. 
Questions? Comments? Talk to me on Facebook!
—
The Summer 2012 Grand Slam kit was sent to me for consideration from Priti NYC. As always, the opinions stated are honest and my own. For more information, please see my full disclosure.