GREEN GRADIENT
American Apparel Office
Barielle Do Unto Others
Barielle Sweet Addiction
SEPHORA by OPI It's Real 
This is my first attempt at a gradient manicure. Creating a gradient with nail polish is surprisingly very easy and takes no more than five minutes per hand! Please check out s-lacquer's tutorial on how to do a gradient with two colors. I used three different shades of green, but the technique is essentially the same.
I happened to stop by Sephora to gawk at the nail counter and my eyes immediately went to the 18k gold flakes polish, It's Real. Yes, it's real gold, ah! My wallet began to whimper when I saw the price tag, so rather than splurging, I "sampled" it on every nail, hehe. I like! I might just go get a bottle… ;)
This is the manicure before I blinged it out with the gold flakes: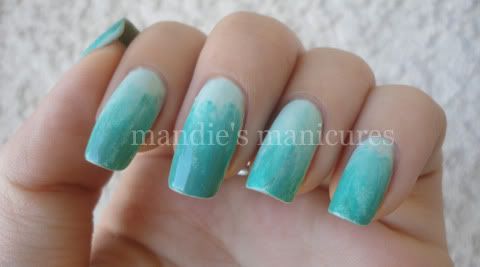 I certainly feel so fancy having 18k gold on my fingers. What do you think? Should I get it? Talk to me on Facebook!
kasnailsandsuch reblogged this from mandiesmanicures and added:

Real gold topcoats just add a special touch!