MANDIE MARBLES WITH MILANI (REVIEW)
Milani White on the Spot
Milani Hot Pink Frenzy
Milani Jiffy Orange
Milani Yellow Whiz 
Hello lovely readers! I'm sure some of you must be wondering why all of my posts lately have been only swatches. Rest-assured, I will get back to doing some more intricate nail work, but right now I am going strong to finish up the last two weeks of my undergraduate career (hip hip hooray, almost done). As I am studying, I will try my best to post as often as I possibly can.
With that said, rather than presenting you with another swatch, I thought I'd do 4 swatches in one post - water marble style! ;)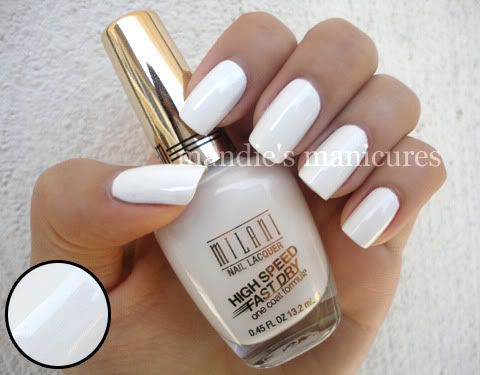 I started out this water marbling with a white base. Here I used Milani's White on the Spot. Let me take this time to tell you that this will be my new go-to white polish. The One Coat Formula by Milani is so impressive - the name really says it all. Perfect, creamy, no-streak finish in just one coat! Trust me, that is extremely rare for any polish-enthusiast to say about a white polish. WotS is purely white, and as you can see from the picture, it's bright (to the point where it makes my hands look darker than they really are)! I love it. I did not even need to use a top coat to achieve that shine.
Then on to the water marbling.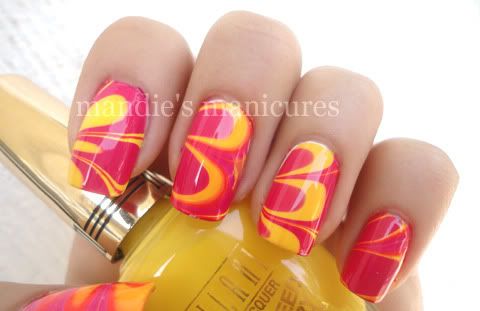 I used Milani's Jiffy Orange, Hot Pink Frenzy, and Yellow Whiz in this manicure. Take notice of these words: jiffy, frenzy, whiz
These three colors are also part of Milani's High Speed Fast Dry One Coat Formula collection. Prior to using these for a water marble, I tested each of them on my nails. Just like White on the Spot, these polishes promise non-streaky, full-coverage in one coat. And for those of you who are always on the run, the polish is dry to the touch in about 60 seconds (that is why I chose to use some polishes from this collection .. so I could get back to my studies right away without accidentally denting/smudging a nail).
I wasn't sure what to expect when that first drop of polish went into my bowl of water, but I can now tell you that they work beautifully for marbling. They spread quickly in the water and build up nicely with each drop. Because these polishes are so highly pigmented, you don't actually need to use a white base color, but by habit, I did.
My pinky and index fingers are meant to give you an idea of what Hot Pink Frenzy looks like. It's a gorgeous hot pink with a very light shimmer. You can see Jiffy Orange on my thumb and middle fingers. This is a very standard pumpkin orange creme polish (have I mentioned that orange is my favorite color?). And finally, my ring and index fingers are showcasing Yellow Whiz, a vivid yellow creme polish.
Have questions/comments? Talk to me on Facebook!
I highly recommend these polishes to my readers who are looking for affordable, high-quality polishes. They can be found in the makeup aisle at your local CVS, Walgreens, or Target.
—
All products mentioned in this post were sent to me for consideration from Milani. As always, the opinions stated are honest and my own. For more information, please see my full disclosure.