REVIEW: BABY PEARL RHINESTONE DECORATION
Julep Jessica
Julep Renee
pearl rhinestones, gold bullion beads 
Mother of pearl! Look at what I have in store for you today. :) This is a review for Born Pretty Store's pearl rhinestones. Aside from my love for glitter polishes, I absolutely love 'blinging' out my nails with rhinestones so I was so stoked to receive these in the mail.
Each set comes in a wheel with separate compartments for the 3 different sizes of pearls (4mm, 3mm, 1.5mm) with about 1,200 pieces total. In the picture above, I used the 3mm pearls.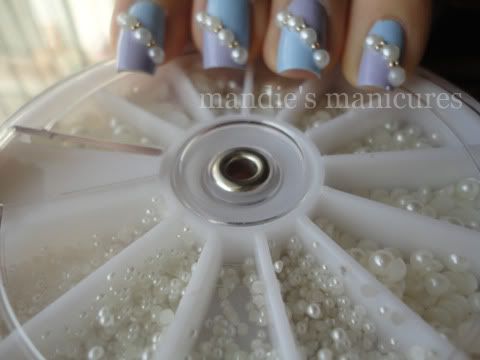 So how do you get these little pearls on your nails? Easy! No glue necessary.
Simply start out by painting your nails with your desired base color.
Wait for the base color to dry completely.
Apply a generous amount of top coat to a finger (you'll want to do this one finger at a time). 
Working quickly but carefully, lightly touch the brush of your top coat with the smallest dotting tool you own (if you don't have a dotting tool, a toothpick or a sharpened pencil works, too) to make the end a bit sticky. Now you can easily pick up one pearl at a time and apply it to your nail as you wish. If your top coat dried before you could finish placing the pearls on the nail, no worries - just use your dotting tool to apply a bit of top coat to where you want the pearls to be placed.
Since the pearls are halved, one side is completely flat, which helps them stay on your nails much longer than if they were round. The look you see above is just one of infinite ways you could use the pearls. Get your creative juices flowing!
You can purchase the pearl rhinestones here for less than $5 per wheel! And of course, with coupon code MANDIEW21, you can get a 10% discount off your entire purchase + free shipping worldwide!

—
I received the Julep polishes in my March box from the Julep Maven Program. You can sign up and get your first box for just $0.01 using coupon code APRILINTRO. Click here to get started!
Born Pretty Store sent me the pearl rhinestones to review. I am in no way affiliated with this company. The opinions stated in this review are honest and my own.
Want a chance to win $20 worth of products from Born Pretty Store? Click here!