REVIEW: KANDNAIL STAMPING PLATE & STAMPING POLISHES
I received some goodies from Born Pretty Store a few days ago and finally had the chance to try them out today. They provided me with the KandNail stamping plate CK-04 and two stamping polishes in black and white.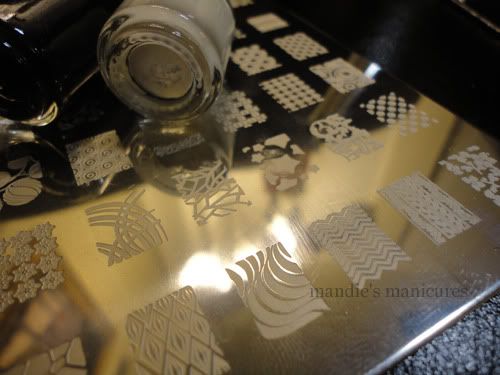 The KandNail stamping plate CK-04 is a large stainless steel slab containing 42 intricate designs. Unlike the Konad plates, KandNail is rectangular in shape and about 3 times larger. I decided to go with a simple zigzag pattern to show you just one of many looks you can create with this plate. The stamping polishes resemble the Konad Special Polishes - the formula is very thick, which works perfectly to make the image opaque.
Overall, I was pleased with the products. My only complaint at the moment is that the designs are not big enough to cover my entire nail bed (or maybe I just have big nails, haha).  I was a little disappointed at first, but of course, you can improvise, get creative, and make things work. :)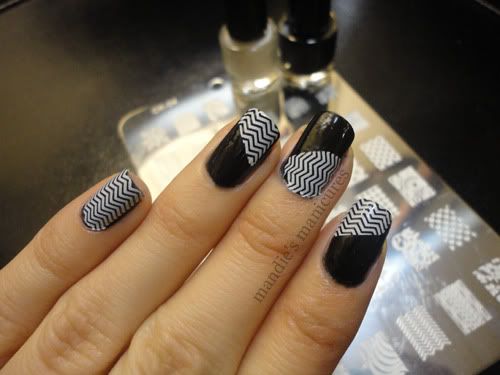 I would definitely recommend this stamping plate to a beginner. You can wow your friends with very detailed designs even if you don't have a steady hand. Please note that I did not use the black stamping polish for the base color. You should use stamping polishes for stamping purposes only as they are much too thick to create a smooth surface. I used a regular black polish for the base.
The KandNail plate costs $7.56 and the polishes cost $3.41. Born Pretty Store offers a wide selection of different stamping plates and various colors for the stamping polishes, so definitely check them out! And of course, as a reader of mandie's manicures, you get a 10% discount off your ENTIRE purchase! Just enter in coupon code MANDIEW21 before checking out.

Thanks for reading! If you have any questions, feel free to drop me a message in my ask box or contact me via Facebook. - mandie
Born Pretty Store sent me these products to review. I am in no way affiliated with this company. The opinions stated in this review are honest and my own.