TAYLOR'S GIFT FOUNDATION
Hello everyone! Today I have a very special post featuring an exclusive nail polish that OPI created for the Taylor's Gift Foundation. This foundation was established to raise awareness and to increase official organ donor registries. But who was Taylor? Watch the following 5-minute video to have a better understanding of the motive and purpose behind the foundation. 
As mentioned, OPI partnered up with Taylor's Gift to create Taylor Blue, a crelly teal that is just perfect in two coats. The "Paint it Forward" campaign supports National Donate Life month - simply paint your nails with Taylor Blue and snap a few photos to post. This polish is available on the foundation's website for $10/bottle ($7 is a direct contribution to Taylor's Gift), but there are various options depending on the amount you wish to donate.
Show your support by Tweeting/Facebooking/Instagramming a photo of you wearing this polish with the hashtag #taylorblue. :)
To add a bit of bling to this manicure, I placed some gold square studs onto each nail:
I know it is still early for the holiday season, but you can consider using Taylor Blue as stocking stuffers to give a gift that gives back. All proceeds from OPI Taylor Blue will help the Taylor's Gift Foundation financially assist those touched by organ donation. 
To learn more about the foundation, visit their website: http://taylorsgift.org. You can also find them on Facebook and Twitter.
—
Disclosure: Product provided for an honest review.
REVIEW: SinfulColors Leather Luxe & Crystal Crushes Collections for Fall 2013
(Press samples provided for review.)
Happy Monday, everyone! Today I have a few of the new SinfulColors Fall 2013 polishes to share with you. The entire collection is shown in the picture above, and I will be showing you two polishes from each collection. 
LEATHER LUXE: Lustrous Leather Looks that Lure for Fall
Tease, taunt and turn heads this fall with the SinfulColors Leather Luxe Collection. A texture rich, trend-setting collection of stylish matte finish nail polish shades which are richly pigmented to provide a flirtatious way to flaunt your style. The Leather Luxe Collection features eight weather-warming shades with leather-inspired finishes. The best part: they come in every popular base color so there's a leather-icious look for everyone. 
Laced Up: enthralling orange
Leather Loose: safari sinful brown
Whipped: beguiling black
Get It On: bravely berry
Strapped: scintillating seafoam
My Turn: stunning steel
Cold Leather: enchanting night sky
Here I have on two coats of Leather Loose, a gorgeous chocolate brown with a golden/bronze shimmer. I was able to see how fast the polish dried as it transitioned from glossy to a velvety, matte finish. This is definitely unique!
I also added a top coat to Leather Loose to show you how it looks when glossy. I love it both ways! When it's glossy, you can see the shimmer much better.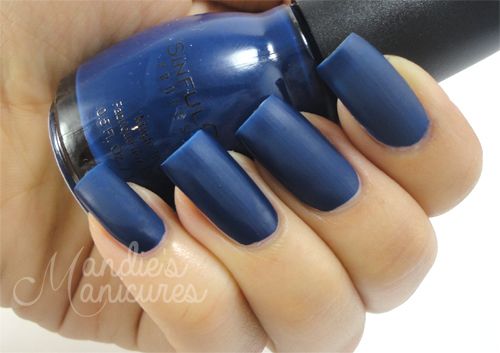 Cold Leather is a classy, navy blue. I am usually not very fond of matte polishes, but these polishes are starting to grow on me. The satin finishes are so nice! This is a one-coater and also dries very quickly. Perfect for those of you who are always on the go!
SinfulColors Leather Luxe, $1.99 exclusively at Walgreens for Fall 2013.
CRYSTAL CRUSHES: A Daring Way to Dazzle for Fall
Sparkle and glimmer this fall with SinfulColors shade collection: Crystal Crushes. It is a brilliant collection of gem-inspired nail polish shades with multifaceted 3D texture. Gorgeous matte colors flecked with a reflective pearl finish sure to dazzle your digits and make your heart skip a beat. The Crystal Crushes collection features eight vivid shades sprinkled with an angel dust finish. The colorful trend shades you love from SinfulColors!
Got a Blush on You: flirty fuchsia
Blue Persuasion: sapphire-d up!
Orange Crush: twinkling tangerine
Treasure Chest: sea worthy bling
Emerald Envy: a glint of green
Purple Gleam: glistening lavender
Ruby Mine: ravishing red
Face the Facets: banana bling
Treasure Chest is a sea foam green textured polish with a pearly, silver shimmer. Unlike other textured polishes I have shown you, these polishes from the SinfulColors Crystal Crushes collection have a less grainy finish. They are not as bumpy as the others that I have tried. I used two coats here.
Emerald Envy is a deep apple green with a golden shimmer. I love this one! The texture is the same as Treasure Chest in that it is not as grainy as other textured polishes. This is a one-coater. :)
SinfulColors Crystal Crushes, $2.99 exclusively at Walgreens for Fall 2013. 
For more information, be sure to follow SinfulColors on Twitter (@sinfulcolors_np) and on Facebook!
—
Disclosure: Products provided for an honest review.
GOLD & GRAPHITE
Today I am sharing a very simple nail design. It has been quite awhile since I have put on any design on my nails! As a nail blogger, I am constantly swatching; I try to keep my nails simply polished with one color so that when I receive a new set to review, I will not agonize over cleaning up my nails, especially if I spent a long time painting the design.
To create this manicure, I used two contrasting shades from Milani along with some scotch tape (not pictured):
Starting with Gold Glitz, I covered all of my nails with two coats of this gold glitter. As you can see in the macro bubble above, both of these polishes dry to a matte, sandy finish (I really think Milani created textured polishes first, possibly by accident). When that dried, I cut up little scotch tape triangles to use as a guide to block off the bottom of my nails where I did not want the next polish to touch.
Tip: Cut the tape before you start painting the base color to prevent any accidental nicks and dents. 
After placing the tape on each nail, I went over the nail again with Milani's Silver Dazzle to create the "graphite" tips. I also made sure to pull the tape off immediately after going over with Silver Dazzle to achieve crisp edges.
And voila, done! :) No top coat needed!
That's it for today's small post. Have an awesome day, everyone!
REVIEW: OPI Limited Edition Miss Universe 2013 (as previewed here)
(Press samples provided for review.)
Hello, beauty queens! Long time, no talk, huh? I have been occupied with my classes, so I was not able to post up swatches last week. Today I am showing you the limited edition Miss Universe 2013 collection from OPI. This trio set consists of two shades of purple cremes and the most amazing satin-finish, matte silver lacquer.
I'm Feeling Sashy is a dusty, orchid creme. The grayish tone within the polish makes the color very office appropriate. It is an elegant color that can easily be matched with any outfit. I used two coats on each nail for a smooth, shiny finish.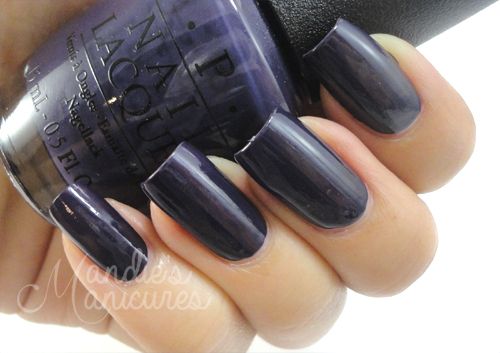 Miss You-niverse is a one-coater, indigo creme. Whenever I want to create rainbow nails, I am always lacking the indigo color (the i in Roy G. Biv) and opt for a random shade of purple. Now I don't have to! The formula is perfect with very high pigmentation. Applies like a dream! :)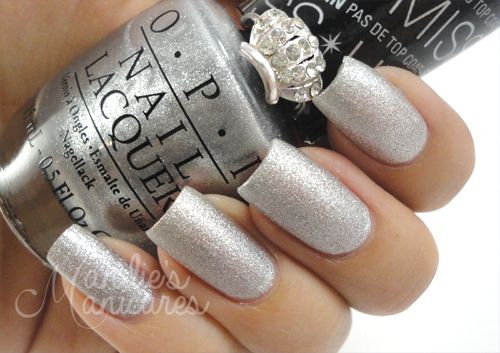 This Gown Needs a Crown is diamonds in a bottle! I am loving this gorgeous, matte silver polish. It dries to a satin finish, so to keep the effect, you will not want to use a top coat. The formula seems watery, but only two coats are needed for full coverage. This polish also comes with a crown ring, but because the band is made of elastic, it was already stretched out too wide for my fingers - though I think it looks better on the bottle! Absolute must-have for me.
These shades are available NOW, at Professional Salons, including Beauty Brands, Beauty First, Chatters, Dillard's, jcp Salons, Pure Beauty, Regis, Trade Secret, ULTA and ulta.com for $9.00 ($10.95 CAN) suggested retail for each nail lacquer. 
Ciao, beautiful! See you in the next post. :)
In the meantime, keep in touch with me on Facebook and on Instagram (@mandiesmanicures)!
—
Disclosure: Products provided for an honest review.