REVIEW: Nicole by OPI Modern Family Holiday 2013
(Press samples provided for review.)
Several months back, I showed you swatches of the Nicole by OPI Modern Family collection consisting of fourteen beautiful polishes. Today, I have an addition five polishes that Nicole by OPI created in another collaboration with Modern Family for the holidays.
Here is the official press release:
Nicole by OPI announces new limited edition Modern Family Holiday nail lacquers! Featuring five shimmering shades – classic blue, rich scarlet, royal purple, holographic glitter and multi-dimensional gold – these holiday-inspired hues offer a range of color that can be used to create on-trend, seasonal nail looks.
"These festive lacquers make it easy to get into the holiday spirit!" declares Suzi Weiss-Fischmann, Nicole by OPI Executive VP & Artistic Director. "With rich jewel tones and glitter, Modern Family Holiday shades add classic color and sparkle to winter weather fashion, turning manicures into bejeweled accessories for special holiday occasions."
The new Modern Family Holiday nail lacquers from Nicole by OPI include:
Who Red My Journal??? is a red-orange polish with a beautiful bronze shimmer. This bronze-y red is beautiful in just two coats. I would definitely use a top coat since brush strokes are difficult to avoid in the finish of shimmering polishes.
Here I have You're My Treasure layered on top of Who Red My Journal??? The mix of gold hexagons and diamonds in the clear base really adds a stunning new dimension to any manicure. I am very impressed with the thickness of the clear base because it makes application of the glitter on the nails very effortless. I did not need to swirl or fish around to get the glitter out. What you see above is just one coat!
Late Blu-mer is a soft, faded blue shimmering polish. It is definitely reminiscent of dusty, blue jeans. Very pretty! This is two coats.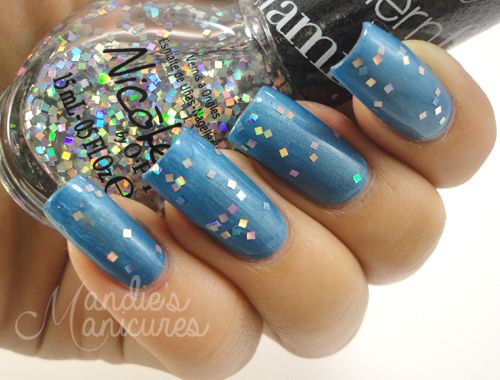 Spark the Conversation is a clear base with sparkling square glitter that appears to be silver, but when they hit the light, they shine various colors of the rainbow! I used the "dabbing" method to add this polish on top of Late Blu-mer. I absolutely love the way this glitter looks, but my only issue is that the glitter is heavy and sinks to the bottom of the bottle. This made application difficult because very few glitter pieces would actually stick to the brush. Definitely leave this polish upside down for a few minutes before using it!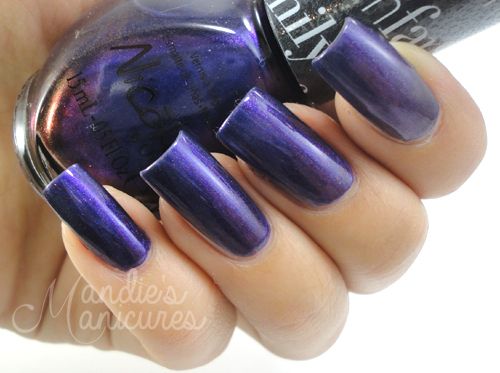 Aren't Families Grape? is a gorgeous eggplant purple with a fuchsia shimmer. My camera hates purple as you have seen in my previous posts so this picture is not color accurate. I am not too sure how to fix the color on Photoshop without making my fingers look too blue, haha. So, please refer to this picture that I posted on my Instagram for a better idea of the color! This is two coats.
Limited edition Modern Family Holiday nail lacquer will be available November 2013 (now!) for $7.99 each at select CVS locations nationwide. For more information, visit nicolebyopi.com. Follow Nicole by OPI on Twitter @NicoleByOPI and become a Facebook fan!
Keep in touch with me on Instagram!
—
Disclosure: Product samples provided for an honest review.
REVIEW: Sally Hansen Triple Shine Nail Color
(Press samples provided for review.)
LAYER ON THE SHINE WITH NEW SALLY HANSEN TRIPLE SHINE NAIL COLOR
THINK: Polish that shines through everything you do.
WHAT THEY ARE: Biggest, boldest, shiniest colors. When it comes to a brilliant shine, the key word is more,more, more. That's why Sally Hansen is bringing maximum radiance to the season's most covetable colors with the new Triple Shine Nail Color. Sally Hansen knows that high shine is what you crave. Yet, daily hand washing can eat away at color due to water's high pH, detergent can dull shine, and everything from chlorine to heat can damage polish's precious luster. Luckily, this innovative formula features a one-of-a-kind Ultimate Shield Complex, designed to help polish withstand the wear and tear of everyday living. As the latest breakthrough from Sally Hansen, the definitive color authority, Triple Shine Nail Color marries sheer brilliance with the shades of the moment for non-stop shine in the colors you covet.
—
Last week I received four of Sally Hansen's newest nail color innovation in the mail, and I was just so excited to try on these gorgeous glitter polishes! All of these polishes have either a clear or very lightly-tinted base, so I chose to layer each glitter over some matching cremes.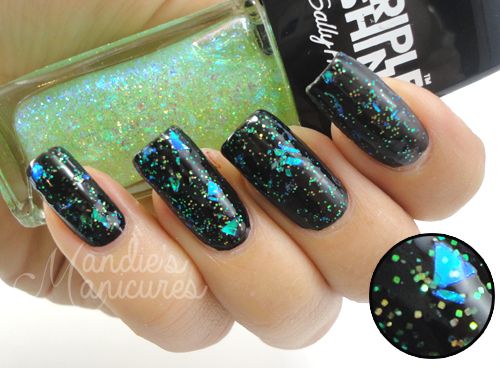 Scale Up definitely caught my eyes when I first opened up the package. This clear-based polish is filled with iridescent flakies/shards along with mini square glitter. When applied alone, the flakies hardly show up on the nail, so I decided to apply Scale Up over a black creme for a high contrast. The glitter really pops over black and shines blue and green! Shown is just one easy coat over black.
Sparks Fly is a navy blue-tinted base with various sizes of silver hex glitter. It was such a pleasant surprise to see the larger hex pieces come out of the bottle with ease. Because there is so much glitter in there, no fishing was required. What you see above is just one coat over a navy blue creme to match the base.
Compared to Sparks Fly, I was a bit disappointed with the amount of glitter inside Twinkled Pink. Although it appears to be another glitter bomb in the bottle, I had a difficult time getting the glitter to stay on the brush. The application of glitter onto the nails was difficult because of the sparsity of the formula. I have on two coats of Twinkled Pink over a baby pink creme using the 'dabbing' method, but you can see that I was not able to get much out of the bottle.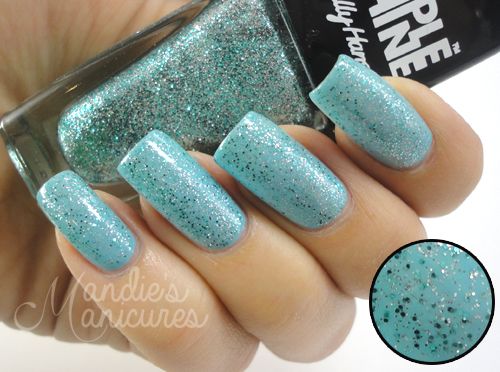 Fanta-Sea has a very well-thought out combination of glitter! I am loving the seafoam green, turqoise, and silver blend over a baby blue base. It really does remind me of the breeze and sandy oceans. The micro glitter spreads evenly on the nail beds, so it looks like you could wear Fanta-Sea without a base color. That's definitely something for me to try for my next manicure!
These Sally Hansen Triple Shine Nail colors are available at chain drug stores and mass retailers nationally for $4.99/bottle. You can also find them on their website (here). Be sure to check out all 29 new colors!
What do you think? Keep in touch with me on Instagram!
—
Disclosure: Products provided for an honest review.
TAYLOR'S GIFT FOUNDATION
Hello everyone! Today I have a very special post featuring an exclusive nail polish that OPI created for the Taylor's Gift Foundation. This foundation was established to raise awareness and to increase official organ donor registries. But who was Taylor? Watch the following 5-minute video to have a better understanding of the motive and purpose behind the foundation. 
As mentioned, OPI partnered up with Taylor's Gift to create Taylor Blue, a crelly teal that is just perfect in two coats. The "Paint it Forward" campaign supports National Donate Life month - simply paint your nails with Taylor Blue and snap a few photos to post. This polish is available on the foundation's website for $10/bottle ($7 is a direct contribution to Taylor's Gift), but there are various options depending on the amount you wish to donate.
Show your support by Tweeting/Facebooking/Instagramming a photo of you wearing this polish with the hashtag #taylorblue. :)
To add a bit of bling to this manicure, I placed some gold square studs onto each nail:
I know it is still early for the holiday season, but you can consider using Taylor Blue as stocking stuffers to give a gift that gives back. All proceeds from OPI Taylor Blue will help the Taylor's Gift Foundation financially assist those touched by organ donation. 
To learn more about the foundation, visit their website: http://taylorsgift.org. You can also find them on Facebook and Twitter.
—
Disclosure: Product provided for an honest review.
REVIEW: SinfulColors Leather Luxe & Crystal Crushes Collections for Fall 2013
(Press samples provided for review.)
Happy Monday, everyone! Today I have a few of the new SinfulColors Fall 2013 polishes to share with you. The entire collection is shown in the picture above, and I will be showing you two polishes from each collection. 
LEATHER LUXE: Lustrous Leather Looks that Lure for Fall
Tease, taunt and turn heads this fall with the SinfulColors Leather Luxe Collection. A texture rich, trend-setting collection of stylish matte finish nail polish shades which are richly pigmented to provide a flirtatious way to flaunt your style. The Leather Luxe Collection features eight weather-warming shades with leather-inspired finishes. The best part: they come in every popular base color so there's a leather-icious look for everyone. 
Laced Up: enthralling orange
Leather Loose: safari sinful brown
Whipped: beguiling black
Get It On: bravely berry
Strapped: scintillating seafoam
My Turn: stunning steel
Cold Leather: enchanting night sky
Here I have on two coats of Leather Loose, a gorgeous chocolate brown with a golden/bronze shimmer. I was able to see how fast the polish dried as it transitioned from glossy to a velvety, matte finish. This is definitely unique!
I also added a top coat to Leather Loose to show you how it looks when glossy. I love it both ways! When it's glossy, you can see the shimmer much better.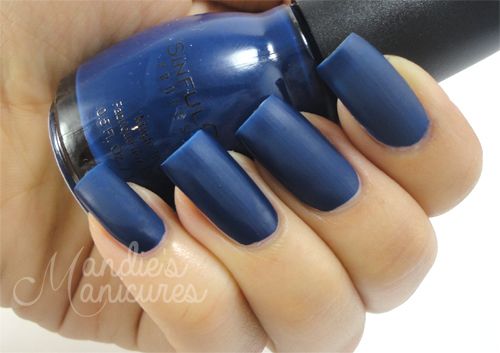 Cold Leather is a classy, navy blue. I am usually not very fond of matte polishes, but these polishes are starting to grow on me. The satin finishes are so nice! This is a one-coater and also dries very quickly. Perfect for those of you who are always on the go!
SinfulColors Leather Luxe, $1.99 exclusively at Walgreens for Fall 2013.
CRYSTAL CRUSHES: A Daring Way to Dazzle for Fall
Sparkle and glimmer this fall with SinfulColors shade collection: Crystal Crushes. It is a brilliant collection of gem-inspired nail polish shades with multifaceted 3D texture. Gorgeous matte colors flecked with a reflective pearl finish sure to dazzle your digits and make your heart skip a beat. The Crystal Crushes collection features eight vivid shades sprinkled with an angel dust finish. The colorful trend shades you love from SinfulColors!
Got a Blush on You: flirty fuchsia
Blue Persuasion: sapphire-d up!
Orange Crush: twinkling tangerine
Treasure Chest: sea worthy bling
Emerald Envy: a glint of green
Purple Gleam: glistening lavender
Ruby Mine: ravishing red
Face the Facets: banana bling
Treasure Chest is a sea foam green textured polish with a pearly, silver shimmer. Unlike other textured polishes I have shown you, these polishes from the SinfulColors Crystal Crushes collection have a less grainy finish. They are not as bumpy as the others that I have tried. I used two coats here.
Emerald Envy is a deep apple green with a golden shimmer. I love this one! The texture is the same as Treasure Chest in that it is not as grainy as other textured polishes. This is a one-coater. :)
SinfulColors Crystal Crushes, $2.99 exclusively at Walgreens for Fall 2013. 
For more information, be sure to follow SinfulColors on Twitter (@sinfulcolors_np) and on Facebook!
—
Disclosure: Products provided for an honest review.