REVIEW: Serum No. 5 Spring/Summer 2014 Collection
My, oh my! I am so excited to publish this review of Serum No. 5's Spring/Summer 2014 collection consisting of glow-in-the-dark neons, tropical-inspired polishes, AND a very special new silver top coat. I will save that special somethin'-somethin' for the end of this post, but if you are following me on Instagram, you may have already seen what I am talking about (wink, wink, I described it as "Edward Cullen sparkling on my nails"). Let's get going with the swatches!
We will start with the 7 glow-in-the-dark (gitd) neons. Victoria from Serum No. 5 is the master of gitd polishes and she has successfully created extremely bright neons that not only wow your eyes in the day, but they actually glow stunningly in the dark. For all 7 of these gitd neons, I "charged" up my nails under a lamp for 30 seconds before going into a dark room to photograph the swatches.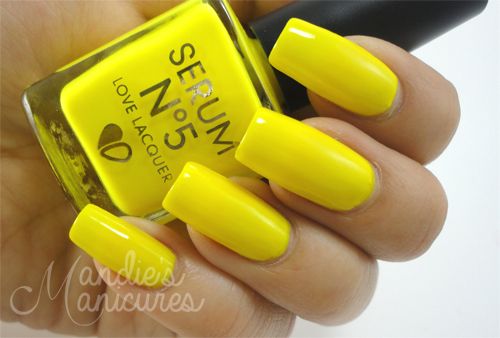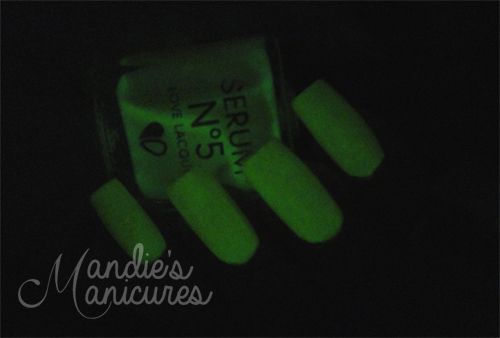 First up is Solar Power. This highlighter yellow polish dries to a rubber finish, so I added a top coat to make it shiny. Pictured is three full coats for opacity. The polish glows green in the dark.
Orange You Sunny is a beautiful neon orange (also has a highlighter look) that is opaque in two coats. I was expecting another green glow, but to my surprise, it shines a stunning sparkly yellow in the dark! How did Victoria make glow in the dark actually sparkle?! So cool!
I Gleam in Pink is a bright, bubblegum pink neon. I got nail polish all over my hands (I was swatching rather late at night and got klutzy, whoops), so you can see specks of polish all over my fingers. You will also notice that I forgot to top the polish off with top coat, so my swatch looks a bit bumpy. The bumps are part of the glitter for the sparkling gitd effect. Does the glow remind you of fire? ;)
Infrared is an orange-red neon. Unfortunately, my camera kept freaking out on me when it came time to photographing this in the dark. This polish has a very faint (not as bright compared to the others in this set) red gitd effect and my camera could not capture it. Rather than post a picture of darkness, I decided to leave it to your imagination (or actually, for you to witness the glow for yourself in person). Pictured is two coats.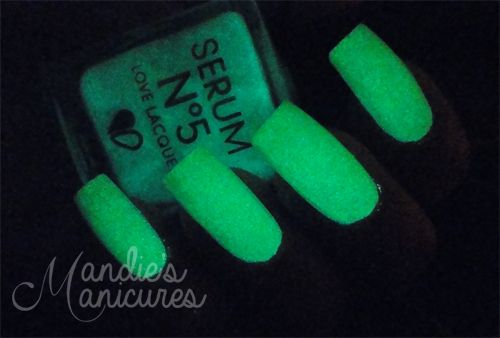 Krypton-Brite is definitely a favorite of mine! This eerie, Frankenstein-like color is just gorgeous for the summer! Two coats + top coat is shown.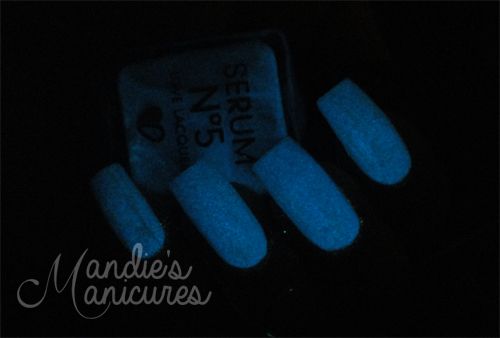 Indi-Glo is a deep, royal blue. I wouldn't quite call this neon, but it sure is bright in the dark! It glows blue. Since this polish is darker and more pigmented than the others, I used just one coat for full coverage here.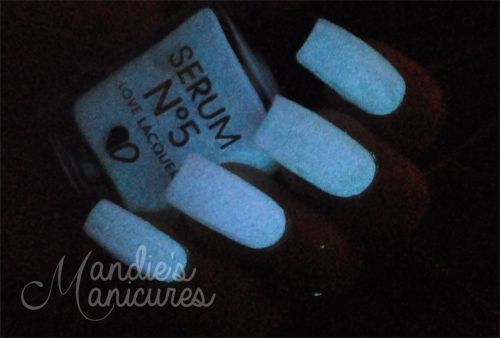 The final neon gitd polish is Ultra Violet (man, how does Victoria come up with such fitting names?). This purple is more on the side of an orchid-purple than pictured. The powder-blue glow is to die for! Pictured is two coats.
Now let's move on to the tropical-inspired goods! There are 4 polishes in this set consisting of a variety of glitter, holo, and gitd.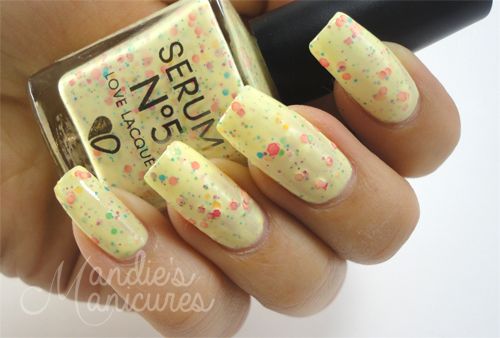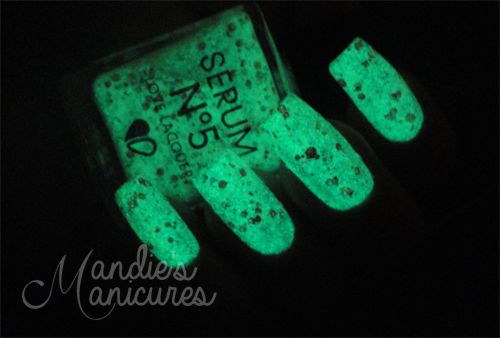 Isle Live is a cute springtime mixture of matte pink, green, and yellow glitter in a pale yellow creme base. This polish reminds me a bit  of Second Spring from Serum No. 5's Fall/Winter 2013 collection. Pictured is two coats. It also glows an amazingly bright green in the dark! I like leaving this bottle of polish on my nightstand, so when I am getting ready for bed, it charges under my lamp. Once i get into bed, it glows for several minutes so I can stare at it before I fall asleep, hehe.
Just Add Water is a gorgeous holo aqua jelly polish packed with turquoise, green, and white glitter in various shapes and sizes. I can tell that Victoria put a lot of thought into mixing this polish up because I really do feel that this polish resembles the ocean. And mermaids! :) Pictured is two coats, though now that I am looking at the picture, I should have used three coats to cover up my nail lines. 
Off Tropic is a golden yellow shimmering polish. It does have a subtle holographic effect, but you will need to look up close in order to catch it. Pictured is two coats and no top coat.
Sand-tastic is a polish that I really wish I could show you in person. It is densely packed mixture of micro rainbow glitter and matte black glitter to resemble sand. I have posted a blurred motion shot of this polish on Instagram. Click here to see the sparkling goodness! Pictured is two coats.
Get your calendars out!
All polishes above will be available for pre-order beginning on May 23 (that's this Friday) at 12PM PDT and ending on May 25 at 3PM PDT/ They will be generally released on June 20 at 12PM PDT.
BONUS TIME!
Victoria included some extras for me to try out! The release dates may be different for these than the ones above, so I'll include information after each polish.
What a Blast is a patriotic blend of red, white, and blue glitter in a clear base. There are also some silver star glitter in there! I have one coat layered over a white creme. Oh, and guess what? It also glows in the dark! ;)
This polish will be available on June 1st at 12PM PDT as part of a collaboration for July 4th between Serum No. 5 and Polished by KPT. It will also be sold individually, but if you purchase the box, you will get two polishes (one glow and one thermal), a cuticle oil (varies depending on which store the box is purchased from), and four various charms or studs. The box will retail for $27.50.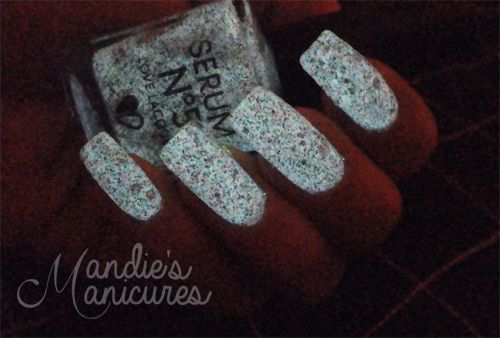 Lei Down the Law is a fun mixture of bright neon matte glitter along with gray. Pictured is two coats alone! Look at how dense that polish is. :) It glows white in the dark. <3
And of course, I have saved the best for last. This is certainly a new thing in nail polish for me and I would not have tried this if Victoria didn't mention in the description that there was something special about this polish. This is Flashing Lights, a shimmering silver top coat. Even though it is a top coat, you can layer it until opaque as i have done above. This is three coats with no top coat. Looks simple in the day time, but .. go into a dark room with your camera and ..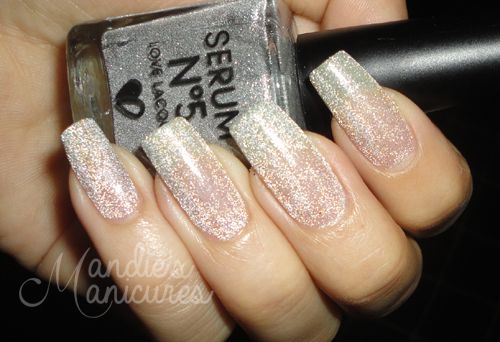 BAM! I must note that this only works with ONE coat of Flashing Lights over your bare nails. When you take a picture with your flash on, this polish reflects the light back to you like there's no tomorrow. This picture is NOT photoshopped (I wouldn't even know how to achieve that effect on computer). Amazing, right?! And of course, I shot a short video of this polish in action. Click here to see!
Flashing Lights will also be available for pre-order this Friday, May 23 at 12PM PDT. Get ready! This is so cool and you really need to try this polish for yourself to understand how giddy I am inside. ;)
Wow! This is one of the longest posts on mandie's manicures in a long time. Thank you for stopping by and I hope you have an awesome day!
I post often on Instagram, so be sure to follow me!
—
Disclosure: Products provided for an honest review.
REVIEW: JESSICA Cosmetics Coral Symphony Spring 2014
(Press samples provided for review.)
Hello, friends! Still having trouble deciding what polishes to wear for this spring? Today I have six creme polishes to share with you from JESSICA Cosmetics' spring collection. Enjoy!
"Celebrate a magical underwater world of seashells, starfish and ocean flowers in Coral Symphony, the Spring 2013 collection from JESSICA, which features a special formula for long-lasting color and less chipping."
Conch Shell is a soft pink creme that is beautifully opaque in two coats. I can always rely on JESSICA nail polishes to dry to a glossy finish. As I have mentioned in some of my previous reviews for JESSICA, the formula in their polishes has a "sticky" consistency which I find to make the application extra flawless.
Ocean Bloom is an orchid-pink creme. It is a more subtle version of Radiant Orchid, the Pantone Color of the Year 2014. This is an elegant shade and is very office-friendly! Pictured is two coats.
Tropical Sunset is a one-coater! This fiery, red-orange creme definitely reminds me of a beautiful sunset at the horizon.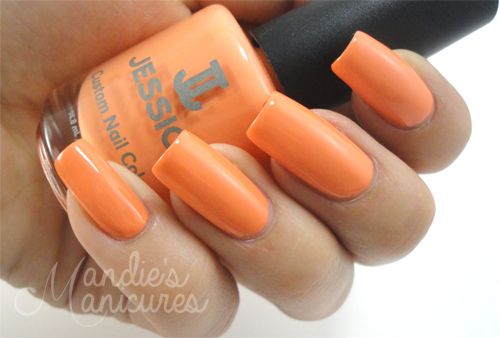 Monsoon Melon is a rich, cantaloupe-orange creme. Wearing this polish made me crave for some sweet, juicy melon! Although this shade is part of a spring collection, it is going to be an eye-catching color to wear in the summer to the beach! Pictured is two coats.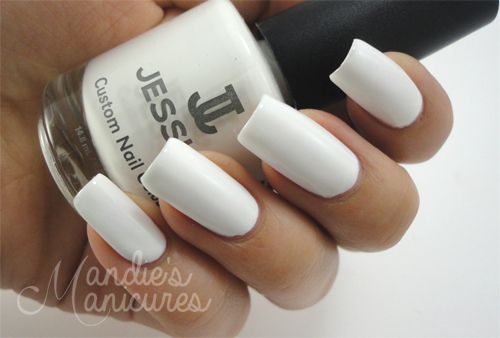 Sharktooth is a basic white creme, but it is special because … it's a one-coater! How often can you say that about white polishes? :) I do think that my nails look like shark teeth here (well, non-pointy teeth)!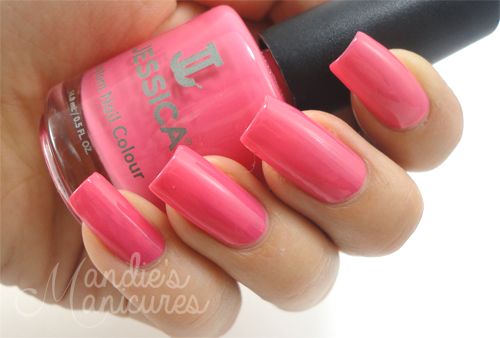 Starfish Glow is a rosy magenta creme. Another one-coater! Do my nails look like flamingos to you? Again, this polish has a great formula for a flawless and smooth application!
The Coral Symphony collection is available on the JESSICA Cosmetics website.
That's it for my small post for you today. Happy Monday! :)
Keep in touch with me on Instagram!
—
Disclosure: Products provided for an honest review.
REVIEW: Limited Edition OPI Muppets Most Wanted Collection
(Press samples provided for review.)
OPI Celebrates the Muppets with Limited Edition Nail Lacquers Inspired by Disney's New Film Muppets Most Wanted
OPI announces the launch of eight new limited edition nail lacquers inspired by Disney's Muppets Most Wanted. With an all-star cast including Kermit the Frog, Constantine, Ricky Gervais, Miss Piggy, Ty Burrell, Tina Fey and the whole Muppet gang, this family comedy is directed by James Bobin and written by Bobin and Nicholas Stoller.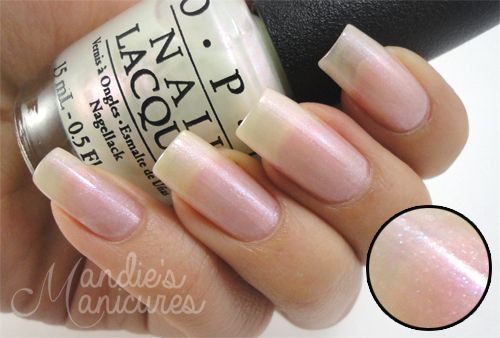 Int'l Crime Caper is a sheer pearl polish with a pink iridescent shimmer. I was surprised to find myself liking how this polish looks on its own. You will see your nail lines through this polish, but it definitely perks up the bare nails with a certain type of class. Pictured is two coats.
I Love Applause is a soft, sheer nude polish. This is a shade that I have seen in other OPI collections in the past. (See Don't Burst My Bubble from the SoftShade 2013 collection)
Chillin' Like a Villain is a sheer peachy nude. I am not too fond of this particular shade because it makes the free edges of my nails look stained through the polish. It is otherwise a very classy color for a clean manicure. I would definitely top it off with glitter to cover up the visible nail lines (continue scrolling down!). Pictured is two coats.
Kermit Me to Speak is a duochromatic purple-green polish with a bit of shimmer. It reflects a different color depending on what angle you are seeing the polish. I was able to bend my index finger in an awkward way to show both shades! ;) The formula is thin, so I would suggest layering this over black to intensify the metallic look.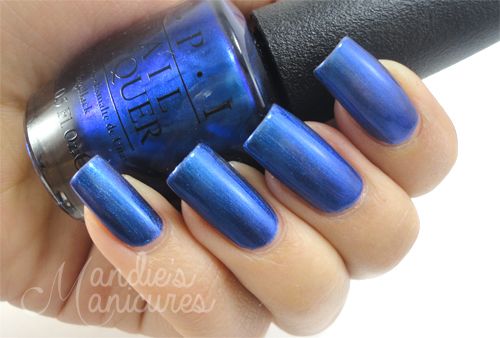 Miss Piggy's Big Number is a beautiful sapphire blue metallic polish. The polish is very well-pigmented and applies smoothly like a creme. I have on two coats.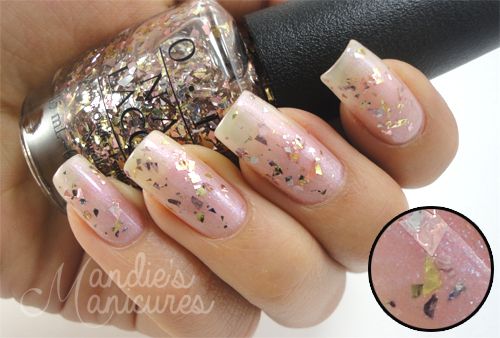 Gaining Mole-mentum is a unique blend of shard glitter in a clear base. I do not own many shard glitter polishes so this was so refreshing to try. The shards are gold, silver, and pink. The addition of pink shards blended with gold creates a rose-gold look, which I absolutely love! Rose gold is so in right now, so I highly recommend topping your manicure off with this polish! This is one coat of Gaining Mole-mentum dabbed over Int'l Crime Caper. I say dab because the glitter tends to slide around if applied like a regular polish.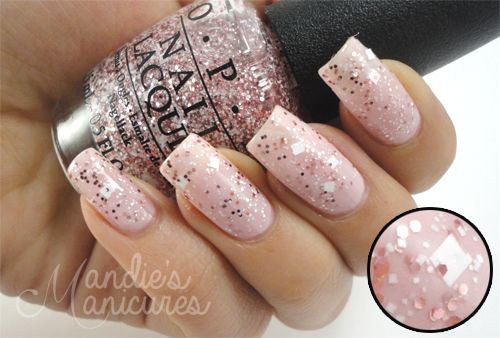 Let's Do Anything We Want! is a fun mixture of pink and white hex glitter and large white squares. I have one coat layered over I Love Applause. The white square glitter pieces are a bit difficult to get onto the brush, so when using this polish, tip the bottle completely upside down before using so that you will not need to fish around to get them out.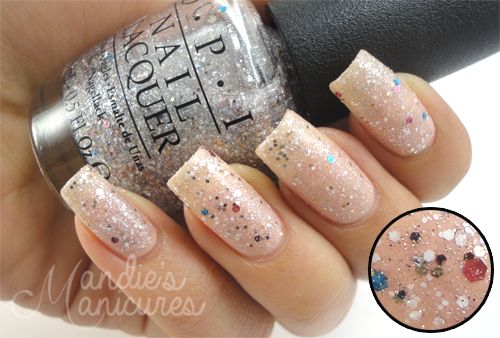 Muppets on Tour is a glitter bomb of various sizes of glitter in a clear base. Take a look at the macro bubble to really see what's in the bottle. I have just one coat layered over Chillin' Like a Villain in this picture, but I would actually suggest using this glitter bomb on its own. It's so jammed pack with glitter that I think it could actually be part of OPI's LiquidSand line. Love it!
What do you think of these limited edition polishes? My top picks are Gaining Mole-mentum and Muppets World Tour. The suggested retail price of each polish is $9. I have also found these polishes on Amazon for a lower price. Be sure to get them before they're gone!
That's it for today! Thanks for stopping by! :)
Keep in touch with me on Instagram!
—
Disclosure: Products provided for an honest review. Some links in this post are affiliate links.
REVIEW: OPI Brazil Collection for Spring/Summer 2014
(Press samples provided for review.)
Hello, hello beautiful!
Brazil by OPI brings the colors of tropical rainforests and warm sandy beaches to nails and toes for Spring/Summer 2014. This new collection features a palette ranging from bright hues of red, pink, coral, orange and yellow to earthy tones of taupe, sienna, mocha and jungle green.
I will start with swatches of the earth-toned polishes and then move on to the brights! All photos are shown with two coats of polish and no top coat unless otherwise stated.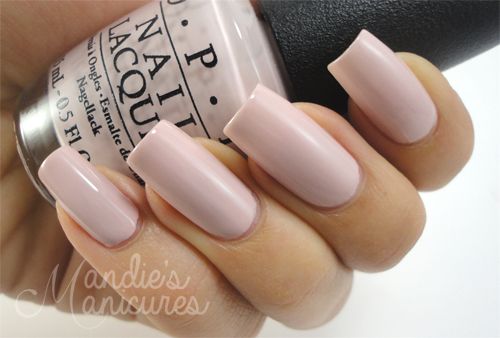 Don't Bossa Nova Me Around is a delicate nude creme with a hint of pink. This classy color reminds me of porcelain and is definitely an work-appropriate color if you work in an office. The flawless formula dries to a glossy finish.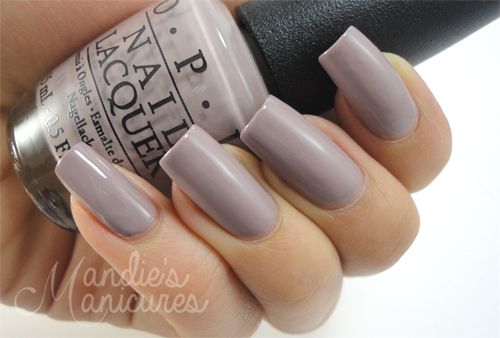 Taupe-less Beach is exactly what the name says - taupe. This creamy taupe is a darker nude for those of you who prefer to stray away from pale shades. It complements every outfit beautifully and it is the perfect base color to layer any glitter of choice for that extra bling bling.
I São Paulo Over There is a chocolate-brown creme with a touch of purple. This polish could easily be a one-coater due to the high pigmentation, but I used two coats for picture purposes. I can't get enough of OPI's smooth creme polishes!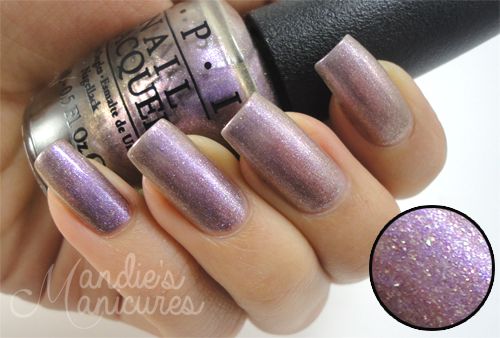 Next Stop… The Bikini Zone is a purple and green duo-chrome polish with a gorgeous silver gold shimmer. This polish is on the thinner side so the first coat is actually quite sheer. I used three coats here, but you can still slightly see a visible nail line. The next time I use this polish, I will try layering it over a black creme for a more intense manicure.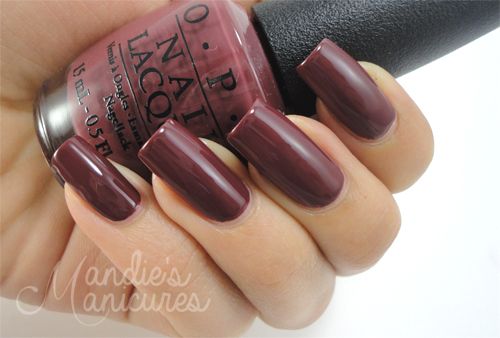 OPI scores a Goal! is best described as berry and chocolate blended together. That's exactly what the shade looks like! It is a highly-pigmented brown creme with that bit of plum/berry hues. Just lovely!
The final earth-toned polish in this Brazil collection is Amazon… Amazoff, a lovely shade of teal. Although it appears to be a creme-finish polish in the bottle, it actually has a crelly (creme-jelly) consistency. Even with two coats, you can still see my nail lines through the polish.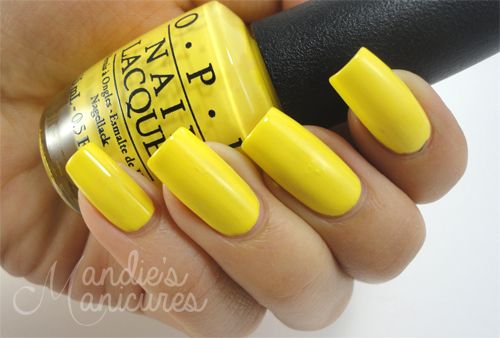 The bright polishes in this collection are definitely eye-catching! This is I Just Can't Cope-acabana is a bright, meyer lemon yellow creme. I am always so impressed when a nail polish company can create a streak-free yellow polish. This is THE yellow polish to own. It's bright, it's glossy, and the formula is simply flawless! I approve.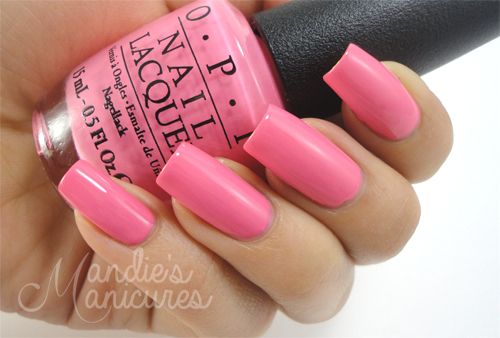 Kiss Me I'm Brazilian is an attractive pink creme with a warm undertone. This baby is definitely going on my toes when flip-flop season comes around (which is very soon)! 
Where Did Suzi's Man-go? Where did he go?! I love this cantaloupe creme! It's such a refreshing color for the summer. I especially like that even though it is an orange polish, it is a bit muted and not "in your face," so it is very wearable.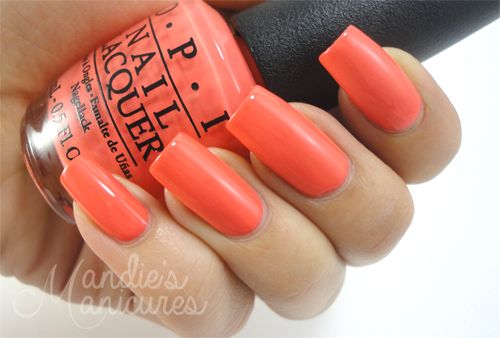 Toucan Do It If You Try is a coral creme. The next polish is also coral, but this one leans more towards orange in the spectrum. Coral shades are definitely in this year and it looks great paired with gold accessories - or you could even top this with gold glitter!
Live.Love.Carnaval is the other coral shade in the brights, but this one is more pink than orange. Surprisingly this polish is a one-coater! The polish is a bit on the thicker side, so you will want to have a bit less on your brush before applying.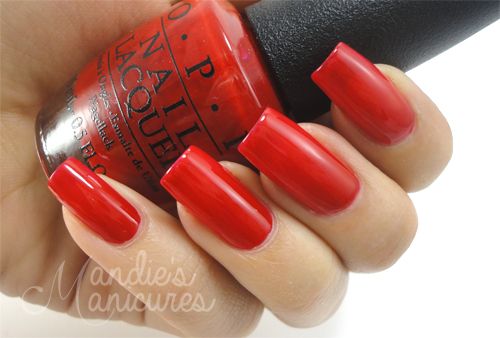 Red Hot Rio is ruby red crelly. As with Amazon… Amazoff, I wish the formula was more creamy rather than jelly. You can see on my index finger that my nail line is showing. This is three coats. Be sure to use a base coat with all red polishes to avoid staining!
There you have it! The Brazil collection by OPI is available now with a suggested retail price of $9/bottle. Some of the polishes in this collection are available on Amazon for a lower price + free shipping. Shop around to find the best prices!
Thanks for stopping by! Keep in touch with me on Instagram!
—
Disclosure: Products provided for an honest review. Some links in this post are affiliate links.