May 22
GIVEAWAY: Fun in the Sun!
I have partnered up with several of my favorite bloggers to giveaway lots of various beauty prizes to our readers. This is a way of saying thanks for all of your continued support! :)
All of the prizes are shown on The Jedi Wife's blog along with several mystery packages.
How do you enter? Simple! Just enter in the Rafflecopter widgets below. This giveaway ends on June 12th, so be sure to get your entries in asap!
For US Only:
For US and International:
Good luck!
REVIEW: Nicole by OPI LIMITED EDITION Gumdrops Collection (as previewed here)
(Press samples provided for review.)
Whoo-hoo! I have more textured polishes to show you today and some of these have definitely made it into my favorites list. While textured polishes are meant to be worn without top coat, there's no rule against doing so! If you prefer high-gloss nails, then by all means, add top coat! The polishes look great both ways. I will be showing you all of the polishes without the glossy top coat so you can really see the sparkles peeping through the matte finish.
I Lilac Gumdrops is a lovely lavender with micro, silver sparkles. I wore this one for a full week to test out the wear-ability of Nicole by OPI's textured polishes, and I am pleased to report that even without top coat, I only noticed minor tip-wear and no chips whatsoever! Shown is two coats.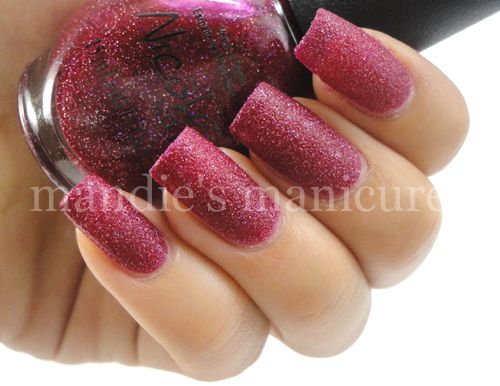 My Cherry Amour is a gorgeous raspberry jelly-like polish with holographic glitter. Yes, you read that right - holographic! It is such a pleasant surprise to be seeing holographic glitter inside a textured polish. The only downside is that the holo disappears when the polish dries matte. You should add a top coat if you want to better see the sparkles. Pictured is two coats.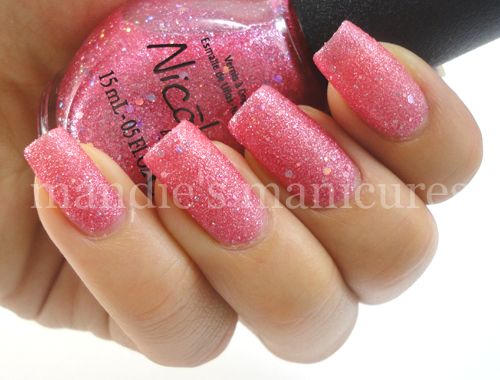 "Candy is dandy but liquor is quicker." Nope. Candy is Dandy and that's it! This is a bubblegum textured polish with large chunks of silver hex glitter. I especially like that the hex glitter reflect various colors to add more dimension to the polish. I used two coats.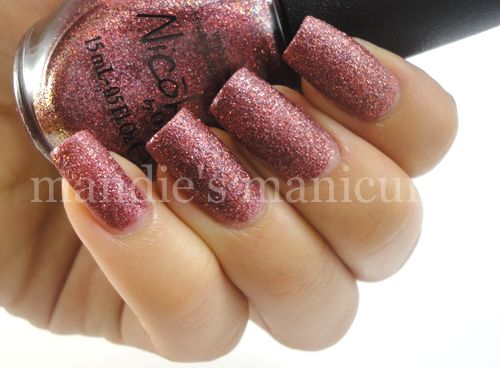 Cinna-man of my Dreams is a very fitting name for this polish. The hot brown-red really reminds me of spicy cinnamon! It is jam-packed with copper glitter to add a unique look. I gave my momma a pedicure with this polish and she received SO many compliments on the beauty of this shade. This is a must-have and since this collection is limited edition, don't wait too long to get your bottle. ;)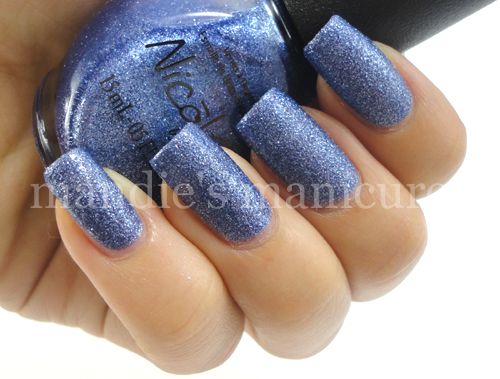 Blue-Berry Sweet on You is definitely a favorite of mine. This rich, denim blue has purple and teal sparkles laced into the formula - absolutely perfect! I needed to use two coats, but because the formula is richer for this polish, I would say that you would only need one coat if you have shorter nails.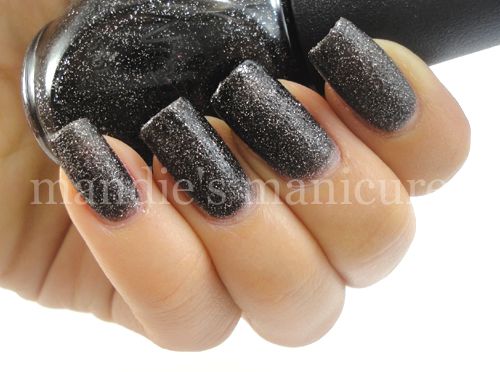 A-Nise Treat is a black licorice textured polish with silver sparkles. I have seen many other textured polishes out there that resemble this one, so there's nothing too special. It reminds me of a starry night sky or those black sesame sticks (usually eaten as a snack during the Lunar New Year), haha. I used two coats here.
Well, what do you think? Did anything catch your eye? 
Nicole by OPI formulas are long-lasting, fast-drying, and salon-quality.  This limited edition collection will be available beginning May 2013 for $7.99 each at retailers including select Walmart (May 2013), CVS (June 2013), Rite Aid, Kmart, Kroger, Ulta, H-E-B, and Duane Reade locations (August 2013), In Canada, these shades will be available for $10.99 each at Shoppers Drug Mart, Walmart Canada (July 2013), Jean Coutu, Loblaw, and London Drug (August 2013).
Keep in touch with me! FACEBOOK | INSTAGRAM
—
Products provided for an honest review.
May 15
REVIEW: BA STAR Natural Shadow Palette
(Press samples provided for review.)
Hello, hello! Today I have an eye shadow palette from BA STAR to show you. This is the Natural Shadow Palette, which contains three build-able neutral/brown tones for lustrous smokey eyes, along with two gel glitters for extra glam. 
The set comes with a double-ended applicator: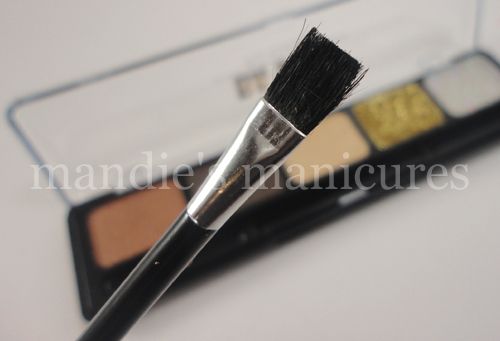 I am not too fond of this regular hair brush because the bristles are a bit flimsy and don't pick up the powder very well. If you're at home doing your make-up, I suggest using your own brushes or if you're on the go, your ring finger will do the job.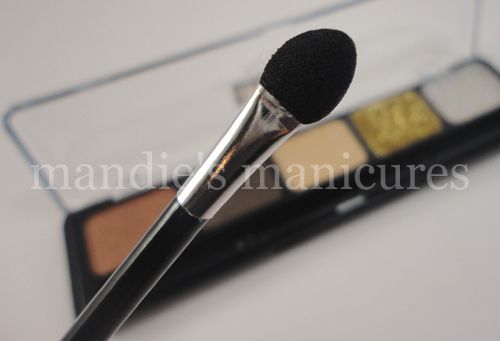 On the other side is a standard sponge tip, which works much better in my opinion. Again, nothing too special. If you have a fluffy brush, you will be able to blend in the colors better.
Now let's move on to the eye shadows!
As I mentioned, there are five different shadows in this palette - three powders and two gels.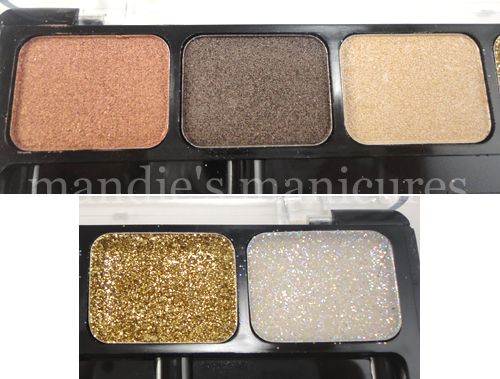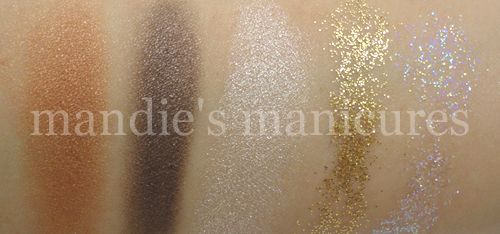 The first three are mineral shadows are in the colors Bronze, Cocoa, and Nude. Because the tones are in very natural shades, it seems to me that they will work for any skin tone! I love that you have everything you need in this compact set. The two gel glitters are new to me. I have never used a gel eye shadow before, but these are pretty cool. If you're going to have a night out after a long day at work, just dab on a bit of the glitter over the mineral shadows for that extra bit of glitz and shine. ;)
TIP: Start out by priming your lids with your favorite eye shadow primer, then apply the Nude shadow all over your lid. Then using the Bronze and Cocoa shadows, slowly build up on the outer V of your eyes to achieve that smokey look. Be sure to blend well so that there are no harsh lines. Finish up with a dark brown/black eyeliner and mascara and you're ready to go!
Aside from the Natural Shadow Palette, BA STAR offers three other shadow palettes in various colors (here). Perhaps you prefer to have bright colors on your eyes!
BA STAR has kindly offered a discount code to my readers (that's you!) to receive 50% off your purchase. Just use the code BBSMOKY when checking out!
Have fun! Keep in touch with me: FACEBOOK | INSTAGRAM
—
Products provided for an honest review.
May 08
REVIEW: Barielle Summer Brights Collection 2013 + SWEEPSTAKES
(Press samples provided for review.)
With summer coming right around the corner, it is time to make the transition from your springtime pastels to bright, hot hues. Barielle created a set called Summer Brights to help you with those indecisive moments when you have absolutely no idea what to put on your nails. Let's check out these beauties now, shall we?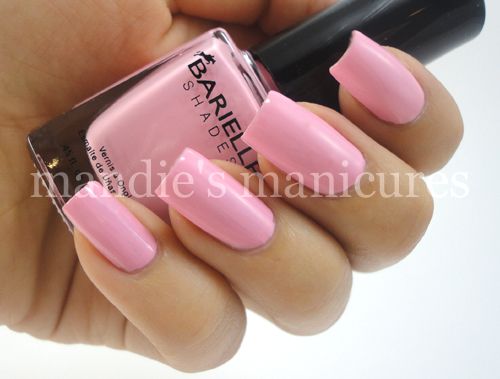 Super bright colors not your thing? You can never go wrong with a simple baby pink creme. This is two coats of Pink Flip-Flops. Application is smooth and easy for such a light color! This is perfect for a pedicure to keep your toes looking stylish when you're wearing sandals throughout the hot summer.
Like bright, eye-catching colors? Then Lemondrops is for you! I am always so impressed with a brand when they can make a yellow polish go on flawlessly and non-streaky on the nails. I just needed two coats for this cute, sunshine yellow creme.
Sweet Addiction is a basic jade creme. This was one of my first Barielle colors and I just love it! And guess what? It's a one-coater! ;)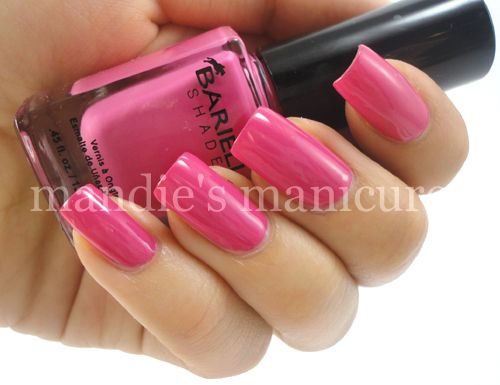 Cosmic Kiss is hot, hot, HOT magenta creme. How cute would this color look with your frilly sundress and over-sized sunglasses? Yep, I am totally ready for the summertime. I used two coats to achieve full opacity.
Finally, we have Blue Capri here. So maybe pink is not your thing and you love blues as much as I do. Then this one is for you! This is a gorgeous, one-coater polish. I am not quite sure how I would describe this color to you - It's not quite blue, and it's not quite purple. It's blurple? Plue? Ah, it's gorgeous, so let's leave it at that!
And there you have it! Just a few more colors for you to consider adding into your summer nail wardrobe.
Barielle polishes are available on their website for $8/bottle, or you can get the entire collection for $25 here.
Want to try your luck at winning this set + more Barielle goodies?
Barielle is hosting a Sweepstakes starting Monday May 5th thru Monday May 27th. There will be 10 winners and one Grand Prize Winner. 
The prizes are Mani-Pedi Spa kits and the Grand Prize includes one Michael Kors Wallet in addition to the Spa Kits.
The lucky winners will get:
One 5 Pack Nail Color Set – Retail $25

One Nail Rebuilding Protein – Retail $17.50

One Nail Strengthener Cream – Retail $17

One No Chip Speed Dry Topcoat – Retail $12.50

One Total Foot Care Cream 2.5oz – Retail $12.00

One Professional Protective Hand Cream 2.5oz – Retail $8.00
Total Value of $92.00!
Just go to Barielle's Facebook page (here) and click on the Sweepstakes tab to enter. Good luck!
Have a great day! And don't forget to keep in touch with me. :)
—
Products provided for an honest review.