Apr 14
REVIEW: Zoya Magical Pixie Spring 2014 Collection
(Press samples provided for review.)
"Believe in it…
Zoya Magical Pixie - a new PixieDust formulation, amped up with spectacular sparkle creating the most magical, Zoya PixieDust ever! Three new never before imagined textured, holographic beauties for spring 2014… "
Hello beautiful! Today I am reviewing the new Zoya Magical Pixie collection for the Spring 2014. These three polishes are mega-jam-packed with holographic glitter. They dry to a dazzling, textured finish with a tremendous amount of sparkles! Zoya suggests that base and top coat not be used for this manicure, but of course, it is up to you. If you prefer a glossy finish, then by all means, top it!
Cosmo is an eye-catching silver holographic pixie polish. The formula is densely packed with glitter, which allows for an even distribution of bling in each application. Pictured is two coats. Although you cannot see it very well in the picture, the holographic effect is very strong. Put it on, go out in the sun, stare at your nails in awe - repeat!
Vega reminds me of a glimmering ocean right when the sun is about to set. It is absolutely gorgeous in just two coats. The formula is spot-on and applies easily like a creme - no clumping at all. The holo effect almost makes my nails look like a mermaid's tail with reflecting scales. Love!
Lux is a pink-tinted version of Cosmo. I've said it already and I will say it again - perfect formula for a flawless application! You can really see the rainbow reflections in the bottle. Holographic glitter is definitely a weakness of mine. <3
The dry time for all of these polishes is fairly quick. It takes around 5-7 minutes for each coat to dry. I used two coats for all three polishes for full opacity, so you can expect to put on the polish and get on with your day without worrying about denting or nicking your manicure.
The polishes in this particular collection has such a luxurious feel. At just $10/polish, I am able to achieve a manicure that looks like I spent $50+ at a salon. It'll be your little secret. ;)
Get yours today! Click here to purchase these polishes from the Zoya website.
Keep in touch with me on Facebook and Instagram!
Happy Monday!
—
Disclosure: Products provided for an honest review.
Jan 29
SWEEPSTAKES: Nicole by OPI & Dove Chocolate
(Press samples provided for review.)
What's better than nail polish? Nail polish with chocolates, obviously! ;)
Nicole by OPI and Dove has teamed up together to hold a sweepstakes for 25,000 winners! What are the goods? Let me show you!
Two exclusive NICOLE by OPI nail lacquer shades inspired by DOVE® Dark Chocolate: Better After Dark and Promises in the Dark AND a coupon for a free DOVE® Dark Chocolate Bar.
I have both polishes swatched and ready to show you how they look on the nails, but first let me just say that it took much restraint to photograph the chocolates before nomming away, hehe. I received a bag of the sea salt caramel dark chocolate and a bag of regular dark chocolate. If you haven't tried the sea salt caramel yet, be sure to run out and grab a bag at the store. The subtle saltiness in the gooey caramel is such a nice complement the slightly sweetened dark chocolate. Yum! The regular dark chocolate is equally delicious - it just melts right in your mouth. 
Let me just discretely wipe the drool off my face and move on to show you the polishes now.
Better After Dark is a beautiful brown polish speckled with a copper shimmer. I have the polish magnified in the bottom right corner so you can see the beautiful glow. I have on just two coats for full coverage. 
The other exclusive polish inspired by Dove is called Promises in the Dark. This is a simple dark brown creme polish that is heavily pigmented for an intense dark chocolate look. Wearing this shade made me crave chocolate all day!
Want a chance to win these goodies?
Enter the "Discover Your Dark Side in the New Year Sweepstakes"
From now through February 5, 2014, DOVE® Chocolate Facebook fans can enter once per day for a chance to win one (1) of the 25,000 NICOLE by OPI® kits, which include:
To enter, simply "like" the DOVE® Chocolate Facebook page and click on the Sweepstakes tab (click here) to enter your name, email address, shipping address and date of birth. The Sweepstakes is open to legal residents of the 50 United States who are age 13 or older on or before December 27, 2013. All winners will be selected at random by an independent agency in the week following the sweepstakes. 
For more information, please visit www.facebook.com/dovechocolate or www.facebook.com/nicolebyopi.
Good luck!
—
Disclosure: Products provided for an honest review.
Jan 27
REVIEW: NEW Milani Lip Products for 2014
(Press samples provided for review.)
Hello, beautifuls! Today I have four amazing new lippies from Milani to share with you. These are expected to show up in your local drugstores beginning February 2014. Get ready!
Milani Anti-Feathering Lipliner, $4.49
I am so pleased with Milani's new Anti-feathering Lipliner. In all of the following swatches, I am wearing this lipliner as a primer for my lips. The anti-feathering lipliner glides on easily and smoothly to protect lipstick and lip gloss from feathering out during the day.
Because the product is transparent, there is no need to try and match the appropriate lipliner to the color of your lipstick. Nope! Simply trace and fill in your lips with this creamy liner and then top your lips off with absolutely any color of your choice. 
Milani Brilliant Shine Lip Gloss, $5.49
I tend to stray away from lip glosses due to sticky application, but with Milani's Brilliant Shine Lip Gloss, the sticky feeling actually goes away immediately after applying the product.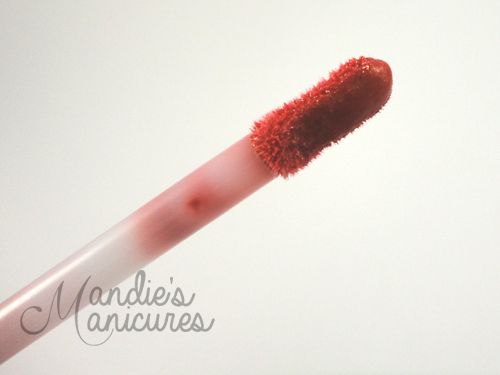 The thin, double-sided wand allows for precision to sculpt your lips.
I am presenting the shades Mai-tai, Luminous, Berry Tempting, and Sweet Grapefruit to you today!
Mai-tai is a peachy coral with a golden shimmer. The color itself just screams springtime to me! The shade is very pretty and will look amazing with any complexion.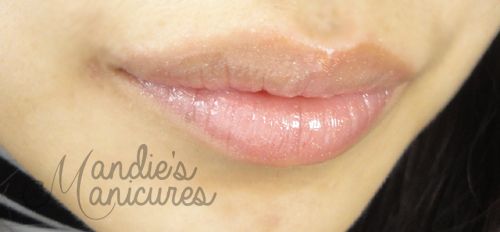 Luminous is a neutral, light-pink tinted gloss with a frosty finish. Since the color is not very pigmented, Luminous is a great topper for any lipstick color of your choice to add shine to your lips. Or, you can of course wear it alone as I have above. The gloss has a light, sweet scent.
To be completely honest, I was fearful of trying on Berry Tempting because of the deep violet shade it possesses in the bottle, but on the lips, the color has a nice orchid shade. It is very shiny and adds a beautiful pop of color to the face.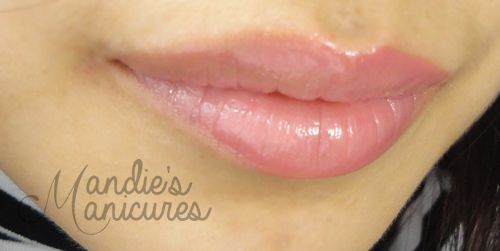 Sweet Grapefruit is my favorite of this bunch because it provides a natural pink glow on the lips which does not overwhelm any intense eye makeup. I can see myself using this gloss on a daily basis!
And of course, some arm swatches for you to see a side-by-side comparison of the four colors. You can really see the shimmering finish in Mai-tai and Luminous here.
Milani Power Lip, $6.49
These brand new Milani Power Lip Stains are tiny, but they sure do pack a punch! The lip stains have a light glossy finish and last for several hours before needing a reapplication. 
The built-in brush applicator is very stiff to allow for sculpting straight edges around the lips. Simply twist and apply! The first time you use this product, you will need to twist it roughly 15 times before product comes up. After that, 1-2 twists will provide the perfect amount to apply to your lips.
First up is Raspberry Tart, a berry-colored stainer. The formula is nice and thin to allow for you to build up the intensity of the color through layers. I only applied the product to my bottom lips and smacked them together for an even finish. 
I had a difficult time loving Strawberry Sugar simply because the shade is much too light against my skin tone. The formula is perfect and can also be layered to build the opacity, but I am not very fond of the pale lips. I would recommend this shade to someone with an olive to darker complexion. 
Mango Tango has that pop of color I have been looking for. It brings a look of wakefulness to my face without needing to overload on the makeup. Love!
On these arm swatches, I have on thick layers of the Power Lips to show you how vivid the color can be, but if you're like me and prefer a more natural look, a thin layer will go a long way.
Milani Lip Intense, $6.49
The packaging of the new Milani Lip Intense definitely caught my eyes. I wasn't sure what these were or how to use them until I opened them up.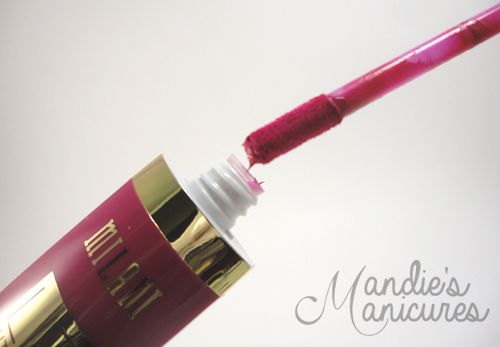 You can see that the Lip Intense products are very much like lip glosses with the wand, but upon application, these feel as though I am applying liquid lipstick. The colors are definitely intense.
Pink Rave is a fierce magenta, matte cream. This is a flattering color for any skin tone! The formula itself is enough for me to run out and buy every shade of this line. It applies so smoothly on the lips. You really need to try this for yourself to understand what I mean. It also has pleasant coconut scent which is not overpowering.
Fiery Coral is a bright, coral shade. Unfortunately I could not photograph the color very well on my lips since the sun was setting by the time I took this photo. It is much more peachy than pink in person. The arm swatches will be more color-accurate:
Look at how intense and opaque one swipe of the product is on my arm! 
To all the lippy hoarders out there, you must get your hands on these new beauties when they hit the shelves this February 2014! I am loving these high-quality products.
Until next time! Toodles! 
Keep in touch with me on Instagram and Facebook!
—
Disclosure: Products provided for an honest review.
Nov 29
HAPPY HAUL-IDAYS GIVEAWAY!
Hello beautiful! I hope you had a wonderful Thanksgiving yesterday and a successful Black Friday this morning (and if you're still shopping, you're a champ). To make your holidays even merrier, 20 bloggers/shops including myself are collaborating in this HAUL-days giveaway to give one lucky winner a $100 gift card to either Ulta or Sephora (winner's choice)!
The giveaway begins NOW until December 14 at 12:01AM EST. How do you get your entries in? Simple! I will put the Rafflecopter widget at the end of this post.
But first, take some time to check out these blogger's sites!
I hope you will stumble across some new blogs that you love during this giveaway. Now get your entries in!
Good luck! :)