REVIEW: Neons by OPI for Summer 2014 + Put a Coat On!
(Press samples provided for review.)
Hello, hello friends! If you are a lover of bright, neon polishes, this post is certainly for you. ;)
OPI announces the launch of six new neon nail lacquers, the brand's first full-size neon shades, along with Put a Coat On! – a special white base coat that instantly boosts neon color. Neons by OPI arrives just in time for summer, with electric hues in shades of lemon-lime, tangerine, hot pink, coral, lime and purple.
—
A few words about Put a Coat On!: Before I swatch any polish on my own nails, I swatch them on swatch sticks. I noticed that all the neon polishes were opaque on their own without the white base coat so I did not need to use Put a Coat On! on any of the following swatches. Of course, with a white opaque base, you will only need to use one coat of the neon polish. In the swatches, I used two coats of each neon polish and you can see that they are still bright and opaque.
Put a Coat On! is a white creme base that requires two coats for full coverage, and with the neon polish on top, that makes three coats. I found it easier to use just two coats of the neons instead. It's up to you how you want to apply the polishes! :)
All swatches below are shown with two coats of polish + top coat. I needed to use a top coat because neon polishes tend to try to a rubber finish.
Life Gave me Lemons is a bright, radioactive highlighter-yellow polish. It has a bit of a green tinge in the shade, which makes me squint my eyes when I look directly at such a bright color!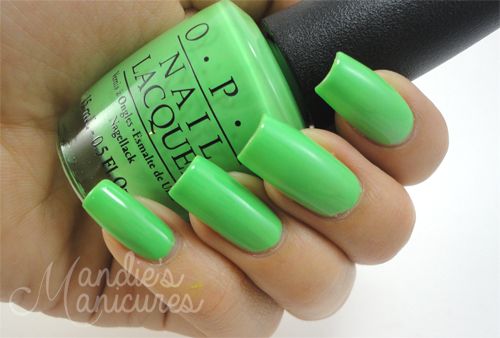 You Are So Outta Lime! is a beautiful neon apple green creme. This shade really makes me crave for some tart green apple candy or gummy. :P
Juice Bar Hopping is a neon pumpkin orange. Gotta get my sunglasses on to look at this color!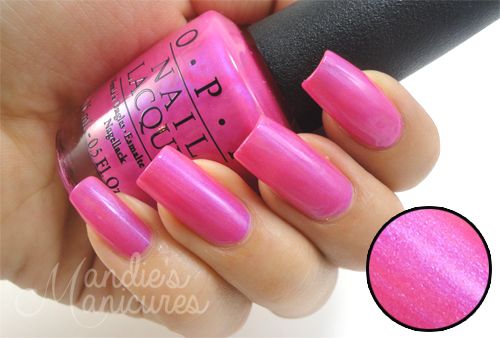 Hotter Than You Pink is a neon pink with an electric blue shimmer. It was such a pleasant surprise to see a shimmering finish. I have it magnified on the bottom right for you to see the shimmering effect.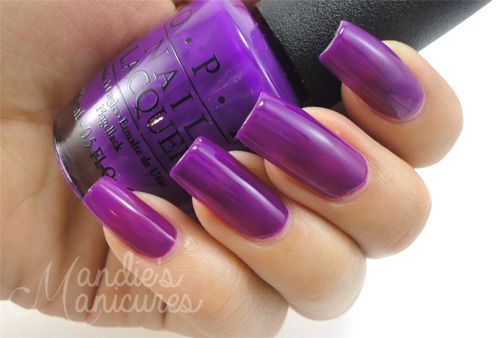 Push & Pur-pull is a violet neon that has a squishy, jelly consistency. I am so fond of jelly polishes lately!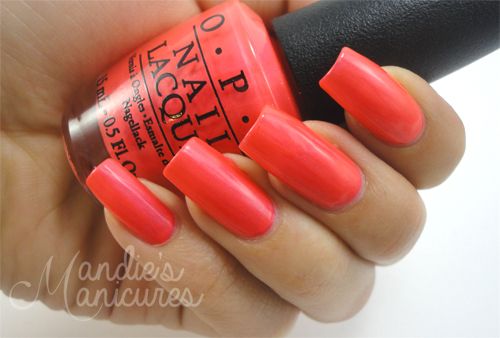 Down to the Core-al is a coral creme with a very subtle pink shimmer. I could not capture the shimmer on camera, but you can definitely see it better in person. It seems like coral polishes are definitely in for the summer!
These neon polishes have been added to OPI's permanent collection for the first time in full size! They are available now and retail for $9/bottle.
Which polishes are you loving from this collection? My top picks are Life Gave Me Lemons and You Are So Outta Lime! because they are incredibly bright.
That's it for today's review. Keep in touch with me on Instagram!
—
Disclosure: Products provided for an honest review.
REVIEW: Zoya Magical Pixie for Summer 2014
(Press samples provided for review.)
Hi-diddly-ho neighborino! I am posting late today for you night owls. ;) This will be a quick, short post because I am getting sleepy after a long day at work. A few months back, I showed you Zoya's Magical Pixie polishes for the Spring 2014. In tonight's post, I am sharing the Summer 2014 Magical Pixie polishes with you. The idea is the same with the textured holographic glitter but in different shades.
Let the swatching begin!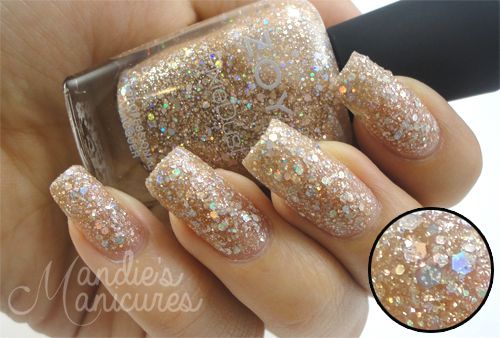 Bar is a tan/nude jelly base with silver holographic glitter. Well, I can't say silver because the glitter reflects different colors when seen in the light. This extremely sparkly polish is beautiful in just two coats. I am loving the subtlety of the base and then BAM! - bling bling everywhere. Love!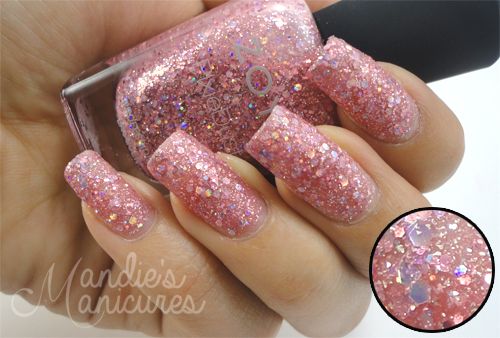 Ginni is a bubblegum jelly base with the same holographic glitter. At first glance, I thought this Magical Pixie polish resembled Cosmo in the previous set, but this one is definitely a more pinky shade. I used two coats for full coverage.
Arlo is a deep orchid-fuchsia jelly with holographic glitter. I am loving the plum shade. Perfect for the fall, too! Take a look at the macro shot to see a chunk of holographic goodness right in the middle of the bubble. ;) You can see a full spectrum of colors in just one glitter! Two coats shown and no top coat.
If textured polishes are your thing, you will definitely want to pick up some of these Magical Pixie polishes on the Zoya website. Each bottle retails for $10. 
That's it for tonight's late post. Good night everyone! And if you are reading this in the day time, good day to you. :)
Keep in touch with me on Instagram!
—
Disclosure: Products provided for an honest review.
REVIEW: Zoya Bubbly Collection for Summer 2014
(Press samples provided for review.)
Gurhgshzkigj! Sorry, I am having trouble communicating because I am drooling over how beautiful the Bubbly collection is! ;) Zoya never fails to make me ooh and ahh over their polishes. Last time I showed you swatches of the creme Tickled collection and today I would like to share with you how amazing the cremes can look when topped with their complementary glitter polishes in the Bubbly set.
Be sure to check out my previous post to get an idea of how the cremes look alone. Now it's time to glitter!
All swatches below are shown in one coat layered over the creme polishes with no top coat. These glitter polishes do build up nicely, so if you prefer to wear them alone, you can use two to three coats for full coverage. Without the base color, the glitter polishes have a jelly quality with tons of glitter swimming inside.
This is Jesy layered over Rocha. This is an orange jelly base with micro holographic glitter and larger iridescent hex glitter.
Alma is a golden yellow tinted base with the same glitter combination as in Jesy. Here I have Alma layered over Wendy. Wendy is a salmon pink, and adding Alma created an orange shade. The layering possibilities are endless and I am pleasantly surprised with how a simple glitter topper can enhance a simple pink creme!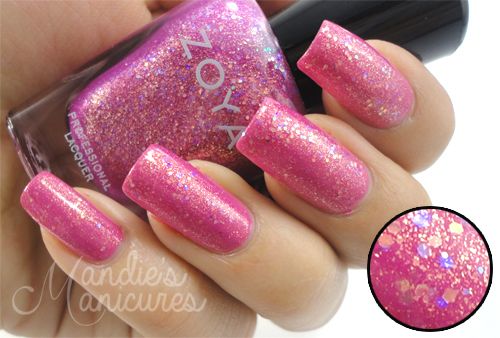 Binx is a fuchsia jelly polish with a mixture iridescent pink and blue hex glitter. I have Binx layered over Rooney. Take a look at the macro to get an idea of how much glitter I was able to get on my nails with just one coat.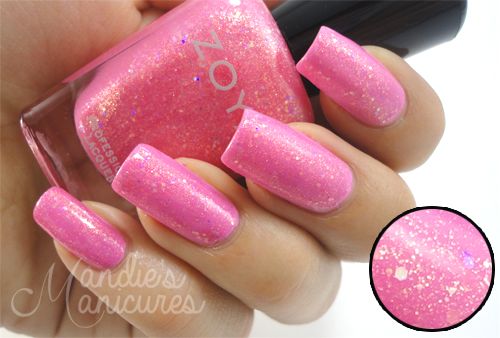 Harper is a frosty pink base with the same holographic glitter goodness. It blends in with Kitridge here, so I would suggest layering Harper over a different shade of pink for more contrast.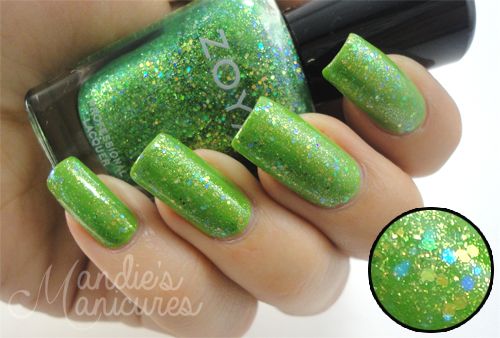 Stassi is such a beautiful emerald! I love how the glitter appears blue and gold (go bears!) in this base. This is simply dazzling layered over Tilda!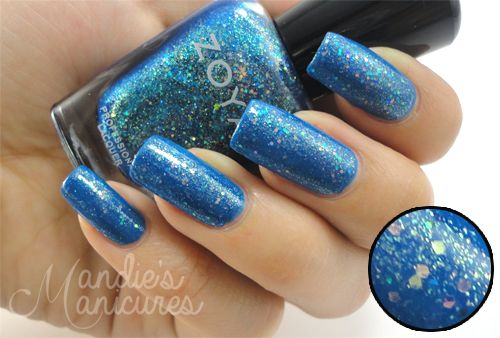 Muse is an intense deep blue that resembles the galaxy with millions of stars and planets swirling around. I love this combination of Muse over Ling. They are both meant to be together. <3
Have I got ya hooked? ;) The Bubbly and Tickled collection are both available on the Zoya website for $54/set. You can also purchase individual shades for $9 each. My must-haves from this set are Stassi and Muse!
That's it for today! See you in the next post. :)
Keep in touch with me on Instagram!
—
Disclosure: Products provided for an honest review.
REVIEW: Zoya Tickled Collection for Summer 2014
(Press samples provided for review.)
Summer is approaching us very quickly! The days are getting warmer and definitely longer. Let's get ourselves ready for the season by pampering our fingers and toes with some fun, summery colors! Today I have six creme polishes from Zoya's Tickled collection. I will also share swatches of the Bubbly collection in a later post. You won't want to miss that because the two collections really complement each other so well. ;)
All swatches below are shown with two coats of polish and no top coat. They are incredibly glossy on their own, but you should, as always, use a top coat for a long-lasting manicure.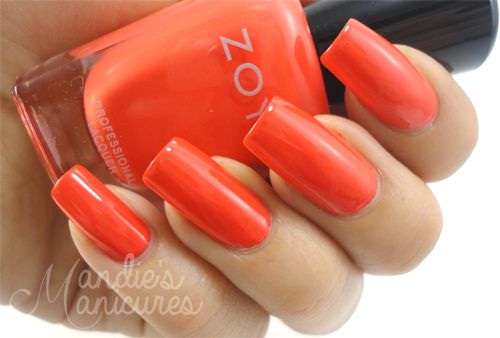 Allow me to introduce to you, Rocha. This is a fiery orange-red creme that is highly pigmented. This is such a fierce color that perfectly resembles the burning sun as it sets late in the day. Beautiful!
Wendy is best described as a salmon pink. It takes on more of a muted pink and is on the edge of being called coral, but not quite. If you are someone who avoids "girly pink" shades, but still want to wear something that looks almost pink, this one is for you!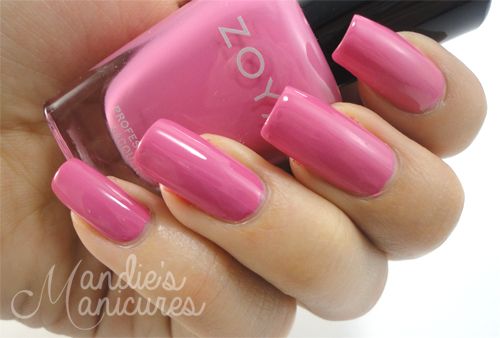 Rooney is a gorgeous orchid creme. If you are following the trend of the color of the year, you will want to wear this shade! I love how classy it looks.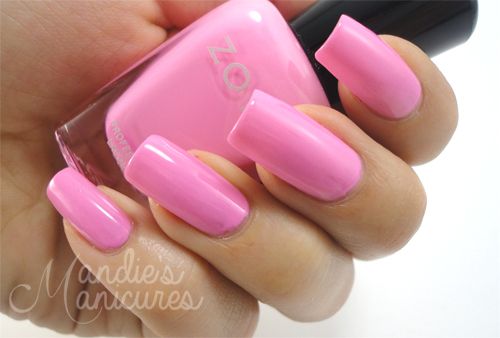 Kitridge is the girly sister of Wendy. This bubblegum yum-yum pink creme is perfect for showing your extra feminine side this summer. It is actually quite bright in person and appears almost neon!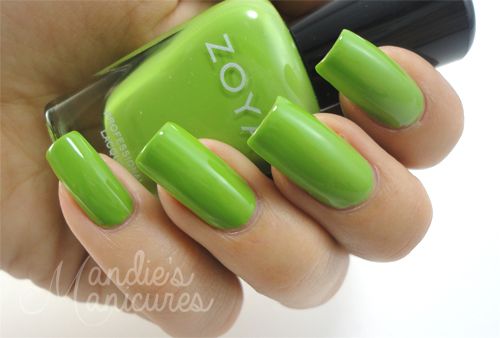 Tilda, I love thee! This crisp apple green creme is a must-have for me! (Oh, look, I rhymed!) I love how funky and playful this shade is. Would this color be work appropriate? ;)
And finally, meet this intense deep-sea blue creme, Ling. I can't wait to show you how Ling looks with her glitter sister in the Bubbly collection. As with all polishes in this collection, the formula is smooth with a great consistency for a flawless application. <3
Each polish retails for $9/bottle. You can also purchase the entire collection for $54 on the Zoya website. I adore each of these creamy shades. Which ones are your favorites?
That's it for today! Keep in touch with me on Instagram!
—
Disclosure: Products provided for an honest review.